Two reviews went up yesterday, both of books I very much enjoyed.
A World Too Near
is the second book of
Kay Kenyon
's
The Entire and the Rose
– a universe spanning modern planetary romance. Although Kenyon already had an established reputation in the genre, this saga is looking to be a breakout saga having received a great deal of acclaim when the first book,
Bright of the Sky
was published a year ago. Overall,
A World Too Near
continues the already enjoyable saga and more importantly, whets the appetite for more.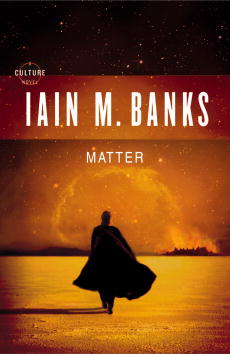 The other book is
Iain M. Banks
's latest
Culture
novel,
Matter
. This was my first Banks novel, and subsequently, my first Culture novel. I can understand why the books are highly regarded and really enjoyed this one. I will not lie and say parts of it reminded me a bit of
Dune
, and that I really dug the seamless blending of a Science Fictional setting with a bit of a Fantasy feel.
The Devils managed to stay alive last night in overtime. Granted the winning goal was something of a flukish goal, but a win is a win. That said, the Devils did a lot of things right; and broke some stumbling blocks they've had for a while against the Rangers, namely scoring and getting more than one goal.
Lastly,
Battlestar Galactica
was again very good. It didn't blow me away in the same way that the season opener did, but the hour still went by entirely too fast. There was some interesting stuff between Baltar and Tory, while Starbuck's crusade to bring Galactica back to Earth is proving to raise some thought-provoking questions.