It's about time I did the whole preface to the Books in the Mail post, so here goes….
As a reviewer for
SFFWorld
and maybe because of this blog, I receive a lot of books for review from various publishers. Since I can't possibly read everything that arrives, I figure the least I can do (like some of my fellow bloggers) is mention the books I receive for review on the blog to at least acknowledge the books even if I don't read them.
Some publishers are on a very predictable schedule of releases, making this blog post fairly easy to compose. For example, the fine folks at
Del Rey/Spectra
publish quite a few books per month, in mass market paperback, trade paperback and hardcover. Most often, they send their books about a month prior to the actual publication date.
Sometimes I get one or two books, other weeks I'll get nearly a dozen books. Some weeks, I'll receive a finished (i.e. the version people see on bookshelves) copy of a book for which I received an
ARC
(
A
dvance
R
eader
C
opy) weeks or months prior to the actual publication of the book. Sometimes I'll want to read everything that arrives, other weeks, the books immediately go into the "I'll never read this book" pile, while still others go into the nebulous "maybe-I'll-read-it-category." More often than not, it is a mix of books that appeal to me at different levels (i.e. from "this book holds ZERO appeal for me" to "I cannot WAIT to read this book yesterday"). Have a guess in the comments about which book fits my reading labels "I'll Never Read…" "Zero Appeal" or "cannot wait" "maybe I'll get to it later" and so forth...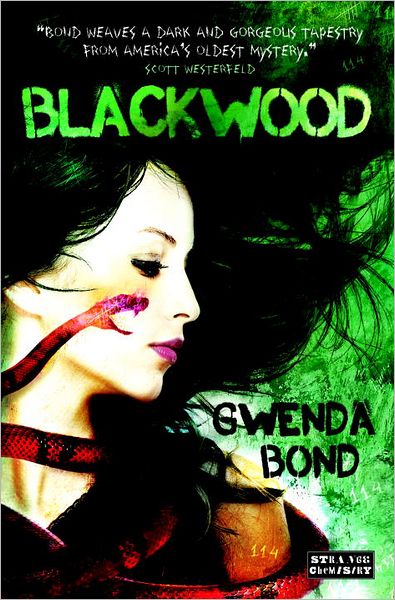 Blackwood
by
Gwenda Bond
(
Strange Chemistry
, Paperback 09/04/2012) – Gwenda's been blogging and writing about the genre for quite a while now, this is her debut novel and one of the launch titles for
Strange Chemistry
, the new YA imprint of
Angry Robot Books
, so no pressure, right? Right. The premise sounds interesting as I've have a bit of a fascination for the lost Roanoke colony.
On Roanoke Island, the legend of the 114 people who mysteriously vanished from the Lost Colony hundreds of years ago is just an outdoor drama for the tourists, a story people tell. But when the island faces the sudden disappearance of 114 people now, an unlikely pair of 17-year-olds may be the only hope of bringing them back.

Miranda, a misfit girl from the island's most infamous family, and Phillips, an exiled teen criminal who hears the voices of the dead, must dodge everyone from federal agents to long-dead alchemists as they work to uncover the secrets of the new Lost Colony. The one thing they can't dodge is each other.

Blackwood is a dark, witty coming of age story that combines America's oldest mystery with a thoroughly contemporary romance.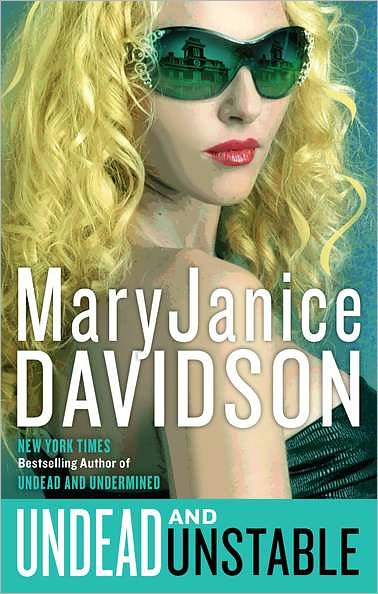 Undead and Unstable
(
The Undead Series - Betsy #11
#10) by
MaryJanice Davidson
(
Berkeley
, Hardcover 06/05/2012) – The continuing humorous adventures of Betsy the vampire.
"If you're fans of Sookie Stackhouse and Anita Blake, don't miss Betsy Taylor. She rocks" (The Best Reviews)—and she's back once again as a vampire queen who finds herself an unlucky (but fashionable) passenger on the road to damnation…

Betsy's heartbroken over her friend Marc's death, but at least his sacrifice should change the future—her future­—for the better. But it's not as if Betsy's next few hundred years will be perfect. After all, her half-sister Laura is the AntiChrist, Laura's mother is Satan, and family gatherings will always be more than a little awkward.

What's really bothering Betsy is that ever since she and Laura returned from visiting her mom in Hell, Laura's been acting increasingly peculiar. Maybe it's Laura's new job offer: as Satan's replacement down under. Unfortunately, the position comes at a damnable price: killing Betsy, her own flesh-and-blood.

Over Betsy's dead body. And for that matter Marc's, too, since he's not quite as buried as everyone thought. Now a war has been waged—one that's going to take sibling rivalry to a whole new level, and a dimension where only one sister can survive.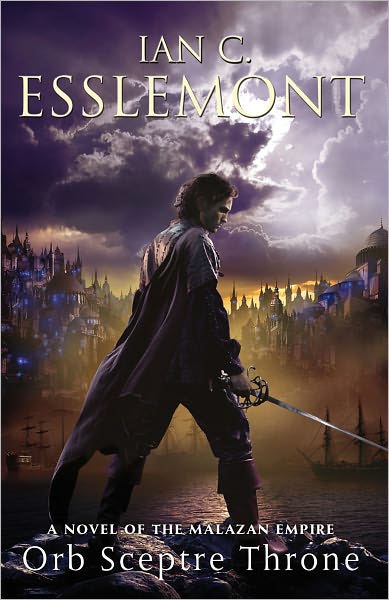 Orb Sceptre Throne (A Novel of the Malazan Empire ) by
Ian Cameron Esslemont
(
Tor
Trade Paperback 05/22/2012) – I'm a big fan of
The Malazan Book of the Fallen
, though of Esslemont's contributions, I've only read
Night of Knives
and from Erikson up to
Reaper's Gale
. So yeah, I've got some catching up to do with this series:
The epic new chapter in the history of Malaz—the new epic fantasy from Steven Erikson's friend and co-creator of this extraordinary and exciting imagined world.

Darujhistan, city of dreams, city of blue flames, is peaceful at last; its citizens free to return to politicking, bickering, trading and, above all, enjoying the good things in life. Yet there are those who will not allow the past to remain buried. A scholar digging in the plains stumbles across an ancient sealed vault. The merchant Humble Measure schemes to drive out the remaining Malazan invaders. And the surviving agents of a long-lost power are stirring, for they sense change and so, opportunity. While, as ever at the centre of everything, a thief in a red waistcoat and of rotund proportions walks the streets, juggling in one hand custard pastries, and in the other the fate of the city itself.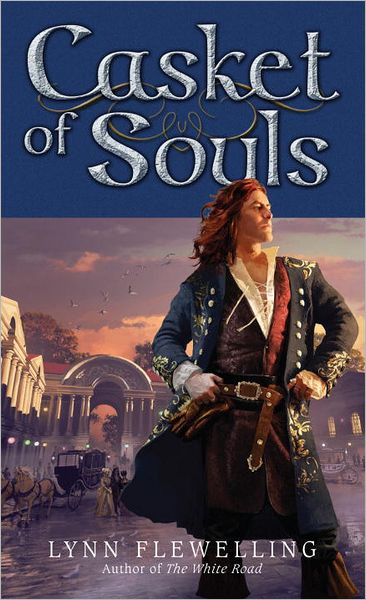 Casket of Souls
(
Nightrunner
, Book 6) by
Lynn Flewelling
(
Bantam
Mass Market 05/29/2012)– I read a couple of Flewelling's novles,
The Bone Doll's Twin
was the SFFWorld Fantasy Book Club selection back in June 2003. I've always meant to go back and finish reading the series, but well, that's how things go.
The Nightrunners are back in this gripping novel full of Lynn Flewelling's trademark action, intrigue, and richly imagined characters.


More than the dissolute noblemen they appear to be, Alec and Seregil are skillful spies, dedicated to serving queen and country. But when they stumble across evidence of a plot pitting Queen Phoria against Princess Klia, the two Nightrunners will find their loyalties torn as never before. Even at the best of times, the royal court at Rhíminee is a serpents' nest of intrigue, but with the war against Plenimar going badly, treason simmers just below the surface.
And that's not all that poses a threat: A mysterious plague is spreading through the crowded streets of the city, striking young and old alike. Now, as panic mounts and the body count rises, hidden secrets emerge. And as Seregil and Alec are about to learn, conspiracies and plagues have one thing in common: The cure can be as deadly as the disease.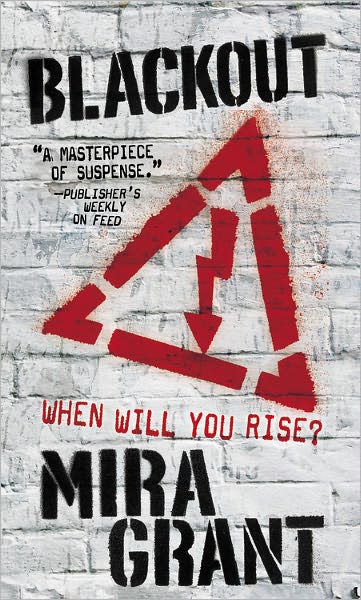 Blackout
(
Newsflesh Trilogy
#3) by
Mira Grant
(
Orbit
Tall Paperback 05/22/2012) –
FEED
blew me away and
Deadline
lived up to the promise laid out in the first book. This is one of my top 2 or 3 anticipated releases of 2012 so I've got high hopes.
Rise up while you can. -Georgia Mason

The year was 2014. The year we cured cancer. The year we cured the common cold. And the year the dead started to walk. The year of the Rising.

The year was 2039. The world didn't end when the zombies came, it just got worse. Georgia and Shaun Mason set out on the biggest story of their generation. The uncovered the biggest conspiracy since the Rising and realized that to tell the truth, sacrifices have to be made.

Now, the year is 2041, and the investigation that began with the election of President Ryman is much bigger than anyone had assumed. With too much left to do and not much time left to do it in, the surviving staff of After the End Times must face mad scientists, zombie bears, rogue government agencies-and if there's one thing they know is true in post-zombie America, it's this:

Things can always get worse.

BLACKOUT is the conclusion to the epic trilogy that began in the Hugo-nominated FEED and the sequel, DEADLINE.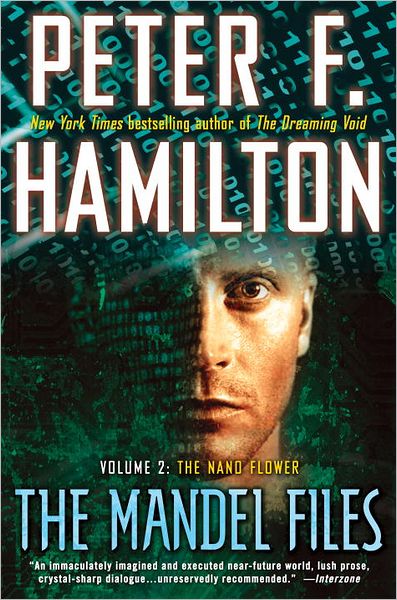 The Mandel Files, Volume 2
-
The Nano Flower
by
Peter F. Hamilton.
(
Del Rey
Trade Paperback 05/29/2012) – This brings Hamilton's take on the psychic detective to close, with the third novel in the
Greg Mandel
trilogy.
Peter F. Hamilton's groundbreaking Mandel Files series concludes with The Nano Flower, a tour de force of unbridled imagination and cutting-edge scientific speculation.


Greg Mandel is a psychic detective whose skills have been augmented by powerful but dangerous biotechnology. Those abilities have won him success and almost killed him many times over. Little wonder that he has settled down to the life of a gentleman farmer.

But Greg's former employer, the mighty tech company Event Horizon, needs him once more. After Royan, hacker-genius and husband to company owner Julia Evans, mysteriously vanishes, a business rival suddenly boasts an incredible new technology. Has Royan been kidnapped and forced to work for his captors, or is the truth far stranger? The answer may lie in a gift of flowers received by Julia—flowers with DNA like nothing on Earth. Greg already has his hands full with corporate killers and other unsavory characters. Is he going to have to add aliens to the list?

The Greg Mandel trilogy—which also includes Mindstar Rising and A Quantum Murder, available in Volume 1—set a new standard for science fiction when it first appeared in the 1990s. The Nano Flower is every bit as gripping today—and even more timely.
The Twelfth Enchantment
by
David Liss
(
Ballantine
Trade Paperback 05/29/2012) – Liss has penned quite a few novels of historical fiction, this seems to be the first one which is infused with bits of fantasy
Lucy Derrick is a young woman of good breeding and poor finances. After the death of her beloved father, she becomes the unwanted boarder of her tyrannical uncle, fending off marriage to a local mill owner. But just as she is resigned to a life of misery, a handsome stranger—the poet and notorious rake Lord Byron—arrives at her house, stricken by what seems to be a curse, and with a cryptic message for Lucy.

With England on the cusp of revolution, Lucy inexplicably finds herself awakened to a world where magic and mortals collide, and the forces of ancient nature and modern progress are at war for the soul of England . . . and the world. The key to victory may be connected to a cryptic volume whose powers of enchantment are unbounded. Now, challenged by ruthless enemies with ancient powers at their command, Lucy must harness newfound mystical skills to preserve humanity's future. And enthralled by two exceptional men with designs on her heart, she must master her own desires to claim the destiny she deserves.

Look for special features inside. Join the Circle for author chats and more.
Blue Remembered Earth
(Poseidon's Children #1) by
Alastair Reynolds
(
Ace
Hardcover Paperback 06/05/2012) – Reynolds is, arguably one of the top selling and most acclaimed SF writers currently publishing today. I'd be on the side of the argument that would say "Yes indeed." This is the launch of a new series for him that is already garnering a fair
amount of praise
.
With his critically acclaimed Revelation Space novels, Alastair Reynolds confirmed "his place among the leaders of the hard-science space opera renaissance." (Publishers Weekly) With Blue Remembered Earth, the award-winning author begins a new epic, tracing generations of one family across more than ten thousand years of future history—into interstellar space and the dawn of galactic society…

One hundred and fifty years from now, Africa has become the world's dominant technological and economic power. Crime, war, disease and poverty have been eliminated. The Moon and Mars are settled, and colonies stretch all the way out to the edge of the solar system. And Ocular, the largest scientific instrument in history, is about to make an epochal discovery…

Geoffrey Akinya wants only one thing: to be left in peace, so that he can continue his long-running studies into the elephants of the Amboseli basin. But Geoffrey's family, who control the vast Akinya business empire, has other plans for him. After the death of his grandmother Eunice—the erstwhile space explorer and entrepreneur—something awkward has come to light on the Moon, so Geoffrey is dispatched there to ensure the family name remains untarnished. But the secrets Eunice died with are about to be revealed—secrets that could change everything...or tear this near utopia apart.