As is usual during the first week of the month, the following month's books to be published by
Ace/Roc
and
DAW
arrive at my doorstep or in front of my garage where the nice UPS guy named Mike leaves them.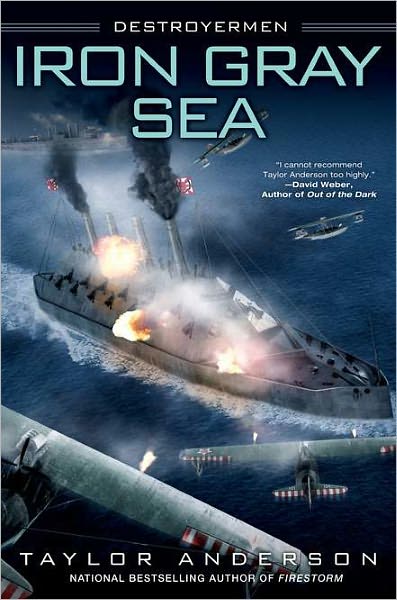 Iron Gray Sea
(
Destroyermen
Book 7) by
Taylor Anderson
(
Roc
Hardcover 07/03/2012) – I've read and enjoyed the first trilogy (
Into the Storm
,
Crusade
, and
Maelstrom
) in the series and read the fourth one,
Distant Thunders
last year. I haven't kept up with the series since then, but Mr. Anderson seems to be doing quite well with the series .
War has engulfed the other earth. With every hard-won victory and painful defeat, Matt Reddy and the Allies encounter more friends — and more diabolical enemies. Even in the arms of the woman he loves, there is little peace for Reddy. The vast sea and scope of the conflict has trapped him too far away to help on either front, but that doesn't mean he and USS Walker can rest — and man and four-stacker must risk everything against a bigger ship.

Elsewhere, the long-awaited invasion of Grik "Indiaa" has begun, and the Human-Lemurian Alliance is pushing back against the twisted might of the Dominion. The diplomatic waters seethe with treachery and a final, terrible plot explodes in the Empire of New Britain Isles.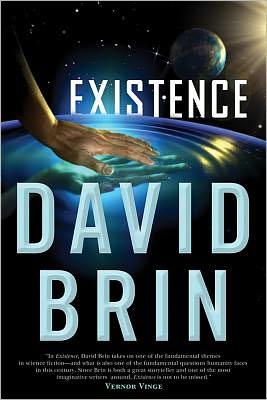 Existence
by
David Brin
(
Torc
Hardcover 06/19/2012) – Brin is probably the biggest name author I've never read and this one looks quite interesting indeed. It should be one of THE SF novels of the year..
Bestselling, award-winning futurist David Brin returns to globe-spanning, high concept SF with Existence.

Gerald Livingston is an orbital garbage collector. For a hundred years, people have been abandoning things in space, and someone has to clean it up. But there's something spinning a little bit higher than he expects, something that isn't on the decades' old orbital maps. An hour after he grabs it and brings it in, rumors fill Earth's infomesh about an "alien artifact."

Thrown into the maelstrom of worldwide shared experience, the Artifact is a game-changer. A message in a bottle; an alien capsule that wants to communicate. The world reacts as humans always do: with fear and hope and selfishness and love and violence. And insatiable curiosity.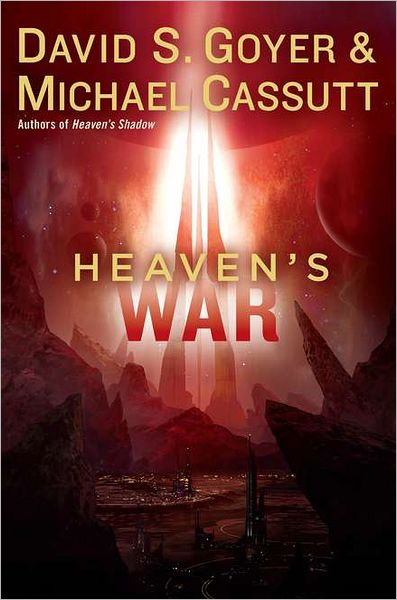 Heaven's War
by
David S. Goyer
and
Michael Casutt
(
Ace
Hardcover 07/03/2012) – Exactly a year after the first in this series,
Heaven's Shadow
publishes, the second in the series hits bookshelves.
When it first appeared, the astronomers named the asteroid Keanu.

A Near Earth Object, from a distant constellation, it was headed directly toward our sun.

But when we went to meet it, it turned out to be far more than a huge rock hurtling through space...

The two teams of astronauts sent to explore Keanu discovered it is, in fact, a spacecraft, a giant ship with an alien crew. A ship that had headed to Earth with a mission and a message: Help Us. A brave new frontier beckons. But we are about to learn that it comes with a price...

Without warning, the aliens transport small groups of humans from the competing scientific communities of Houston, Texas and Bangalore, India to the vast interior habitats of Keanu. Their first challenge is to survive. Their second; to discover why The Architects—the unknown, unseen aliens controlling the asteroid—brought them there. And soon a third emerges: they must find a way to take control of Keanu.

Because the NEO is moving again—away from Earth. The Architects are headed home.
Citadels of the Lost
(
The Annals of Drakis
#2) by
Tracy Hickman
(
DAW
, Mass Market Paperback 07/03/2012) –Second in Hickman's solo series which seems to hit all the check-boxes for 1980s throwback Epic Fantasy.
The Rhonas Empire of elves is built upon a thirst for conquest, disdain for other races, and an appetite for hedonistic self-gratification. They have complete control of the Aether — the mystical substance that fuels their magic. One use of this Aether is to compel total obedience of the slaves drawn from the races they have defeated.

But there are legends that tell of a time when humans and other slave races were free and dragons flew the skies. And they speak of a hero who will return to lead an uprising against their masters: a human named Drakis.

When Aer magic, the magic of nature itself, is wielded by Jugar, a captive dwarf, it signals the start of a rebellion straight from legend. In the ensuing chaos, the former warrior-slave Drakis Sha-Timuran, with a small group of slaves, flees for his life and freedom — lured by a melody that conjures visions of dark wings, scales, and fire. Following the melody he alone can hear, Drakis stumbles on the truth behind the legends: the dragons are real!

Can they survive the dangers of this treacherous realm and bring the truth behind the legends to the army of rebellion?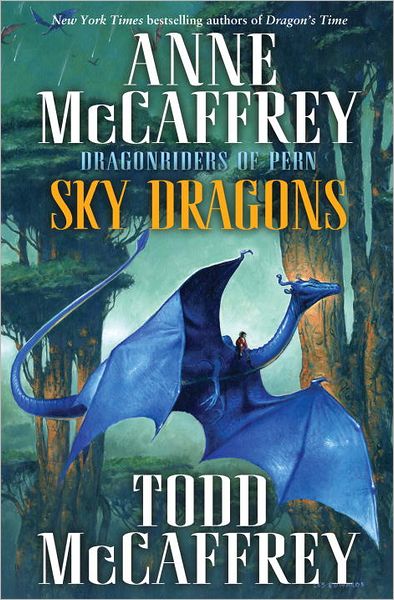 Sky Dragons
by
Anne McCaffrey
and
Todd J. McCaffrey
(
Del Rey
Hardcover 06/26/2012) – Right on schedule a new
Dragonriders of Pern
novel arrives (one day short of EXACTLY a year since the last installment) and this is the last installment that will feature the late Anne McCaffrey.
From the New York Times bestselling mother-and-son team of Anne McCaffrey and Todd McCaffrey comes the final installment in the riveting Pern saga that began with Todd's solo novel, Dragonsblood. Now, with all of Pern imperiled by the aftereffects of a plague that killed scores of dragons and left the planet helpless against the fall of deadly Thread, the only hope for the future lies in the past.

There, on an unexplored island, a group of dragonriders led by Xhinna, a brave young woman who rides the blue dragon Tazith, must battle lethal Merows and voracious tunnel-snakes to build a safe home for themselves and the dragons, whose offspring will one day—if they survive—replenish Pern's decimated dragon population. But as the first female rider of a blue dragon, and the first female Weyrleader in the history of Pern, Xhinna faces an uphill battle in winning the respect and loyalty of her peers . . . especially after an unforeseen tragedy leaves the struggling colony reeling from a shattering loss.

Amid the grieving, one girl, Jirana, blessed—or cursed—with the ability to foresee potential futures, will help Xhinna find a way forward. The answer lies in time . . . or, rather, in timing it: the awesome ability of the dragons to travel through time itself. But that power comes with risks, and by venturing further into the past, Xhinna may be jeopardizing the very future she has sworn to save.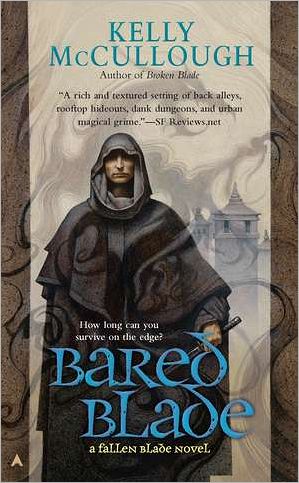 Broken Blade
(
The Fallen Blade
#2) by
Kelly McCullough
(
Ace
Mass Market Paperback 07/03/2012) –Second in a series which began last year and, oddly, like the Devon Monk title in this post, I never received the first book of each series so chances of me jumping into book two on either is very slim. That said, the first installment
Broken Blade
did receive some nice reviews.
From the "inventive, irreverent" (Green Man Review) author of Broken Blade comes a new Fallen Blade novel featuring Aral Kingslayer. Former temple assassin Aral Kingslayer has a price on his head and a mark on his soul. After his goddess was murdered, Aral found refuge in the shadow jack business, fixing problems for those on the fringes of Tien's underworld. It's a long step down from working for the Goddess of Justice, but it gives Aral and Triss—the living shadow who is his secret partner—a reason to get up in the morning.

When two women hit a rough spot in the tavern Aral uses for an office, he and Triss decide to lend a helping hand--only to find themselves in the middle of a three-way battle to find an artifact that just might be the key to preventing a war. And with so many factions on their trail, Aral and Triss are attracting a lot more attention than anyone featured on ten thousand wanted posters can afford…
Nightglass
(A
Pathfinder Tales
novel) by
Liane Merciel
(
Paizo
Mass Market Paperback 07/03/2012) – I've seen good things about Merciel, PeterW in particular liked her writing and Ms. Merciel participated in one of
SFFWorld's Author Roundtables
.
In the grim nation of Nidal, carefully chosen children are trained to practice dark magic, summoning forth creatures of horror and shadow for the greater glory of the Midnight Lord. Isiem is one such student, a promising young shadowcaster whose budding powers are the envy of his peers. Upon coming of age, he's dispatched on a diplomatic mission to the mountains of the Devil's Perch, where he's meant to assist the armies of devil-worshiping Cheliax in clearing out a tribe of monstrous winged humanoids. Yet as the body count rises and Isiem comes face to face with the people he's exterminating, lines begin to blur, and the shadowcaster must ask himself who the real monsters are...

From Liane Merciel, critically acclaimed author of The River King's Road and Heaven's Needle, comes a fantastical tale of darkness and redemption set in the award-winning world of the Pathfinder Roleplaying Game.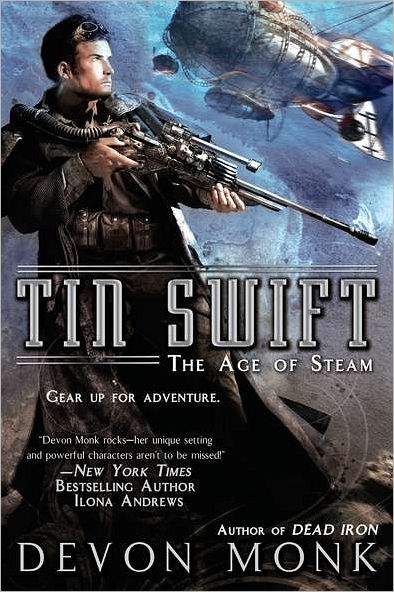 Tin Swift
(
The Age of Steam
#2) by
Devon Monk
(
Ace
Hardcover 07/03/2012) –I read her debut
Magic to the Bone
in 2009 about a year after it published, and since then, Monk's become a writing machine, churning out these two
The Age of Steam
novels as well as an additional 8 novels in the
Allie Beckstrom
.
In steam age America, men, monsters, machines and magic battle to claim the same scrap of earth and sky. In this chaos, one man fights to hold on to his humanity—and his honor. . .

Life on the frontier is full of deceit and danger, but bounty hunter Cedar Hunt is a man whose word is his bond. Cursed with becoming a beast every full moon, Cedar once believed his destiny was to be alone. But now, Cedar finds himself saddled with a group of refugees, including the brother he once thought lost.

Keeping his companions alive is proving to be no easy task, in part because of the promise he made to the unpredictable Madder brothers—three miners who know the secret mechanisms of the Strange. To fulfill his pledge, Cedar must hunt a powerful weapon known as the Holder—a search that takes him deep into the savage underbelly of the young country and high into the killing glim-field skies defended by desperate men and deadly ships.

But the battles he faces are just a glimmer of a growing war stirring the country. To keep his word Cedar must navigate betrayal, lies, and treacherous alliances, risking everything to save the lives of those he has come to hold dear…
Doctor Who Shada: The Lost Adventure by Douglas Adams
by
Gareth Roberts
(
Ace
Hardcover 07/03/2012) –I like
Doctor Who
and I like Douglas Adams, though I'm not sure I'll be getting to this one..
From the unique mind of Douglas Adams, legendary author of The Hitchhiker's Guide to the Galaxy, comes Shada, a Doctor Who story scripted for the television series Doctor Who, but never produced—and now, transformed into an original novel...

A little knowledge is a dangerous thing Imagine how dangerous a LOT of knowledge is...

The Doctor's old friend and fellow Time Lord Professor Chronotis has retired to Cambridge University, where among the other doddering old professors nobody will notice if he lives for centuries. He took with him a few little souvenirs—harmless things really. But among them, carelessly, he took The Worshipful and Ancient Law of Gallifrey. Even more carelessly, he has loaned this immensely powerful book to clueless graduate student Chris Parsons, who intends to use it to impress girls. The Worshipful and Ancient Law is among the most dangerous artifacts in the universe; it cannot be allowed to fall into the wrong hands.

The hands of the sinister Time Lord Skagra are unquestionably the wrongest ones possible. Skagra is a sadist and an egomaniac, bent on universal domination. Having misguessed the state of fashion on Earth, he also wears terrible platform shoes. He is on his way to Cambridge. He wants the book. And he wants the Doctor...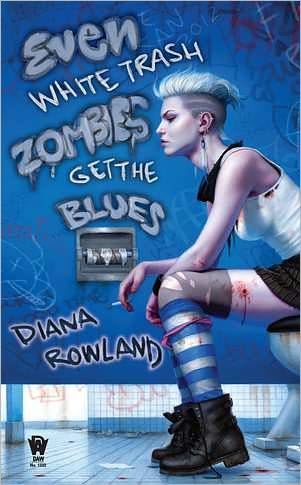 Even White Trash Zombies Get the Blues
(
White Trash Zombie
#2by
Diana Rowland
(
DAW
Mass Market 7/05/2011)– Mystery + humor + horror + zombies = A new book (and potential series) from Diana Rowland.
Angel Crawford is finally starting to get used to life as a brain-eating zombie, but her problems are far from over. Her felony record is coming back to haunt her, more zombie hunters are popping up, and she's beginning to wonder if her hunky cop-boyfriend is involved with the zombie mafia. Yeah, that's right—the zombie mafia.

Throw in a secret lab and a lot of conspiracy, and Angel's going to need all of her brainpower—and maybe a brain smoothie as well—in order to get through it without falling apart.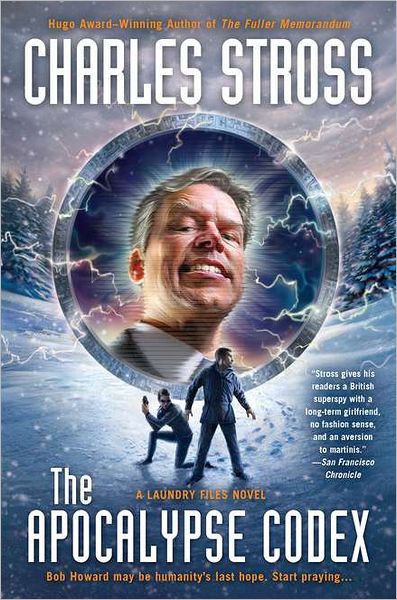 The Apocalypse Codex
(A
Laundry Files
novel) by
Charles Stross
(
Ace
Hardcover 07/03/2012) – This is the third full
Laundry
novel, I read
The Jennifer Morgue
and Mark read/reviewed
The Fuller Memorandum
."
Bob Howard may be humanity's last hope.
Start praying…

For outstanding heroism in the field (despite himself), computational demonologist Bob Howard is on the fast-track for promotion to management within The Laundry, the super-secret British government agency tasked with defending the realm from occult threats. Assigned to "External Assets," Bob discovers the company—unofficially—employs freelance agents to deal with sensitive situations that may embarrass Queen and Country.

So when Ray Schiller—an American televangelist with the uncanny ability to miraculously heal the ill—becomes uncomfortably close to the Prime Minister, External Assets dispatches the brilliant, beautiful, and entirely unpredictable Persephone Hazard to infiltrate the Golden Promise Ministry and discover why the preacher is so interested in British politics. And it's Bob's job to make sure Persephone doesn't cause an international incident.

But it's a supernatural incident that Bob needs to worry about—a global threat even The Laundry may be unable to clean up