The City at the End of Time
by
Greg Bear
– This is the final book, I received the ARC a few months ago and the actual on sale date is August 5, 2008.
In a time like the present, in a world that may or may not be our own, three young people–Ginny, Jack, and Daniel–dream of a doomed, decadent city of the distant future: the Kalpa. Ginny's and Jack's dreams overtake them without warning, leaving their bodies behind while carrying their consciousnesses forward, into the minds of two inhabitants of the Kalpa–a would-be warrior, Jebrassy, and an inquisitive explorer, Tiadba–who have been genetically retro-engineered to possess qualities of ancient humanity. As for Daniel: He dreams of an empty darkness–all that his future holds.
But more than dreams link Ginny, Jack, and Daniel. They are fate-shifters, born with the ability to skip like stones across the surface of the fifth dimension, inhabiting alternate versions of themselves. And each guards an object whose origin and purpose are unknown: gnarled, stony artifacts called sum-runners that persist unchanged through all versions of time.
Hunted by others with similar powers who seek the sum-runners on behalf of a terrifying, goddess-like entity known as the Chalk Princess, Ginny, Jack, and Daniel are drawn, despite themselves, into an all but hopeless mission to rescue the future–and complete the greatest achievement in human history.
The Diamond of
Darkhold (the fourth BOOK OF EMBER)
by
Jeanne DuPrau
– I love getting the fourth (or any non first) book in a series after not having read any of the previous books. This is an ARC with the actual book publishing at the end of August.
Star Wars: The Clone Wars
by
Karen Traviss
– I've read a few books by Traviss, so this might jump the pile a bit so I can read it before the movie hits theaters. This is, if it couldn't be surmised by now, the novelization of the upcoming CGI-animated Star Wars flick.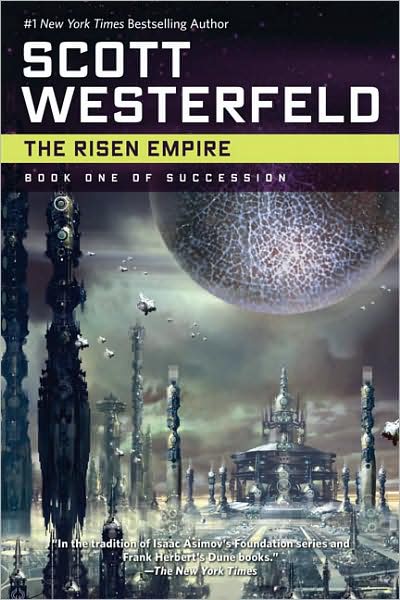 The Risen Empire
by
Scott Westerfeld
– For some reason, Tor reissued this series in trade paperback. To me, it would make sense to bind the two books in this duology, planned from what I've gathered as a single volume, rather than two trades which are double the price of the mass market paperback which went out of print. Those marketing choices aside, I read the first book a while ago and it was the selection of the
SFFWorld Science Fiction book club back in 2005
, but never made it to the second book. The arrival of this book is a good opportunity to revist Westerfeld's saga, since I've enjoyed his YA vampire novels.