The Penguin imprints are sending out their March releases and a couple of late February releases from Del Rey and Orbit. I've not read a single author in this bunch, but since I've been keeping track of the
arrivals on my blog
, this batch has the highest ratio of books I really would like to read.
I'm also running a poll on the sidebar as to which of these books I should read first, since they all look good and I can't quite decide. Of course, I reserve the right to reject the choice go with my own.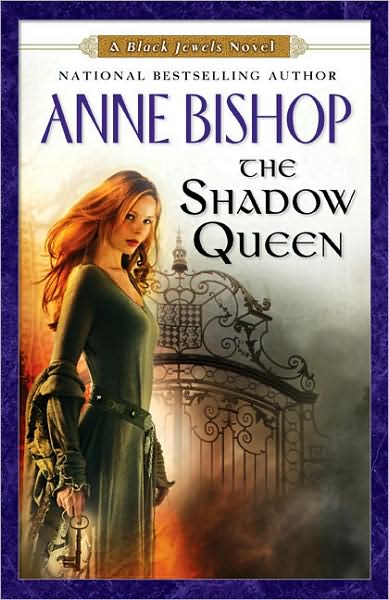 The Shadow Queen
(A
Black Jewels
Novel) by
Anne Bishop
(
Roc
Hardcover 03/04/2009) – Anne Bishop is pretty popular in fantasy circles and this is an extension of the series in which she made her name. Not really sure if it a stand-alone of intricately tied to the other (6) books in the series
Dena Nehele is a land decimated by its past. Once it was ruled by corrupt Queens who were wiped out when the land was cleansed of tainted Blood. Now, only one hundred Warlord Princes stand—without a leader and without hope…

Theran Grayhaven is the last of his line, desperate to find the key that reveals a treasure great enough to restore Dena Nehele. But first he needs to find a Queen who knows Protocol, remembers the Blood's code of honor, and lives by the Old Ways.

Languishing in the Shadow Realm, Lady Cassidy is a Queen without a court, a castoff. She is not beautiful. She thinks she is not strong. But when she is chosen to rule Dena Nehele, she must convince bitter men to serve once again.

Theran's cousin Gray is a Warlord Prince who was damaged in mind and body by the vicious Queens who once ruled Dena Nehele. Yet something about Cassidy makes him want to serve—and makes him believe he can be made whole once again.

And only Cassidy can prove to Gray—and to herself—that wounds can heal and even the whisper of a promise can be fulfilled…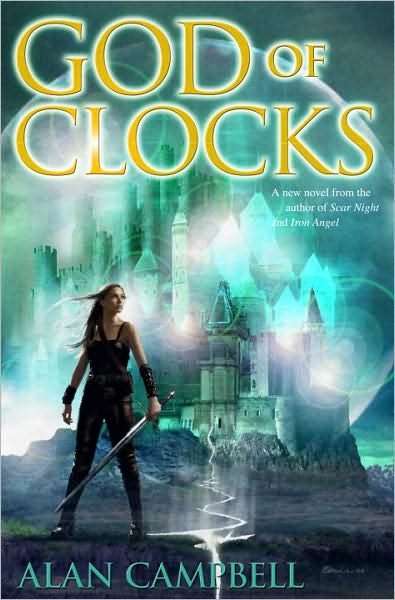 God of Clocks
(
The Deepgate Codex
Book 3) by
Alan Campbell
(
Bantam Spectra
Hardcover 4/28/2009) – Third in steampunkish trilogy. Hobbit reviewed the first book,
Scar Night
when it was published in the UK 2006. The first two books seem pretty well received, which I haven't yet read. Here's some blurbage:
War, rebellion, betrayal—but the worst is still to come. For in the cataclysm of the battle of the gods, a portal to Hell has been opened, releasing unnatural creatures that were never meant to be and threatening to turn the world into a killing field. And in the middle, caught between warring gods and fallen angels, humanity finds itself pushed to the brink of extinction. Its only hope is the most unlikely of heroes.

Former assassin Rachel Hael has rejoined the blood-magician Mina Greene and her devious little dog, Basilis, on one last desperate mission to save the world from the grip of Hell. Carried in the jaws of a debased angel, they rush to the final defensive stronghold of the god of time—pursued all the while by the twelve arconites, the great iron-and-bone automatons controlled by King Menoa, the Lord of the Maze. Meanwhile, in the other direction, the giant John Anchor, still harnessed to his master's skyship, descends into Hell itself to meet Menoa on his own ground.

But neither Heaven nor Hell is anything they could ever expect. Now old enemies and new allies join a battle whose outcome could be the end of them all. Rachel's ally, the god Hasp, finds himself in the grip of a parasite and struggles against conflicting orders to destroy his own friends; and a dangerous infant deity comprised of countless broken souls threatens to overcome them all. As Rachel travels to the final confrontation she has both sought and feared, she begins to realize that time itself is unraveling. And so she must prepare herself for a sacrifice that may claim her heart, her life, her soul—and even then it may not be enough.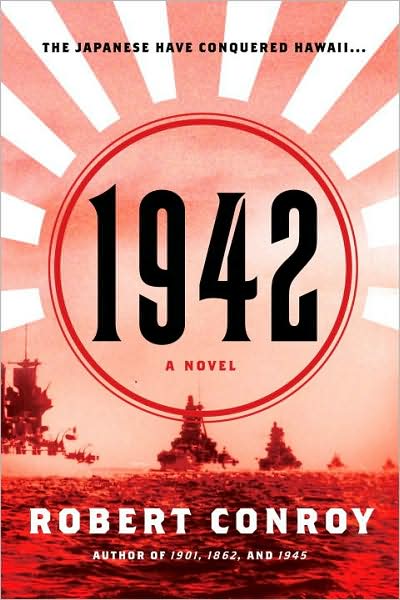 1942
by
Robert Conroy
(
Ballantine
Trade Paperback 3/24/2009)– What if Japan had taken over Hawai'i? That is the general premise of this Alternate History novel. All three of Conroy's previous novels were alternate history, so he's had some practice at it. This is the finished copy of the ARC I received in November.
A Madness of Angels
by
Kate Griffin
(
Orbit
Hardcover 04/2009) – Kate Griffin is the pseudonym of children's/young adult writer Catherine Webb, and this his her adult debut. The premise sounds intriguing enough, if very much in the vein of Neil Gaiman:
For Matthew Swift, today is not like any other day. It is the day on which he returns to life.

Two years after his untimely death, Matthew Swift finds himself breathing once again, lying in bed in his London home. Except that it's no longer his bed, or his home. And the last time this sorcerer was seen alive, an unknown assailant had gouged a hole so deep in his chest that his death was irrefutable…despite his body never being found. He doesn't have long to mull over his resurrection though, or the changes that have been wrought upon him. His only concern now is vengeance. Vengeance upon his monstrous killer and vengeance upon the one who brought him back.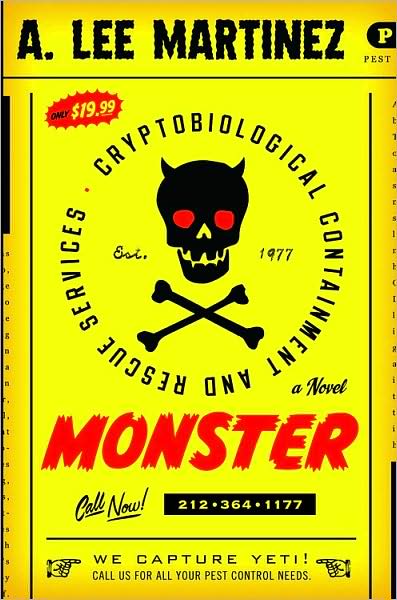 Monster
by
A. Lee Martinez
(
Orbit
Hardcover 04/2009) – Martinez jumps from Tor to Orbit with this book, and it sounds pretty interesting. After my wife read the back cover, she said it sounds like
Ghostbusters
, and I guess it kind of does.
Meet Monster. Meet Judy. Two humans who don't like each other much, but together must fight dragons, fire-breathing felines, trolls, Inuit walrus dogs, and a crazy cat lady - for the future of the universe.

Monster runs a pest control agency. He's overworked and has domestic troubles - like having the girlfriend from hell.

Judy works the night shift at the local Food Plus Mart. Not the most glamorous life, but Judy is happy. No one bothers her and if she has to spell things out for the night-manager every now and again, so be it.

But when Judy finds a Yeti in the freezer aisle eating all the Rocky Road, her life collides with Monster's in a rather alarming fashion. Because Monster doesn't catch raccoons; he catches the things that go bump in the night. Things like ogres, trolls, and dragons.

Oh, and his girlfriend from Hell? She actually is from Hell.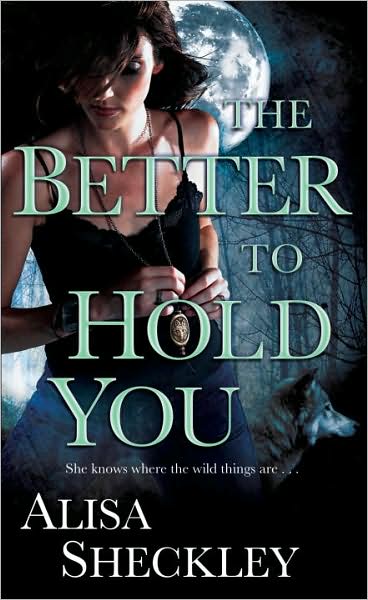 The Better to Hold You
by
Alisa Sheckley
(
Del Rey
Mass Market Paperback 2/24/2009) – When I first glanced at the book, I thought it was just another urban fantasy/paranormal romance. Then the blurb from Neil Gaiman whacked me in the face
"The sort of book that makes you want to invest in silver bullets before meeting the author."
. Then realized she is the daughter of Robert Sheckley and has been an editor and writer for
Vertigo Comics
. These things helped to move the book to the "to read pile" and pretty high at that. The novel is about a werewolf in Manhattan, but from the POV of the werewolf's wife.
Living with Ghosts
by
Kari Sperring
(
DAW
Mass Market Paperback 03/04/2009) – Elemental ghosts, blood pacts and an assassin-priest. I get the sense some clichés are at play here, but something about the book feels pretty intriguing. Sperring has written a handful of
scholarly non-fiction titles
so she can clearly write. Here's the plot info:
This highly original, darkly atmospheric fantasy novel immerses readers in a world where ghosts and other malevolent spirits seek entry into mortal realms—invisible to all but those who are not entirely human themselves. Drawn into the ancient city of Merafi, yet barred from entering by an ancient pact sealed in blood, these hungry haunts await their opportunity to break through the magical border and wreak havoc on the city's innocent denizens.

And as a priestess and prince weave a sorcerous plot to shatter the pact and bring ruin on Merafi, only a failed assassin-priest who is now a courtesan, a noble lord married into the ruling family of Merafi, an officer of the city guard, a woman warrior who was the former lover of a now-dead lord, and the ghost of that lord himself stand between Merafi and the tidal wave of magic that may soon bring ruin flooding down upon the city.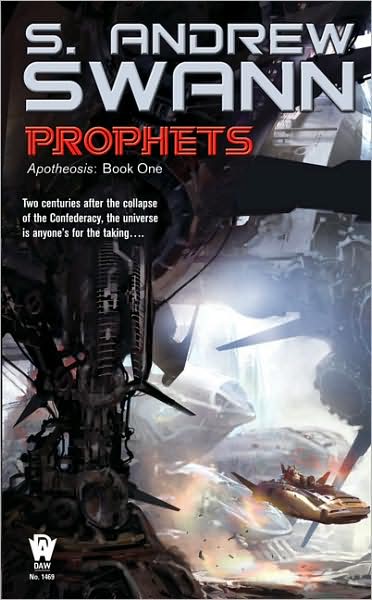 Prophets
(
Apotheosis
Book One) by
S. Andrew Swann
(
DAW
Mass Market Paperback 03/04/2009) – Swann has been writing for quite some time with about 15 novels to his credit. His
Moreau
series sounds good, so does this one a far future (26th Century) Space Opera-ish science fiction series. This book in particular is set in the same universe as his
Hostile Takeover
trilogy, though it looks distanced enough to allow new readers to jump into it.
It's been nearly 200 years since the collapse of the Confederacy, the last government to claim humanity's colonies. So when signals come in revealing lost human colonies that could shift the power balance, the race is on between the Caliphate ships and a small team of scientists and mercenarys. But what awaits them all is a threat far beyond the scope of any human government.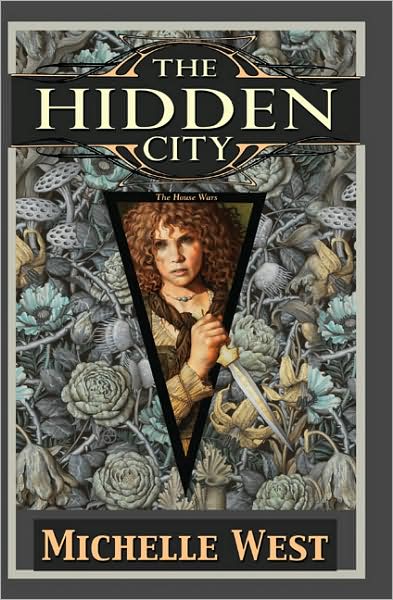 The Hidden City
(
The House Wars
Book 1) by
Michelle West
(
DAW
Mass Market Paperback 03/04/2009) – I've been hearing/seeing good things about Michelle West's novels on the intarwebs for a while now, so perhaps I can check out this book – the first in a new fantasy saga set in a popular world. However, like the Swann book I received this week,
The Hidden City
looks distanced enough from her other two series
The Sacred Hunt
duology and
The Sun Sword
Quintology (6 books) to allow new readers to jump into it.
Orphaned and left to fend for herself in the slums of Averalaan, Jewel Markess-Jay to her friends-meets an unlikely savior in Rath, a man who prowls the ruins of the undercity. Nursing Jay back to health is an unusual act for a man who renounced his own family long ago, and the situation becomes stranger still when Jay begins to form a den of other rescued children in Rath's home. But worse perils lurk beneath the slums: the demons that once nearly destroyed the Essalieyan Empire are stirring again, and soon Rath and Jay will find themselves targets of these unstoppable beings.