Another huge week of arrivals, so another extremely long Sunday post…
The Women of Nell Gwynne's
by
Kage Baker
(
Subterranean Press
Hardcover June 2009) – This sounds like an interesting little novelette (or novella?) from Baker. I've still got two novels from her staring at me.
Lady Beatrice was the proper British daughter of a proper British soldier, until tragedy struck and sent her home to walk the streets of early-Victorian London. But Lady Beatrice is no ordinary whore, and is soon recruited to join an underground establishment known as Nell Gwynne's. Nell Gwynne's is far more than simply the finest and most exclusive brothel in Whitehall; it is in fact the sister organization to the Gentlemen's Speculative Society, that 19th-century predecessor to a certain Company...and when a member of the Society goes missing on a peculiar assignment, it's up to Lady Beatrice and her sister harlots to investigate.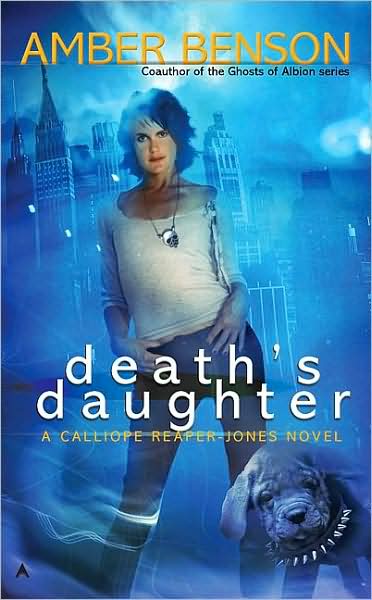 Death's Daughter
(Book 1 of
Calliope Reaper-Jones
) by
Amber Benson
(
Ace
Paperback February 2009) – Amber Benson, as most people who read this blog probably know, was a star of
Buffy, The Vampire Slayer
(a show I embarrassingly never really watched, must catch up soon). She's collaborated with Christopher Golden in the past and this (I think) is her first solo effort. The premise reminds me a bit of the CW's
Reaper
, which I like.
Calliope Reaper-Jones so just wanted a normal life: buying designer shoes on sale, dating guys from Craig's List, web-surfing for organic dim-sum for her boss...

But when her father-who happens to be Death himself-is kidnapped, and the Devil's Protege embarks on a hostile takeover of the family business, Death, Inc., Callie returns home to assume the CEO mantle- only to discover she must complete three nearly impossible tasks in the realm of the afterlife first.
The Ebb Tide
– A Langdon St. Ives Adventure
by
James P. Blaylock
(
Subterranean Press
Hardcover July 2009) – I tried the earlier
Langdon St. Ives
omnibus (
The Adventures of Langdon St. Ives
)from
Subterranean Press
and it just didn't click for me. I like Steampunk, but maybe I wasn't in the right reading frame of mind for it, so perhaps this little book will work better for me.
A flaming meteor over the Yorkshire Dales, a long-lost map drawn by the lunatic Bill "Cuttle" Kraken, and the discovery of a secret subterranean shipyard beneath the River Thames lead Professor Langdon St. Ives and his intrepid friend Jack Owlesby into the treacherous environs of Morecambe Bay, with its dangerous tides and vast quicksand pits. They descend beneath the sands of the Bay itself, into a dark, unknown ocean littered with human bones and the remnants of human dreams. In this tale of murder, infamy, and Victorian intrigue, the tides of destiny shift relentlessly and rapidly as the stakes grow ever higher and the pursuit more deadly....

The Alchemist's Pursuit
(Book 3 of
The Alchemist
by
Dave Duncan
(
Ace
Trade Paperback 03/03/2009) – I read some of Dave Duncan's King's Blades novels (
Paragon Lost
) a few years ago and really liked them. This book is the third (and final) in a medieval mystery/fantasy hybrid. Here's the plot info:
Hampered by arthritis, Nostradamus is in no mood for granting favors or running about looking for trouble. But when his apprentice Alfeo's mistress asks him to investigate the murder of her beloved courtesan mentor-and promises a fortune in payment-he comes around. It appears that someone is murdering the courtesans of Venice. All were well-known, admired for their skills-and somehow connected by a sinister event involving one of the great families of the city.

While Nostradamus attempts to use the dark arts to solve riddles which confound explanation, Alfeo finds himself led by a possibly demonic force through a maze of deceit and death. And when the master and apprentice come to the end of their intertwined paths, there may be hell to pay
The Evil in Pemberley House
by
Philip Jose Farmer
and
Win Scott Eckert
(
Subterranean Press
Hardcover September 2009) –
The Evil in Pemberley House, an addition to Farmer's long-running Wold Newton cycle, plays with the Gothic horror tradition. Patricia Wildman, the daughter of the world-renowned adventurer and crimefighter of the 1930s and '40s, Dr. James Clarke "Doc" Wildman, is all alone in the world when she inherits the family estate in Derbyshire, England old, dark, and supposedly haunted.

But Farmer, characteristically, turns convention on its ear. Is the ghost real, or a clever sham? In Patricia Wildman, Farmer creates an introspective character who struggles to reconcile the supernatural with her rational scientific upbringing, while also attempting to work through unresolved feelings about her late parents. He sets the action at Pemberley from Jane Austen's Pride and Prejudice and ingrains the various mysteries in the Canon of the Sherlock Holmes stories.

The Evil in Pemberley House is a darkly erotic novel with broad appeal to readers of pulp and popular literature, particularly followers of Doc Savage, Sherlockians, and fans of Farmer's own celebrated Wold Newton Family.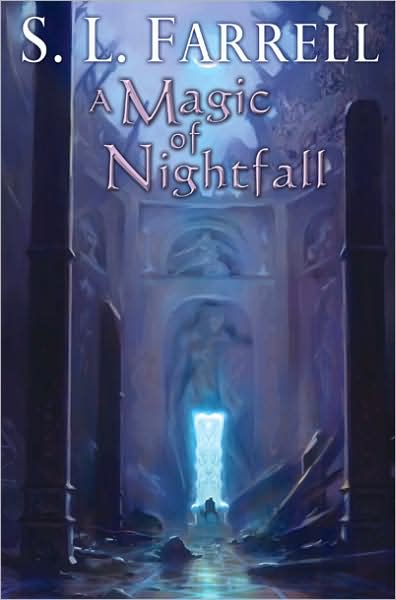 A Magic of Nightfall
(
The Nessantico Cycle
Book Two) by
S.L. Farrell
(
DAW
Hardcover 03/03/2009)– I've seen
such
good
things
about
the first
book
in the series
, so I was pleased when the
MMPB
arrived a couple of weeks ago. I'll read that one and jump straightaway into
A Magic of Nightfall
.
The second novel in the Nessantico Cycle continues the epic tale of an empire at its height, yet poised on the brink of what could be a devastating descent into ruin. It is a story of murder and magic, of deception and betrayal, of Machiavellian politics, star-crossed lovers, and a realm facing war on every front.
Flinx Transcendent
(
A Pip & Flinx Adventure
) by
Alan Dean Foster
(
Del Rey
Hardcover 05/19/2009) – Foster is an extremely prolific writer and this book brings his longest running series (
Commonwealth
which began with
The Tar-Aiym Krang
back in 1972) to a close:
From science fiction icon Alan Dean Foster comes the highly anticipated final Pip & Flinx adventure for fans of the green-eyed redhead with awesome mental powers and his miniature flying dragon. In this dazzling novel Foster answers all the questions that his fans have been asking about their favorite hero over the years, while saving the universe in the process.

Flinx Transcendent wraps up the storylines that Alan Dean Foster has been weaving through thirteen Pip & Flinx novels. Twice as long as any previous book in the series, this represents a major milestone in science fiction publishing.
Hayate X Blade Vol 2
by
Shizuru Hayashiya
(
Tor/Seven Seas
Manga February 2009)
High-octane swordplay meets light yuri romance when bratty Hayate Nagi must take her twin sister's place in a succession of grueling girl-on-girl sword battles or risk expulsion from sword school!.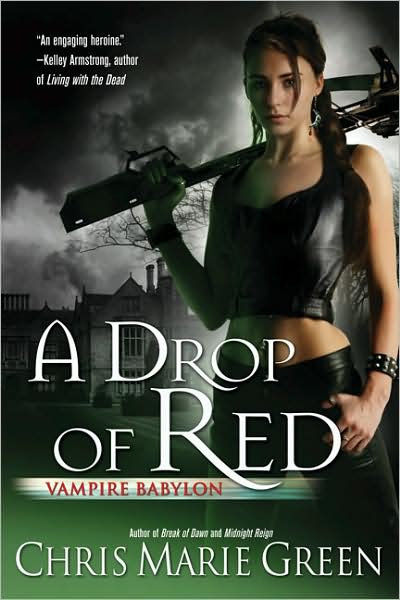 A Drop of Red
(
Vampire Babylon
#4) by
Chris Marie Green
(
Ace
Trade Paperback 03/03/2009) – Vampires & Vampire Hunters in Hollywood – a tried and true story telling device. Although this is the fourth book in the
Vampire Babylon
, it is the first of a new trilogy/story-arc within Green's vampire universe. In other words, not completely off-putting to new readers. Here's the publisher info:
Hollywood stuntwoman-turned-vampire-hunter Dawn Madison, along with her comrades, managed to wipe out the Los Angeles Vampire Underground-and uncovered not only her own dark family heritage but also a terrible truth about the man she loves. Now she's determined to find the next vampire lair, hoping it will help her to make more sense out of her life.

When a new Underground is found in England, Dawn and a vampire-fighting team are dispatched to carry the fight to the enemy in London. Dawn knows by now how deceiving appearances can be-and she is about to find out that it's not only the beautiful people of Hollywood who are willing to bargain with evil . . .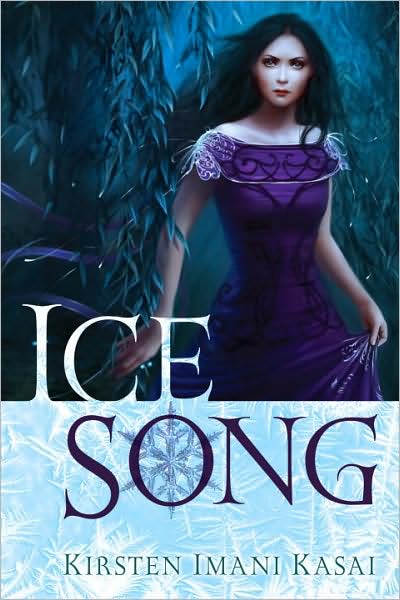 Ice Song
by
Kirsten Imani Kasai
(
Del Rey
Trade Paperback 05/19/2009) – Debut novel that sounds a mix of Le Guin's
Left Hand of Darkness
, Jacqueline Carey, and Dan Simmons's
The Terror
Sorykah Minuit is a scholar, an engineer, and the sole woman aboard an ice-drilling submarine in the frozen land of the Sigue.What no one knows is that she is also a rare Trader, who can switch genders without warning. When a wealthy, reclusive madman known as the Collector abducts Sorykah's infant twins to use in his dreadful experiments, Sorykah and her male alter ego, Soryk, must cross icy wastes and a primeval forest to get them back. Complicating the dangerous journey is the fact that Sorykah and Soryk do not share memories; each transformation is as much of a jolt as if awakening from a deep and dreamless sleep.

The world through which the sundered halves of Sorykah and Soryk travel is both familiar and surreal. Environmental degradation and genetic mutation run amok; humans have become distorted into animals and animal bodies mask a wild humanity. But it is also a world of unexpected beauty and wonder, where kindness and love endure amidst the ruins.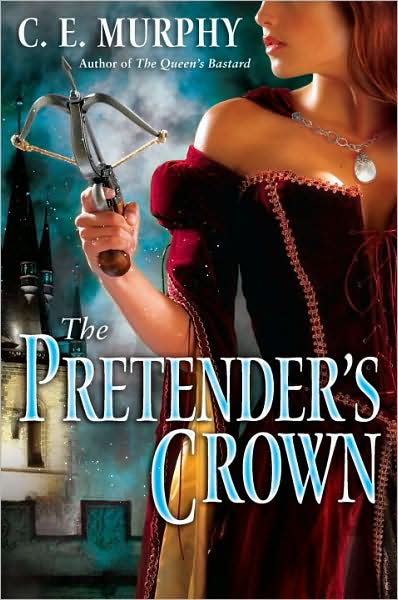 The Pretender's Crown
(Book Two of
The Inheritors' Cycle
) by
C. E. Murphy
(
Del Rey
Trade Paperback 04/28/2009) – Sequel to last year's
The Queen's Bastard
, which I own but haven't read.
Belinda Primrose is no longer anyone's pawn. Lured by the sensual dark magic of Dmitri, envoy to a neighboring throne, yet still drawn to the witchlord embrace of her former lover, Javier, Belinda has entered a realm where power and control go to those who can master and manipulate their fiercest desires. For the witchpower depends on the skill its wielder holds.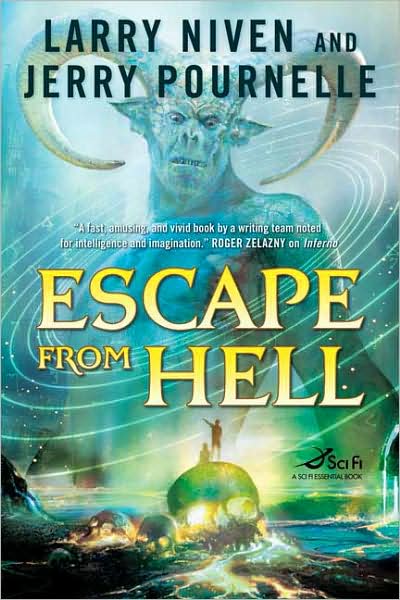 Escape from Hell
by
Larry Niven
and
Jerry Pournelle (
Tor
Hardcover 02/17/2009) – This is the "long-awaited" sequel to the popular author-duo's award-nominated
Inferno
, which is a modern take on Dante's classic epic poem.
The Novel covers the events after deceased science fiction writer Allen Carpentier turns back to try to help other damned souls as his guide, Benito Mussolini begins his climb out of the lowest circle of Hell towards Purgatory.

In it, Carpentier teams up with Sylvia Plath, becoming a modern-day Christ who harrows Hell and frees many of the damned. Notable persons encountered in this novel in addition to Plath include (in no particular order): Cho Seung-Hui, J. Robert Oppenheimer, Kenneth Lay, Carl Sagan, and Aimee Semple McPherson.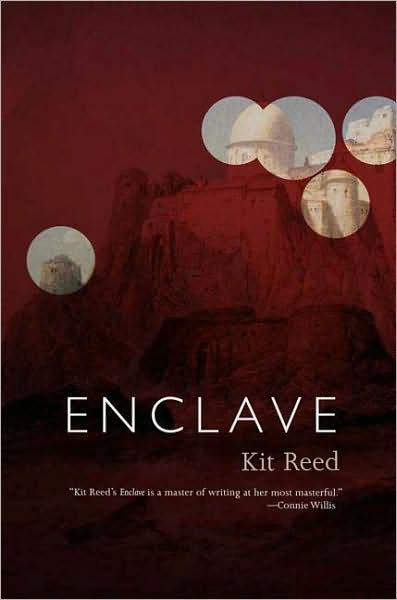 Enclave
by
Kit Reed
(
Tor
, Hardcover 2/03/2009 – This is the final version of the ARC I received
back in September
, boy has time flown! I read the
Baby Merchant
by her and thought it was an interesting and thought provoking novel. As I re-read the info on this book, I became more interested.
The world is in chaos: war, plague, global ecological collapse. Parents everywhere seek sanctuary for their precious children, the future of mankind. For those who are rich and powerful enough, safety can be found—for a price—at the Clothos Academy. Run by a mysterious man known only as Sarge, set in a former monastery atop a sheer cliff on a tiny island somewhere in the Mediterranean, Clothos will admit only one hundred students before it is sealed off—perhaps permanently—from the terrors outside.

But all is not as it seems. The pupils are so-called starlets best known for their empty heads and eating disorders; troublemakers one step away from incarceration; and junior royals too embarrassing to be let out in public. And the staff isn't much better, from the alcoholic doctor to an ancient monk with secrets of his own.

And the dangers from which these castaways are being protected? Prerecorded, ready to be trotted out whenever Sarge needs to terrify his little flock. And yet…

Some dangers are real, as two boys discover when they hack the Academy's self-contained computer network and connect, for a brief but disastrous moment, to the outside world. Worse, a stranger has entered the Academy. And he has brought Death.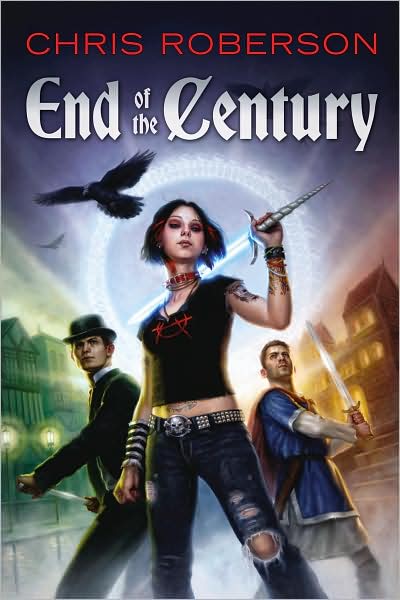 End of the Century
(Part of the
The Bonaventure-Carmody Sequence
) by
Chris Roberson
(
Pyr
Trade Paperback January 2009) – Chris Roberson has been writing some entertaining novels over the past couple of years, and many of them can't be pigeon-holed into one specific genre or subgenre. I loved
Paragaea
, which is part of this sequence:.
Three people. Three eras. One city. Endless possibilities. End of the Century is a novel of the distant past, the unimaginable future, and the search for the Holy Grail. Set in the city of London, the narrative is interlaced between three ages, in which a disparate group of heroes, criminals, runaways, and lunatics are drawn into the greatest quest of all time.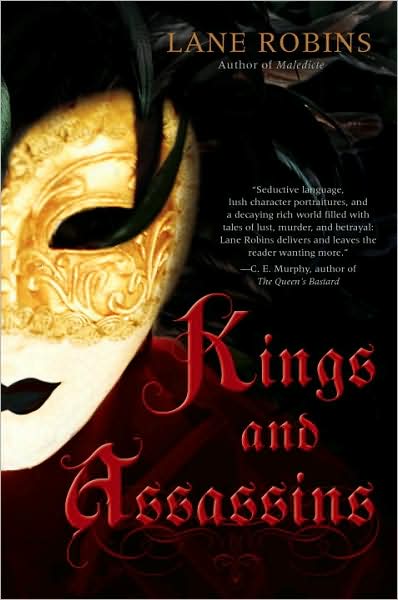 Kings and Assassins
by
Lane Robins
(
Del Rey
Trade Paperback 04/21/2009) – This is a sequel to
Maledicte
:
Controlled by an aristocracy whose depraved whims bow to neither law nor god, the kingdom of Antyre is under siege from the only man who can save it. He is Janus Ixion, the new Earl of Last, a man whose matchless fighting abilities and leadership strike terror in Antyre's powerful noble houses.

For Janus is the illegitimate son who has returned from the brutal slums to reclaim his birthright, and will go to any lengths to become king and reverse his country's decline. But with a conquering foreign prince sowing chaos throughout the kingdom, Janus must battle the terrifying power of Antyre's forgotten god, one who has gifted Janus's vengeful wife with mysterious and dangerous skills. As Antyre nears irrevocable collapse, Janus's manipulations and all-consuming ambition will force him and his country to choose between the rule of resurgent gods, or a victor's throne of ashes.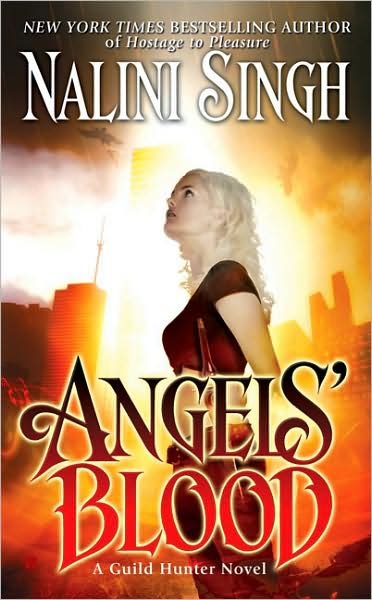 Angels' Blood
(
Guild Hunter
Book 1) by
Nalini Singh
(
Berkeley Paranormal Romance/Urban Fantasy
Mass Market Paperback 03/03/2009) – Archangels, demons, and vampires, .oh my! Singh is
New York Times
bestselling author and this is the first in a brand new paranormal romance series. I'm slightly tempted to … I don't know …
Vampire hunter Elena Deveraux is hired by the dangerously beautiful Archangel Raphael. But this time, it's not a wayward vamp she has to track. It's an archangel gone bad.

The job will put Elena in the midst of a killing spree like no other-and pull her to the razor's edge of passion. Even if the hunt doesn't destroy her, succumbing to Raphael's seductive touch just may. For when archangels play, mortals break
Coyote Horizon
by
Allen Steele
(
Ace
Trade Paperback 03/03/2009) – Even though this book is part of his
Coyote Horizon
, the description gives the sense that it is approachable to new readers, which is good for somebody like me. The series itself has won some awards and is a generational tale of interplanetary colonization.
The planet of Coyote has become the last, best hope of humankind, but it has also become the principal point of contact with the hjadd, the alien race encountered by a European starship many years earlier. Although the hjadd have built an embassy near the original colony, they remain a mystery.

And as the colonists make preparations to explore the rest of the new world, ex-convict Hawk Thompson discovers more about the hjadd than anyone has learned before-and his knowledge will change human history . . .
Deader Still
(Book 2 of
Simon Canderous
) by
Anton Strout
(
Ace
Mass Market Paperback 02/24/2009) – Another Urban Fantasy, this one bearing comparison to
The Dresden Files
. I glanced at the first page, the story opens at New York Comic-Con, so I'm interested. Here's the plot info:
It's been 737 days since the Department of Extraordinary Affairs' last vampire incursion, but that streak appears to have ended when a boat full of dead lawyers is found in the Hudson River. Using the power of psychometry-the ability to divine the history of an object by touching it-agent Simon Canderous discovers that the booze cruise was crashed by something that sucked all the blood out of the litigators. Now, his workday may never end-until his life does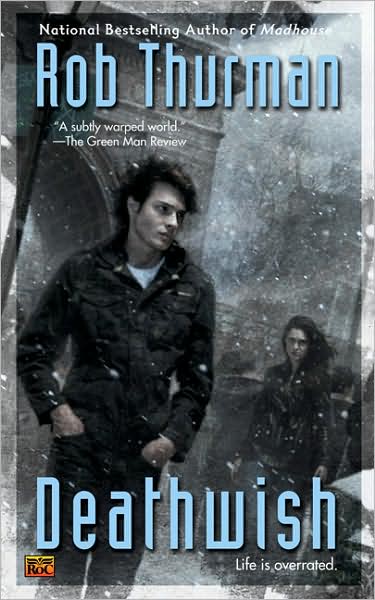 Deathwish
(
Cal Leandros
Series, Book Four) by
Rob Thurman
(
Roc
Paperback 03/04/2009) For the longest time, I thought Rob Thurman was a man (not that it matters), but recently realized Rob is a man. This here's the fourth in a relatively popular Urban Fantasy Series:
Half-human Cal Leandros and his brother Niko are hired by the vampire Seamus to find out who has been following him—until Seamus turns up dead (or un-undead). Worse still is the return of Cal's nightmarish family, the Auphe. The last time Cal and Niko faced them, they were almost wiped out. Now, the Auphe want revenge. But first, they'll destroy everything Cal holds dear...