Another huge week as the Penguin (Roc, NAL, Ace, DAW) imprints begin rolling out their April books. Some other books I've really been wanting to read arrived as well, but the highlight might be the ARC of
Brandon Sanderson
's
Warbreaker
. Once again, I'm feeling the "too many appealing books and not enough time" thing.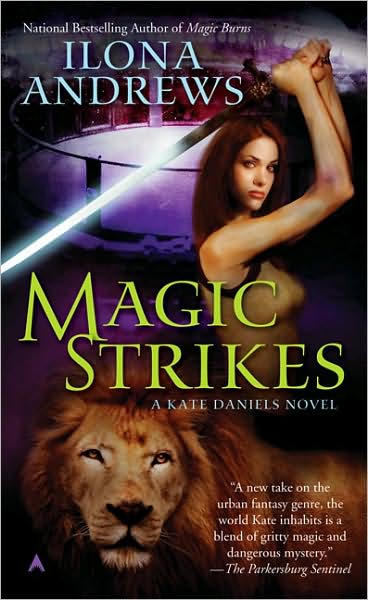 Magic Strikes
(Book Three of
Kate Daniels
) by
Ilona Andrews
(
Ace
Mass Market Paperback 03/31/2009) – The third in an Urban Fantasy series (haven't read the first two) about a Paranormal fixer-uppper:
Drafted into working for the Order of Merciful Aid, mercenary Kate Daniels has more paranormal problems than she knows what to do with. And in Atlanta, where magic comes and goes like the tide, that's saying a lot. But when Kate's werewolf friend Derek is discovered nearly dead, she must confront her greatest challenge yet.
Angelic
by
Kelley Armstrong
(Part of her
Otherworld
Saga) – (
Subterranean Press
Hardcover 12/31/2009) – I haven't read any of Armstrong's Urban Fantasies, but they've been on the "To Try" list for a while. This here's a novella in her massively popular
Otherworld
saga:
Eve Levine, ghost and part-time avenging angel, is ready for her already overdue annual vacation from her work for the Fates, who have just one small, simple job that she needs to take care of before they'll let her go. And as all things involving fate, it's neither small, nor simple.
Dragons Luck
by
Robert Asprin
(
Ace
Trade Paperback 04/07/2009) – I can only assume this book was completed before Mr. Aspirin's unfortunate passing last May, but it is the second in a series involving talking Dragons in New Orleans.
Griffen McCandles is adjusting well to running his gambling operation in the French Quarter of New Orleans and to his newfound status as head dragon. Other dragons are getting a whiff of his reputation, though, and they're not happy about it. Which is why there's suddenly a hit out on him.

And, just in time for Halloween, the ghost of a voodoo queen wants Griffen to moderate a supernatural conclave. And though the strange goings-on will barely be noticed in a city used to drunken conventioneers and wild revelers, it's Griffen's chance to spread his wings-or crash and burn.
The Edge of the World
(
Terra Incognita Book One
) by
Kevin J. Anderson
(
Orbit
Trade Paperback 06/08/2009) – I may have read some
Star Wars
fiction by Mr. Anderson, but not much else. His reputation for taking over the
Dune
series is less than stellar, but his original fiction seems to get relatively positive reviews. This is the launch of a brand new Epic Fantasy series, actually Anderson's first foray into the subgenre. Here's a widget from his Web site:
Terra Incognita - the blank spaces on the map, past the edge of the world, marked only by the words 'here be monsters.'Two nations at war, fighting for dominion over the known, and undiscovered, world, pin their last hopes at ultimate victory on finding a land out of legend.Each will send their ships to brave the untamed seas, wild storms, sea serpents, and darker dangers unknown to any man. It is a perilous undertaking, but there will always be the impetuous, the brave and the mad who are willing to leave their homes to explore the unknown.Even unto the edge of the world…Kevin J. Anderson's spectacular fantasy debut is a sweeping tale of adventure on the high seas, as two warring kingdoms vie for the greatest treasure of them all.
Where Everything Ends
by
Ray Bradbury
(
Subterranean Press
Hardcover October 2009) – Subterranean Press continues its impressive line of fine, limited edition Ray Bradbury books. This book is a collection of three mystery novels,
Death is a Lonely Business
A Graveyard for Lunatics
, and
Let's All Kill Constance
, as well as the short story
Where Everything Ends
Freely acknowledging the influence of the genre's masters (Hammett, Chandler, MacDonald, and Cain), all of these stories successfully transcend those influences, filtering them through their author's wholly unique sensibility. The result is a powerfully nostalgic evocation of time and place, and an unforgettable portrait of a writer in love with language, with movies, and with the transformative power of stories themselves.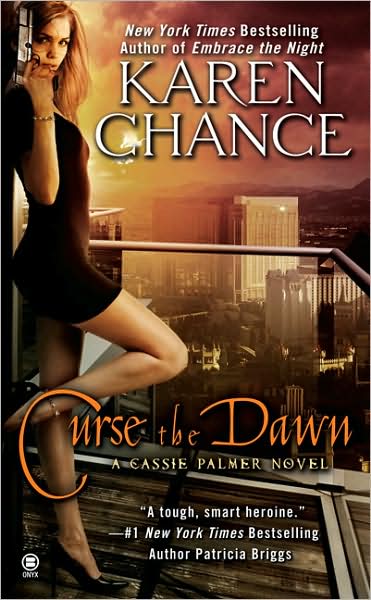 Curse the Dawn
: (
Cassandra Palmer Series #4
) by
Karen Chance
(
Onyx
Paperback 04/07/2009). – This would be the fourth book in a Paranormal Romance/Urban Fantasy series. For some strange reason, the first three books were published in the ROC imprint of Penguin and with the fourth book, the powers-that-be at Penguin decided to switch to the ONYX imprint. Odd, that.
Cassandra Palmer may be the all-powerful Pythia now, but that doesn't mean people have stopped trying to kill her. Most of the supernatural power players don't want the independent minded Cassie as chief clairvoyant—and they'll stop at nothing to see her six feet under.

The Vampire Senate does support Cassie in her position, but their protection comes with a price: an alliance with the sexy master vampire Mircea, who has claimed Cassie as his own. But even the vampires will have trouble keeping Cassie alive now that the self-styled god Apollo, the source of the Pythia's power, has it in for her in a big way. To save her life—and the world—Cassie's going to have to face down her creator once and for all.
Forever Twilight 2: Windows to the Soul
by
Peter Crowther
(
Subterranean Press
Hardcover 07/30/2009) – Crowther is known primarily as an editor of short fiction and a co-founder of
PS Publishing
, but this sounds quite interesting indeed.
The second volume (the first volume is already available) of Crowther's exciting new SF/Horror series concerning the adventures of a small group of human survivors roaming what is left of our Earth. Part alien invasion, part epic vampire yarn, the Forever Twilight series pits our main characters against a fearless and powerless race of invaders who can only operate under the cover of darkness!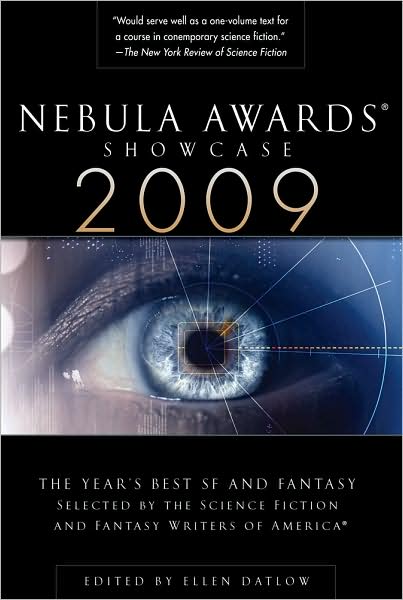 Nebula Awards Showcase 2009
edited by
Ellen Datlow
(
Ace
Trade Paperback 04/07/2009) – I've had intentions for the past few years to pick up this annual collection, and I realize I've read a good portion of the stories/excerpts in this volume, including Chabon's Nebula-award winning
The Yiddish Policemen's Union
, Andy Duncan's
Unique Chicken Goes in Reverse
in the Strahan-edited
Eclipse One
. Although the fiction looks interesting in this one, some of the nofiction looks good, including an essay on Young Adult fiction by
Gwenda Bond
and an appreciation of Michael Moorcock.
This annual tradition from the Science Fiction and Fantasy Writers of America collects the best of the year's stories, as well as essays and commentary on the current state of the genre and predictions of future science fiction and fantasy films, art, and more. This year's award-winning authors include Michael Chabon, Karen Joy Fowler, Ted Chiang, and Nancy Kress, plus 2008 Grand Master Michael Moorcock.
The Stranger
(Book One of
The Labyrinths of Echo
) by
Max Frei
(
Overlook Press
Hardcover 04/14/2009) – I've been hearing/seeing little things about this book for a while now and it sounds really cool. Overlook, of course, is the publisher of the great R. Scott Bakker so I know they have a good track record and this one comes highly recommended.
Max Frei was a twenty-something loser-a big sleeper (that is, during the day; at night he can't sleep a wink), a hardened smoker, and an uncomplicated glutton and loafer. But then he got lucky. He contacts a parallel world in his dreams, where magic is a daily practice. Once a social outcast, he's now known in his new world as the "unequalled Sir Max." He's a member of the Department of Absolute Order, formed by a species of enchanted secret agents; his job is to solve cases more extravagant and unreal than one could imagine-a journey that will take Max down the winding paths of this strange and unhinged universe.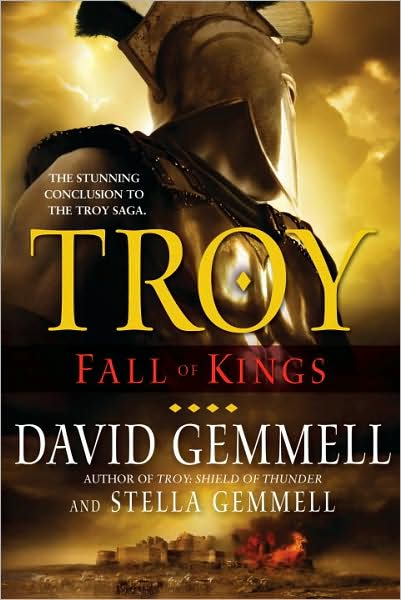 Troy: Fall of Kings
(Book 3 of
The Troy Series
) by
David
and Stella Gemmell (
Del Rey
Trade Paperback 03/24/2009) – Del Rey Sent me the Hardcover back in December 2007 and the version I received this past Monday is the Trade Paperback. Gemmell is one of this authors whose work I've barely read(embarrassingly), though I've got a decent amount of his stuff in boxes at home. This is his last published work:
Darkness falls on the Great Green, and the Ancient World is fiercely divided. On the killing fields outside the golden city of Troy, forces loyal to the Mykene King mass. Among them is Odysseus, fabled storyteller and reluctant ally to the Mykene, who knows that he must soon face his former friends in deadly combat.

Within the city, the Trojan king waits. Ailing and bitter, his hope is pinned on two heroes: his favourite son Hektor, and the dread Helikaon who will wreak terrible vengeance for the death of his wife at Mykene hands. War has been declared — a war filled with bloodlust, and peopled by heroes who will live forever in a story that will echo down the centuries.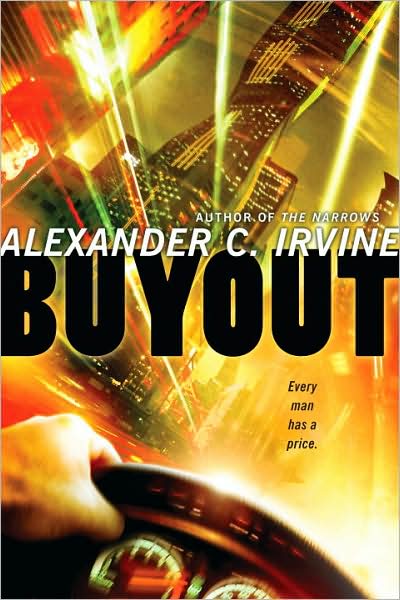 Buyout
by
Alexander Irvine
(
Del Rey
Trade Paperback 3/31/2009) – I've read a few of his books (
A Scattering of Jades
and
One King, One Soldier
) so I'm hoping this is just as good, it's just a matter of when I actually get to the book. The book in this past week's mail is a finished copy of the
ARC I received in January
.


One hundred years from now, with Americans hooked into an Internet far more expansive and intrusive than today's, the world has become a seamless market-driven experience. In this culture of capitalism run amok, entrepreneurs and politicians faced with rampant overcrowding in the nation's penal system turn to a controversial new method of cutting costs: life-term buyouts. In theory, buyouts offer convicted murderers the chance to atone for their crimes by voluntarily allowing themselves to be put to death by the state in exchange for a one-time cash payment, shared among their heirs and victims, based on a percentage of what it would have cost taxpayers to house and feed them for the rest of their natural lives. It's a win-win situation.

At least that's what Martin Kindred believes. And Martin is a man who desperately needs something to believe in, especially with his marriage coming apart and the murder of his brother, an L.A. cop brutally gunned down in the line of duty, unsolved.

As the public face of the buyout program, Martin is a lightning rod for verbal and physical abuse–but he embraces every challenge, knowing his motives are pure. But when evidence comes to light that a felon in line for a buyout may have been involved with his brother's death, Martin's professional detachment threatens to turn into a personal vendetta that will jeopardize everything–and everyone–he holds dear. Inspired by today's politics, Buyout is an unforgettable look at an all-too-believable future . . . and one man's struggle to do the right thing.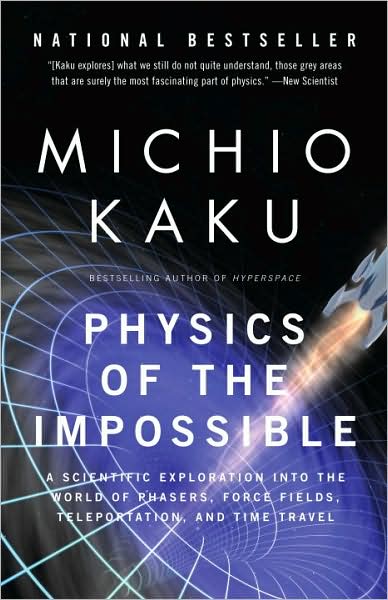 Physics of the Impossible
by
Michio Kaku
(
Anchor Books
Trade Paperback 04/07/2009) – Dr. Kaku is the closest thing to a Rock-Star Scientist, having published several books which seemingly explain physics in very readable terms. This book sounds pretty interesting.
Teleportation, time machines, force fields, and interstellar space ships—the stuff of science fiction or potentially attainable future technologies? Inspired by the fantastic worlds of Star Trek, Star Wars, and Back to the Future, renowned theoretical physicist and bestselling author Michio Kaku takes an informed, serious, and often surprising look at what our current understanding of the universe's physical laws may permit in the near and distant future.

Entertaining, informative, and imaginative, Physics of the Impossible probes the very limits of human ingenuity and scientific possibility.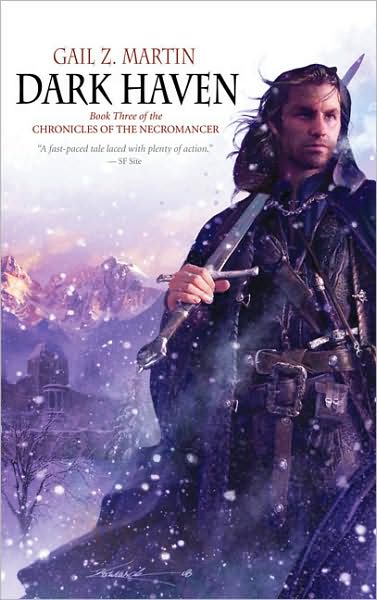 Dark Haven
(Book Three of
The Chronicles of the Necromancer
) by
Gail Z. Martin
(
Solaris Books
Mass Market Paperback January 2009) – I read the first book in the series,
The Summoner
and didn't care for it, but the books are doing well.
Matris Drayke, king of Margolan, is faced with the challenge to rebuild his shattered kingdom. With his wedding weeks away, Tris must address the trials and executions of those responsible for the atrocities against Margolan's people. Jonmarc Vahanian, the new Lord of Dark Haven, and one of Tris's allies, faces trouble with the Blood Council, where there is defiance against the prospect of a mortal lord. And beneath Dark Haven, the Flow, the vast river of power damaged when Arontala wrested the Soulcatcher from Dark Haven's foundation, is becoming unstable, threatening the balance of magic itself, and the future of the Winter Kingdoms.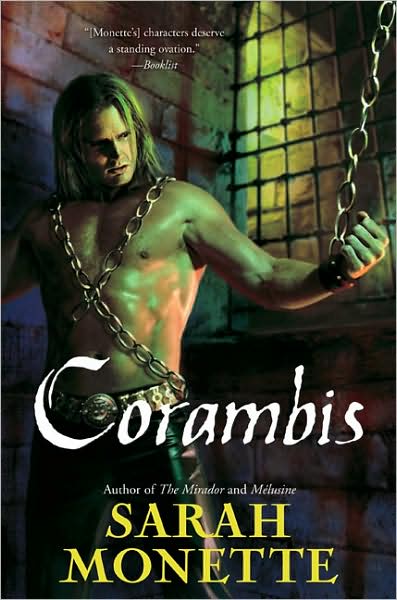 Corambis
(Book Four of
The Doctrine of Labyrinths
) by
Sarah Monette
(
Ace
Hardcover 04/07/2009) – Although I haven't read any books by Sarah Monette, I've heard/seen very good things about them. This is the fourth book in the series that began with
Mélusine
Exiled from Mélusine for the crime of heresy, the once powerful Cabaline wizard Felix Harrowgate and his half-brother Mildmay, former cat-burglar and assassin, journey to Corambis to face judgment from a ruling body of wizards. Corambis, however, is a land plagued by civil strife. Kay Brightmore, the Margrave of Rothmarlin, is part of an insurrection to restore the monarchy in the southern half of the country. In desperation, Kay and his rebels seek out the engine of Summerdown, an ancient magical device rumored to have terrible powers. Once the engine is awakened, only a powerful wizard can stop its awesome potential for destruction. Felix and Mildmay arrive just in time for their greatest challenge-and ultimate destiny . . .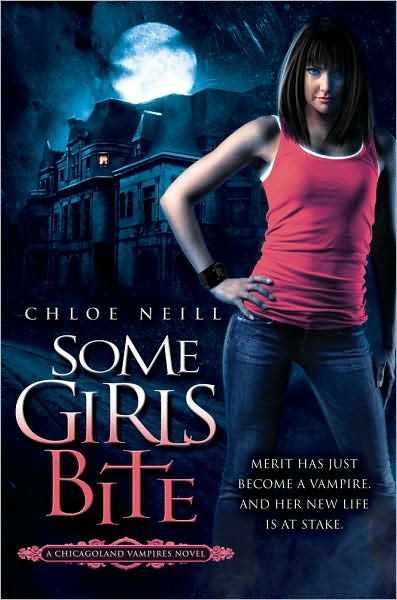 Some Girls Bite
(Book One of
The Chicagoland Vampires
) by
Chloe Neil
(
Ace
Trade Paperback 04/07/2009) – The first book in a new Urban Fantasy/Vampire series about (I assume from the cover) a cute, young, sassy girl who becomes a vampire and learns the ins and outs of Chicago's Vampire society.
Sure, the life of a graduate student wasn't exactly glamorous, but it was Merit's. She was doing fine until a rogue vampire attacked her. But he only got a sip before he was scared away by another bloodsucker—and this one decided the best way to save her life was to make her the walking undead.

Turns out her savior was the master vampire of Cadogan House. Now she's traded sweating over her thesis for learning to fit in at a Hyde Park mansion full of vamps loyal to Ethan "Lord o' the Manor" Sullivan. Of course, as a tall, green-eyed, four-hundred- year-old vampire, he has centuries' worth of charm, but unfortunately he expects her gratitude— and servitude. But an inconvenient sunlight allergy and Ethan's attitude are the least of her concerns. Someone's still out to get her. Her initiation into Chicago's nightlife may be the first skirmish in a war—and there will be blood.
Warbreaker
by
Brandon Sanderson
(
Tor
Hardcover 06/09/2009) – Brandon Sanderson's star continues to rise and his ability to churn out big ol' fat fantasies continues to be very impressive. Especially considering the high quality of the
Mistborn Trilogy
, which I thoroughly enjoyed and the pending mega-boost his profile will receive once
A Memory of Light
. This novel is a stand-alone and along with the great-looking ARC I received, came a promo letter including a large and generous blurb from none other than Michael Moorcock.
Warbreaker is the story of two sisters, who happen to be princesses, and the God King one of them has to marry; the lesser god who doesn't like his job; and the immortal who's still trying to undo the mistakes he made hundreds of years ago. Their world is one in which those who die in glory return as gods, to live confined to a pantheon in Hallandren's capital city of T'Telir. A world where a power known as BioChromatic magic is based on an essence, an inherent energy or élan vital, known as "breath," which can only be collected one unit at a time from individual people. By using breath and drawing upon the color in everyday objects, all manner of miracles and mischief can be accomplished. It will take considerable quantities of each to resolve all the challenges facing Vivenna and Siri, princesses of Idris; Susebron the God King; Lightsong, reluctant god of bravery; and mysterious Vasher, the Warbreaker
WWW:Wake
(Volume 1 of the
WWW Trilogy
by
Robert J. Sawyer
(
Ace
Hardcover 04/07/2009) – I've read a couple of Mr. Sawyer's novels (
Factoring Humanity
,
Starplex
) and enjoyed them, so I'm looking forward to this one, too. It's got a really catchy cover.
Caitlin Decter is young, pretty, feisty, a genius at math-and blind. Still, she can surf the net with the best of them, following its complex paths clearly in her mind. But Caitlin's brain long ago co-opted her primary visual cortex to help her navigate online. So when she receives an implant to restore her sight, instead of seeing reality, the landscape of the World Wide Web explodes into her consciousness, spreading out all around her in a riot of colors and shapes. While exploring this amazing realm, she discovers something-some other-lurking in the background. And it's getting more and more intelligent with each passing day . . .
Dancing on the Head of a Pin
(Book Two of
Remy Chandler
) by
Thomas E. Sniegoski
(
Ace
Trade Paperback 04/07/2009) – Urban Fantasy about a former Angel from Heaven who is now a private investigator with supernatural cases. Sounds similar to
The Dresden Files
but with enough of a twist (angels rather than faerie) to make this worthy of consideration:
Still mourning the loss of his wife, fallen angel Remy Chandler has immersed himself in investigating dangerous supernatural cases. His latest: the theft of a cache of ancient weaponry stolen from a collector who deals in antiquities of a dark and dubious nature. The weapons, Remy knows, were forged eons ago and imbued with unimaginable power. And if they fall into the wrong hands, they could be used to destroy not only Heaven but also Earth.