The weekly flow of books continues with some good stuff. I've already started one book that arrived.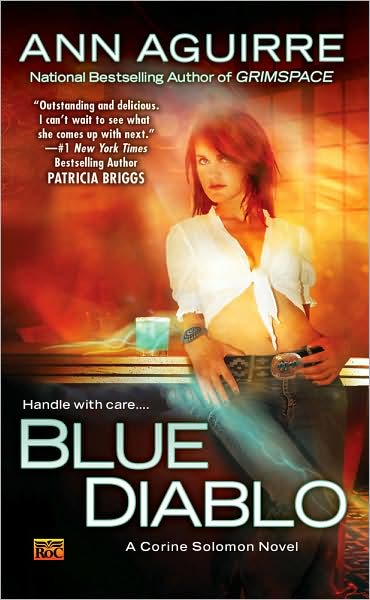 Blue Diablo
: (
Corine Solomon
#1) by
Ann Aguirre
(
Roc
Mass Market Paperback 04/07/2009) – Although Ann Aguirre has published a handful of novels at this point,
Blue Diablo
is the launch of a new series that is in the ubiquitous "Urban Fantasy" sub genre.
Corine Solomon is a handler—when she touches an object she instantly knows its history and its future. Using her ability, she can find the missing—which is why people never stop trying to find her. Like her ex-boyfriend Chance, who needs Corine's gift to find someone dear to them both. But the search proves dangerous as it leads them into a strange world of demons and sorcerers, ghosts and witchcraft, zombies—and black magic...
The Judging Eye
: (
The Aspect-Emperor
Book One) by
R. Scott Bakker
(
Overlook Press
Hardcover February 2009). – Bakker's
Prince of Nothing
trilogy is a defining fantasy saga of the early 21st Century and I was lucky enough to read the first one,
The Darkness that Comes Before
very early on in 2003 and it blew me away like few other debut novels I'd ever read before or since. Not long thereafter, I
interviewed
Scott and I've enjoyed each volume in
The Prince of Nothing
just as much (
The Warrior-Prophet
and
The Thousandfold Thought
). I'm already 130+ pages into it and I have a tough time putting it down.
The Darkness that Comes Before, The Warrior-Prophet and The Thousandfold Thought--collectively the Prince of Nothing Saga--were R. Scott Bakker's magnificent debut into the upper echelon of epic fantasy. In those three books, Bakker created a world that was at once a triumph of the fantastic and an historical epic as real as any that came before.

Widely praised by reviewers and a growing body of fans, Bakker has already established the reputation as one of the smartest writers in the fantasy genre--a writer in the line stretching from Homer to Peake to Tolkein. Now he returns to The Prince of Nothing with the long awaited The Judging Eye, the first book in an all-new series. Set twenty years after the end of The Thousandfold Thought, Bakker reintroduces us to a world that is at once familiar but also very different than the one readers thought they knew. Delving even further into his richly imagined universe of myth, violence, and sorcery, and fully remolding the fantasy genre to broaden the scope of intricacy and meaning, R. Scott Bakker has once again written a fantasy novel that defies all expectations and rewards the reader with an experience unlike any to be had in the canon of today's literature.
Mystery of Grace
by
Charles De Lint
(
Tor
Hardcover 03/24/2009) – Charles de Lint was writing Urban Fantasy before the label/subgenre was taken over by vampire hunters, werewolves and wizards for hire. One of the best fantasy novels I read was his
The Little Country
, and I've read some of his short stories and a couple of novels, which were all good. This is a rarity for de Lint – a 'mythic' novel set outside of his popular
Newford
universe.
On the Day of the Dead, the Solona Music Hall is jumping. That's where Altagracia Quintero meets John Burns, just two weeks too late.

Altagracia – her friends call her Grace – has a tattoo of Nuestra Señora de Altagracia on her shoulder, she's got a Ford Motor Company tattoo running down her leg, and she has grease worked so deep into her hands that it'll never wash out. Grace works at Sanchez Motorworks, customizing hot rods. Finding the line in a classic car is her calling.

Now Grace has to find the line in her own life. A few blocks around the Alverson Arms is all her world -- from the little grocery store where she buys beans, tamales, and cigarettes ("cigarettes can kill you," they tell her, but she smokes them anyway) to the record shop, to the library where Henry, a black man confined to a wheelchair, researches the mystery of life in death – but she's got unfinished business keeping her close to home.

Grace loves John, and John loves her, and that would be wonderful, except that John, like Grace, has unfinished business – he's haunted by the childhood death of his younger brother. He's never stopped feeling responsible. Like Grace in her way, John is an artist, and before their relationship can find its resolution, the two of them will have to teach each other about life and love, about hot rods and Elvis Presley, and about why it's necessary to let some things go.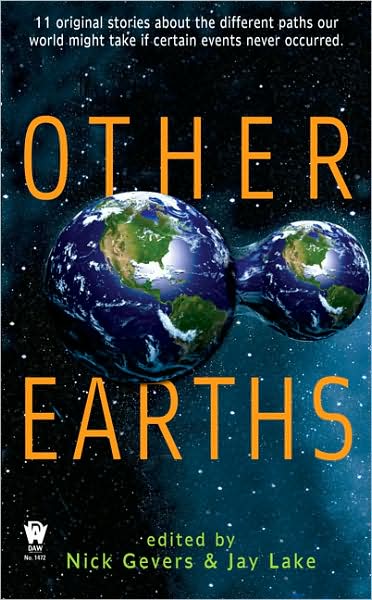 Other Earths
edited by
Nick Gevers
and
Jay Lake
(
DAW
Mass Market Paperback 04/07/2009) – This is DAW's monthly themed anthology proving once again that short fiction really isn't dead. I've never really had more than a passing interest in Alternate History, but the writers in this anthology do interest me a great deal:
Jeff VanderMeer
,
Gene Wolfe
,
Alastair Reynolds
, and
Robert Charles Wilson
.
What if Lincoln never became president, and the Civil War never took place? What if Columbus never discovered America, and the Inca developed a massive, technologically advanced empire? What if magic was real and a half-faerie queen ruled England? What if an author discovered a book written by an alternate version of himself?

These are just some of the possible pathways that readers can take to explore the Other Earths that may be waiting just one page away.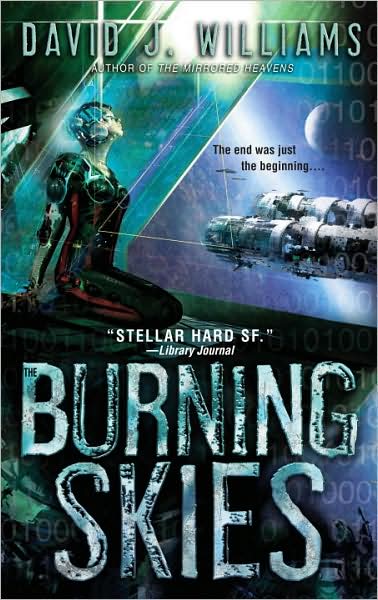 The Burning Skies
(Book #2 of
Autumn Rain
) by
David J. Williams
(
Bantam Spectra
Trade Paperback 05/19/2009) – Mark/Hobbit read and enjoyed the first novel (
The Mirrored Heavens
), which was also the author's debut novel last year.
Autumn Rain's plan to nail the president at the secret summit conference he's holding with the Eurasian leadership.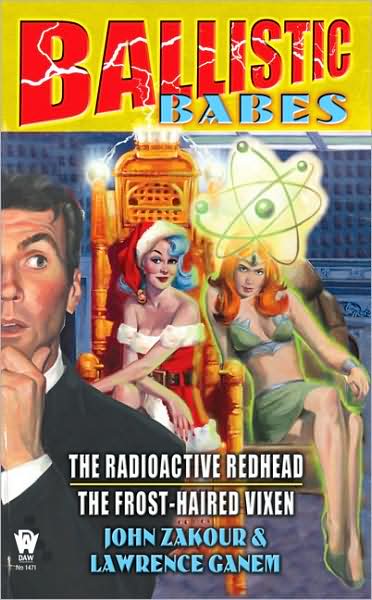 Ballistic Babes
(
Zach Johnson, P.I. Omnibus #2
) by
John Zakour
and Lawrence Ganem – (
DAW
Mass Market Paperback 04/07/2009) – This book is another great instance of
DAW
keeping an author's backlist easily available and affordable. These are the 3rd and 4th novels set in a far future about the last human Private Investigator.
Two beauties. One volume. An omnibus edition of The Radioactive Redhead and The Frost-Haired Vixen

Double your pleasure, double the laughs with this omnibus edition featuring Zachary Nixon Johnson, the last freelance P.I. on Earth. It's 2057, and Zach is partnered with an experimental A.I. named HARV . In what is both an homage to and a parody of the great heyday of pulp fiction, they solve cases involving androids, future tech wizards, and of course, the occasional nuclear-powered, genocidal fembot.