Three books this week, two publisher, one of which I just read....
By Blood We Live
edited by
John Joseph Adams
(
NightShade Books
Hardcover 08/17/2009) – This is the final book of the ARC I received back in June and it is another 'definitive' anthology from JJA. Adams is developing into a smart anthologist, publishing definitive anthologies like
The Living Dead
and
Wastelands
. Here, he turns his eye towards Vampires
From Dracula to Buffy the Vampire Slayer; from Castlevania to Tru Blood, the romance between popular culture and vampires hearkens back to humanity's darkest, deepest fears, flowing through our very blood, fears of death, and life, and insatiable hunger. And yet, there is an attraction, undeniable, to the vampire archetype, whether the pale European count, impeccably dressed and coldly masculine, yet strangely ambiguous, ready to sink his sharp teeth deep into his victims' necks, draining or converting them, or the vamp, the count's feminine counterpart, villain and victim in one, using her wiles and icy sexuality to corrupt man and woman alike... Edited by John Joseph Adams (Wastelands, The Living Dead), By Blood We Live gathers together the best vampire literature of the last three decades from many of today's most renowned authors of fantasy, speculative fiction, and horror, including Stephen King, Joe Hill, Garth Nix, Neil Gaiman, Kelley Armstrong, Ken Macleod, Harry Turtledove, Carrie Vaughn, and Tad Williams.
The Windup Girl
by
Paolo Bacigalupi
(
Nightshade Books
Hardcover 09/152009) – I read some of Bacigalup's stories and liked them a lot, this is his debut novel and is an extension/set in the same world as
The Calorie Man
. This cover is absolutely stunning
Anderson Lake is a company man, AgriGen's Calorie Man in Thailand. Under cover as a factory manager, Anderson combs Bangkok's street markets in search of foodstuffs thought to be extinct, hoping to reap the bounty of history's lost calories. There, he encounters Emiko...

Emiko is the Windup Girl, a strange and beautiful creature. One of the New People, Emiko is not human; instead, she is an engineered being, creche-grown and programmed to satisfy the decadent whims of a Kyoto businessman, but now abandoned to the streets of Bangkok. Regarded as soulless beings by some, devils by others, New People are slaves, soldiers, and toys of the rich in a chilling near future in which calorie companies rule the world, the oil age has passed, and the side effects of bio-engineered plagues run rampant across the globe.

What Happens when calories become currency? What happens when bio-terrorism becomes a tool for corporate profits, when said bio-terrorism's genetic drift forces mankind to the cusp of post-human evolution? In The Windup Girl, award-winning author Paolo Bacigalupi returns to the world of "The Calorie Man" ( Theodore Sturgeon Memorial Award-winner, Hugo Award nominee, 2006) and "Yellow Card Man" (Hugo Award nominee, 2007) in order to address these poignant questions.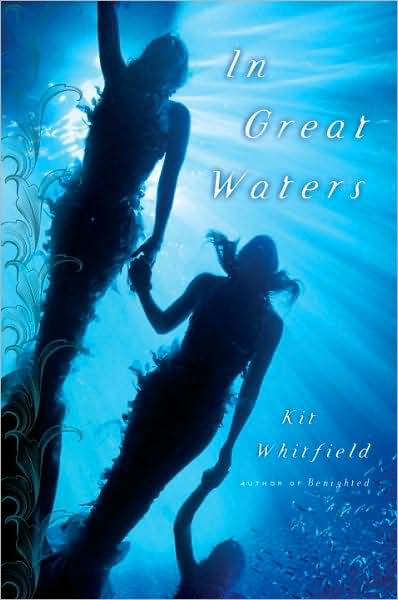 In Great Waters
by
Kit Whitfield
(
Del Rey
Paperback 10/27/2009) – Owen read/reviewed Kit's first novel
Bareback
(aka Benighted in the US) and
interviewed her back in 2007
and reviewed
In Great Waters
a few months ago. This book deals with mer-people:
During a time of great upheaval, the citizens of Venice make a pact that will change the world. The landsmen of the city broker a treaty with a water-dwelling tribe of deepsmen, cementing the alliance through marriage. The mingling of the two races produces a fresh, peerless strain of royal blood. To protect their shores, other nations make their own partnerships with this new breed–and then, jealous of their power, ban any further unions between the two peoples. Dalliance with a deepswoman becomes punishable by death. Any "bastard" child must be destroyed.

This is an Earth where the legends of the deep are true–where the people of the ocean are as real and as dangerous as the people of the land. This is the world of intrigue and betrayal that Kit Whitfield brings to life in an unforgettable alternate history: the tale of Anne, the youngest princess of a faltering England, struggling to survive in a troubled court, and Henry, a bastard abandoned on the shore to face his bewildering destiny, finding himself a pawn in a game he does not understand.

Yet even a pawn may checkmate a king.