Not much this week at the 'o Stuff household save for a few books from the fine folks at
Tor
.
Blue Magic
by
A.M. Dellamonica
(
Tor
Trade Paperback 04/10/2012) – Sequel to Dellamonica's debut
Indigo Springs
. Alyx also does some terrific stuff for Tor.com, including the massive
Buffy Rewatch
.
This powerful sequel to the A.M. Dellamonica's Sunburst Award–winning contemporary fantasy Indigo Springs starts in the small town in Oregon where Astrid Lethewood discovered an underground river of blue liquid—Vitagua—that is pure magic. Everything it touches is changed. The secret is out—and the world will never be the same. Astrid's best friend, Sahara, has been corrupted by the blue magic, and now leads a cult that seeks to rule the world. Astrid, on the other hand, tries to heal the world.

Conflicting ambitions, star-crossed lovers, and those who fear and hate magic combine in a terrible conflagration, pitting friend against friend, magic against magic, and the power of nations against a small band of zealots, with the fate of the world at stake.

Blue Magic is a powerful story of private lives changed by earthshaking events that will ensnare readers in its poignant tale of a world touched by magic and plagued by its consequences.
Immobility
by
Brian Evenson
(
Tor
Hardcover 04/12/2012) – This is Evenson's first novel with a major publisher, he's written some acclaimed horror in recent years both in short and novel form. Larry from OF Blog
conducted a great, must-read interview with him
.
A far-future thriller that looks at a post human world struggling to stay human.

You open your eyes for what you know is not the first time and you remember nothing. You find out that a catastrophic event known as the Kollaps has destroyed life as we know it.

Suddenly someone claiming to be your friend tells you you're needed. Something crucial has been stolen — but under no circumstances can you know what or why. You've got to get it back or something bad is going to happen. And you've got to get it back fast, so they can freeze you again before your own time runs out.

Paralyzed from the waist down, you're being carried around on the backs of two men who don't seem anything like you at all. Who inject you regularly and tell you its for your own good... to stop the disease, or else they must cut directly into your spine.

Welcome to the life of Josef Horkai...
Critically-acclaimed and O. Henry prize-winning author Brian Evenson turns his literary eye to a post apocalyptic earth in this dazzling science fiction novel, his debut original work for a major publisher.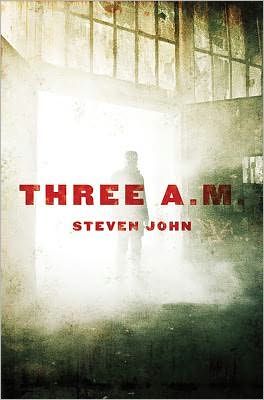 Three A.M.
by Steven John (
Tor
Hardcover 03/27/2012
) – This debut novel mixes noir mystery with a post-apocalyptic setting.
Fifteen years of sunless gray.

Fifteen years of mist. So thick the streets fade off into nothing. So thick the past is hazy at best. The line between right and wrong has long been blurred, especially for Thomas Vale.

Long gone are the days when new beginnings seemed possible—when he was a new recruit, off to a new start fresh in the army. He had hoped to never look back. Not like there was much to see, anyway.

First came the sickness, followed by the orders: herd the healthy into the city, shoot the infected. The gates closed and the bridges came down… followed by the mist.

Fifteen miserable years of the darkest nights and angry, awful gray days.

Thomas Vale can hardly fathom why he keeps waking up in the morning. For a few more days spent stumbling along? Another night drinking alone? Another hour keeping the shadows at bay….

But when Rebecca Ayers walks into his life, the answers come fast. Too fast.
Forged in Fire
(
Sarah Beauhall
#4) by
J.A. Pitts
(
Tor
Hardcover 06/19/2012
) – Pitt's Norse-flavored urban fantasy gets a promotion to hardcover in this, the third volume of the series,
Black Blade Blues
, which places Norse Mythology in the modern day.

Sarah Jane Beauhall, the blacksmith turned dragon slayer, has it all figured out—little things like dealing with the political intrigue of dragons who secretly run our world, and learning to wield the magic that she has been given by none other than Odin, who has been fighting the dragons for millennia. And then there is the matter of coming to terms with who she is…and how to build a life with her partner, Katie.

All these things are forced into the background however when a magic-wielding serial killer starts prowling the Pacific Northwest. And all of his victims have ties to Sarah.

Sarah must unravel the web she finds closing around her as a powerful necromancer and a crazed blood cult known as the Dragon Liberation Front work to tear apart everything she holds dear.

Forged in Fire is the third volume in J. A.Pitts's compelling urban fantasy series.