This weed's batch of arrivals are brought to you by the fine people from
Del Rey
,
Night Shade Books
, and
Tor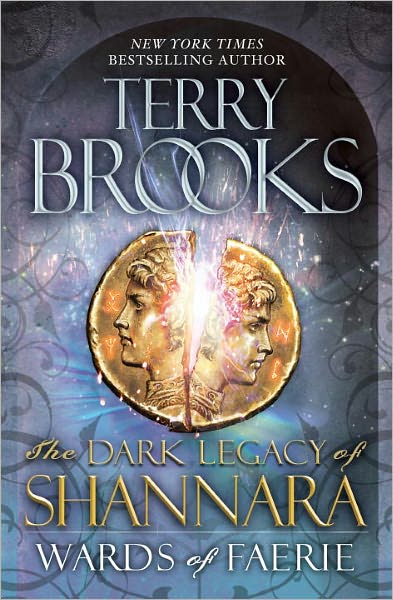 Wards of Faerie
(
The Dark Legacy of Shannara
) by
Terry Brooks
(
Del Rey
Hardcover 8/21/2012) – I'll repeat my little mantra about Brooks from previous times I've received his books: I find him a frustrating writer in that I like the concepts of what he wants to do, but my reading sensibilities don't always agree with his execution of those concepts. I really enjoyed
The Scions of Shannara
when I read it and think Brooks is one of the most important fantasy writers of the last 25-30 years. Maybe I'll give him another try with this one.
Seven years after the conclusion of the High Druid of Shannara trilogy, New York Times bestselling author Terry Brooks at last revisits one of the most popular eras in the legendary epic fantasy series that has spellbound readers for more than three decades. When the world was young, and its name was Faerie, the power of magic ruled—and the Elfstones warded the race of Elves and their lands, keeping evil at bay. But when an Elven girl fell hopelessly in love with a Darkling boy of the Void, he carried away more than her heart. Thousands of years later, tumultuous times are upon the world now known as the Four Lands. Users of magic are in conflict with proponents of science. Elves have distanced their society from the other races. The dwindling Druid order and its teachings are threatened with extinction. A sinister politician has used treachery and murder to rise as prime minister of the mighty Federation. Meanwhile, poring through a long-forgotten diary, the young Druid Aphenglow Elessedil has stumbled upon the secret account of an Elven girl's heartbreak and the shocking truth about the vanished Elfstones. But never has a little knowledge been so very dangerous—as Aphenglow quickly learns when she's set upon by assassins. Yet there can be no turning back from the road to which fate has steered her. For whoever captures the Elfstones and their untold powers will surely hold the advantage in the devastating clash to come. But Aphenglow and her allies—Druids, Elves, and humans alike—remember the monstrous history of the Demon War, and they know that the Four Lands will never survive another reign of darkness. But whether they themselves can survive the attempt to stem that tide is another question entirely.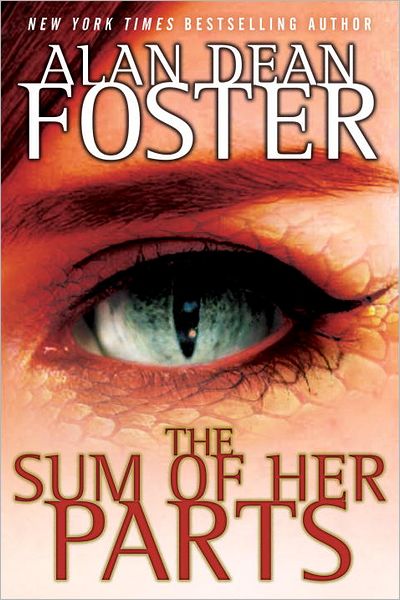 The Sum of Her Parts
(
Tipping Point Trilogy
#3) by
Alan Dean Foster
(
Del Rey
07/27/2012) – Third in the series which began with
The Human Blend
In this thrilling science fiction adventure—the triumphant conclusion to the Tipping Point trilogy—New York Times bestselling author Alan Dean Foster returns to a near future in which genetic manipulation and extreme body modification have changed profoundly what it means to be human. Dr. Ingrid Seastrom was once a respected American physician. Whispr, whose body has been transformed to preternatural thinness, was once a streetwise thief. Now, in a world on the edge of catastrophe from centuries of environmental exploitation, they are allies—thrust together by fate to unravel an impossible mystery—even as they are stalked by a relentless killer. Ingrid and Whispr are hunted fugitives bound together by a thread: a data-storage thread made of a material that cannot exist, yet somehow does. Their quest to learn its secrets—and, in Whispr's case, sell them to the highest bidder—has brought them to South Africa's treacherous Namib desert. Beyond its dangers waits a heavily guarded research facility that promises answers, if they can survive long enough to get there. But that won't be easy, not with Napun Molé on their trail. They've already escaped the assassin twice, and as far as Molé is concerned, finishing them off isn't just a job anymore . . . it's personal.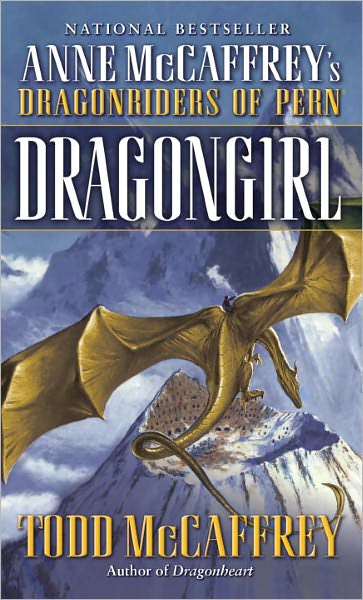 Sky Dragons
by
Anne McCaffrey
and
Todd J. McCaffrey
(
Del Rey
Hardcover 06/26/2012) – Right on schedule a new
Dragonriders of Pern
novel arrives (one day short of EXACTLY a year since the last installment) and this is the last installment that will feature the late Anne McCaffrey.
From the New York Times bestselling mother-and-son team of Anne McCaffrey and Todd McCaffrey comes the final installment in the riveting Pern saga that began with Todd's solo novel, Dragonsblood. Now, with all of Pern imperiled by the aftereffects of a plague that killed scores of dragons and left the planet helpless against the fall of deadly Thread, the only hope for the future lies in the past. There, on an unexplored island, a group of dragonriders led by Xhinna, a brave young woman who rides the blue dragon Tazith, must battle lethal Merows and voracious tunnel-snakes to build a safe home for themselves and the dragons, whose offspring will one day—if they survive—replenish Pern's decimated dragon population. But as the first female rider of a blue dragon, and the first female Weyrleader in the history of Pern, Xhinna faces an uphill battle in winning the respect and loyalty of her peers . . . especially after an unforeseen tragedy leaves the struggling colony reeling from a shattering loss. Amid the grieving, one girl, Jirana, blessed—or cursed—with the ability to foresee potential futures, will help Xhinna find a way forward. The answer lies in time . . . or, rather, in timing it: the awesome ability of the dragons to travel through time itself. But that power comes with risks, and by venturing further into the past, Xhinna may be jeopardizing the very future she has sworn to save.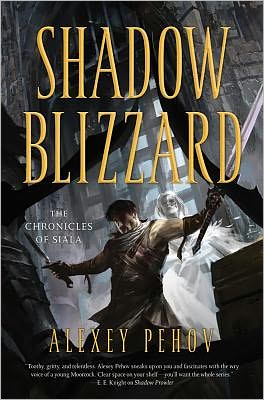 Shadow Blizzard
(
The Chronicles of Siala
#3) by
Alexey Pehov
(Hardcover 4/23/2011
Tor
) – Third in the Russian import trilogy pitting a hero Shadow Harold against the Nameless One, who is stirring. Harold is questing for a Horn.
After the loss of friends and comrades, after betrayal and battle, master thief Shadow Harold finally enters Hrad Spein — the dreaded underground complex where the object of Harold's quest, the Rainbow Horn, is hidden. With nothing more than his wits, the advice of a goblin shaman, and a stolen map, he must succeed where battalions of soldiers and wizards have failed. On top of that, Harold must outwit an enemy within Hrad Spein who is working with a powerful sorceress in an attempt to find the Horn before he does. Before the master thief are many dangerous obstacles — including ghouls, long-dead armies of elves, orcs, and magical traps...and, he is sure, even more deadly obstacles that are yet unknown. Will Shadow Harold be able to pull off the greatest theft in history? Unfortunately, even if he does, he'll not be home free. The Forest of Zagrabia, through which Harold must make his way home, is controlled by the armies of orcs that have come to join The Nameless One. For the first time in centuries, they have united into a vast army about to cut a bloody swath through the lands of men. Another huge army collected by The Nameless One has already begun the titanic battle with King Stalkon, and the final war has begun, bringing bleak days of despair and devastation. Harold will have to use all his guile, cunning, and luck to find a way to escape the Labyrinth and get to Avendoom in time to save his world from destruction. Alexey Pehov is an exciting new-generation talent whose fantasies have gained him a large and still rapidly increasing fan base in his native Russia. In 2002, the complete Chronicles of Siala (comprised of Shadow Prowler, Shadow Chaser, and Shadow Blizzard) was awarded the Russian fantasy community's highest professional honor, the Silver Kaduzei.
Scourge of the Betrayer
Bloodsounder's Arc
Book One) by
Jeff Salyards
(
Night Shade Books
Hardcover 5/01/2012) – I've already seen some very positive things about Jeff's debut, including favorable comparisons to Joe Abercrombie and Glen Cook.
Many tales are told of the Syldoon Empire and its fearsome soldiers, who are known throughout the world for their treachery and atrocities. Some say that the Syldoon eat virgins and babies-or perhaps their own mothers. Arkamondos, a bookish young scribe, suspects that the Syldoon's dire reputation may have grown in the retelling, but he's about to find out for himself. Hired to chronicle the exploits of a band of rugged Syldoon warriors, Arki finds himself both frightened and fascinated by the men's enigmatic leader, Captain Braylar Killcoin. A secretive, mercurial figure haunted by the memories of those he's killed with his deadly flail, Braylar has already disposed of at least one impertinent scribe . . . and Arki might be next. Archiving the mundane doings of millers and merchants was tedious, but at least it was safe. As Arki heads off on a mysterious mission into parts unknown, in the company of the coarse, bloody-minded Syldoon, he is promised a chance to finally record an historic adventure well worth the telling, but first he must survive the experience! A gripping military fantasy in the tradition of Glen Cook, Scourge of the Betrayer explores the brutal politics of Empire-and the searing impact of violence and dark magic on a man's soul.