Just two books, one of which is electronic.
NO COVER
(R)evolution
by
PJ Manney
(
47North
06/01/2015) – Manney's debut looks to be a near-future techno-thriller. Not surprising since Manney is a Futurist, and she's also spent time in television writing for
Hercules
and
Xena
.
Bioengineer Peter Bernhardt has dedicated his life to nanotechnology, the science of manipulating matter on the atomic scale. As the founder of Biogineers, he is on the cusp of revolutionizing brain therapies with microscopic nanorobots that will make certain degenerative diseases a thing of the past. But after his research is stolen by an unknown enemy, seventy thousand people die in Las Vegas in one abominable moment. No one is more horrified than Peter, as this catastrophe sets in motion events that will forever change not only his life but also the course of human evolution.
Peter's company is torn from his grasp as the public clamors for his blood. Desperate, he turns to an old friend, who introduces him to the Phoenix Club, a cabal of the most powerful men in the world. To make himself more valuable to his new colleagues, Peter infuses his brain with experimental technology, exponentially upgrading his mental prowess and transforming him irrevocably.
As he's exposed to unimaginable wealth and influence, Peter's sense of reality begins to unravel. Do the club members want to help him, or do they just want to claim his technology? What will they do to him once they have their prize? And while he's already evolved beyond mere humanity, is he advanced enough to take on such formidable enemies and win?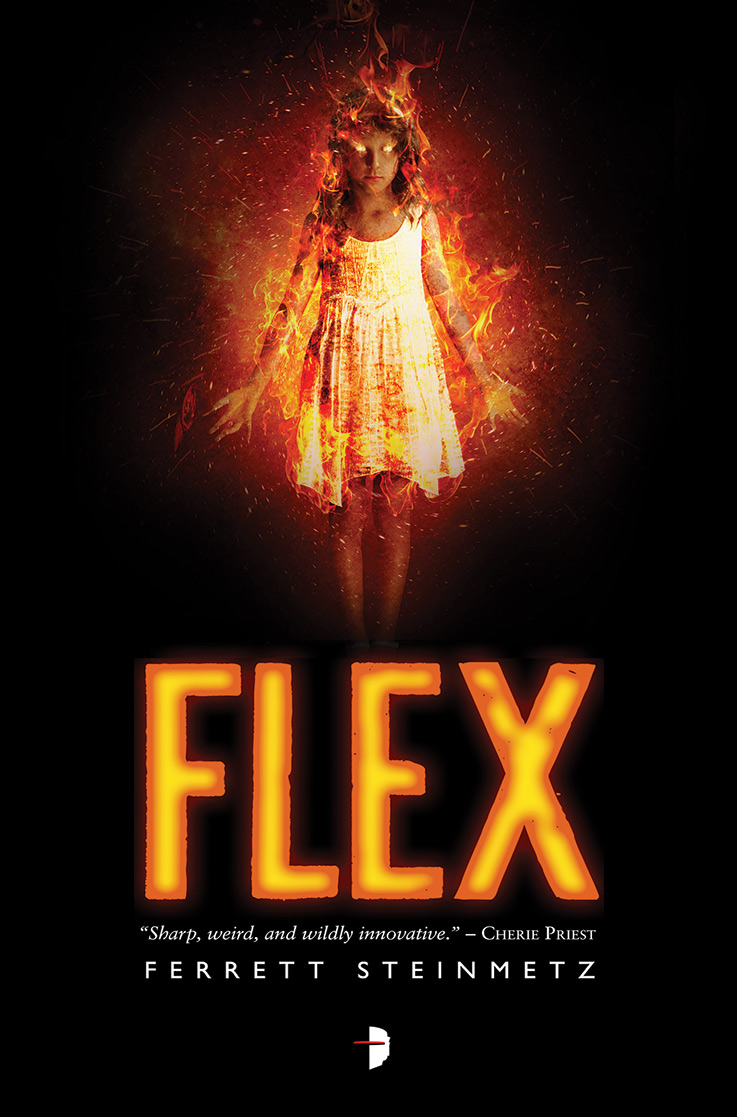 Flex
by
Ferrett Steinmetz
(Trade & Mass Market Paperback
Angry Robot
03/03/2015) – The tag line of
Breaking Bad
meets Jim Butcher's
The Dresden Files
is enough for me to give this one a try. Plus, look at that eye-catching cover (looks almost like a Little Sister from
Bioshock
).
A desperate father will do anything to heal his daughter in a novel where Breaking Bad meets Jim Butcher's The Dresden Files.
FLEX: Distilled magic in crystal form. The most dangerous drug in the world. Snort it, and you can create incredible coincidences to live the life of your dreams.
FLUX: The backlash from snorting Flex. The universe hates magic and tries to rebalance the odds; maybe you survive the horrendous accidents the Flex inflicts, maybe you don't.
PAUL TSABO: The obsessed bureaucromancer who's turned paperwork into a magical Beast that can rewrite rental agreements, conjure rented cars from nowhere, track down anyone who's ever filled out a form.
But when all of his formulaic magic can't save his burned daughter, Paul must enter the dangerous world of Flex dealers to heal her. Except he's never done this before – and the punishment for brewing Flex is army conscription and a total brain-wipe.
File Under: Urban Fantasy