Mr. Fooster: Traveling on a Whim
written by Tom Corwin and illustrated by Craig Frazier– This illustrated novel is best described by its simplistic title. The eponymous Mr. Fooster has some whimsical flights of fancy in this small and quaint book. It seems like a lost Victorian-era novel. What I received is a final copy of the advance I received a couple of months ago.
The Last Vampire
by
Patricia Rosemoor
& Marc Paoletti – this Vampire-meets-CSI-meets-Indiana Jones-meets-4400 hybrid sounds somewhat interesting – a five-hundred year old corpse is unearthed in Texas by the military which is teeming with mysterious DNA, and can transform normal people into powerful beings. Will it stand above the rest of the Modern-Day Vampire/Sorcerer crowd?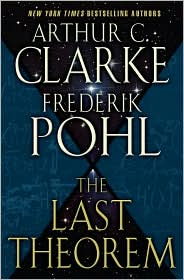 The Last Theorem
by Sir Arthur C. Clarke and Frederik Pohl – The two SF giants collaborate on a story of one man's mathematical obsession, and a celebration of the human spirit and scientific method. Throw in the thread of all-but-omnipotent aliens and you might have the makings of an instant modern classic. The story is of a young Sri Lankan mathematician who finds a short proof of Fermat's Last Theorem and is hired by the CIA because of the high interest in cryptographic applications of the proof. This is an ARC; the publication date is August 2009.
The Bearskin Rug
by
Jennifer Stevenson
– The third of her sexy, supernatural adventures of a feisty heroine and her lusty 200-year-old demon sidekick continue. Sequel to
The Brass Bed
and
The Velvet Chair
.
Gypsy Morph
by
Terry Brooks
–
Genesis of Shanarra
Book 3. I read
Armageddon's Children
and didn't think much of it, but Terry has his fans; this is the series that bridges Shanarra with his
Word and Void
trilogy. I wanted to like this series, but couldn't get past that first book. What I received was the ARC, the final book publishes August 26, 2008.