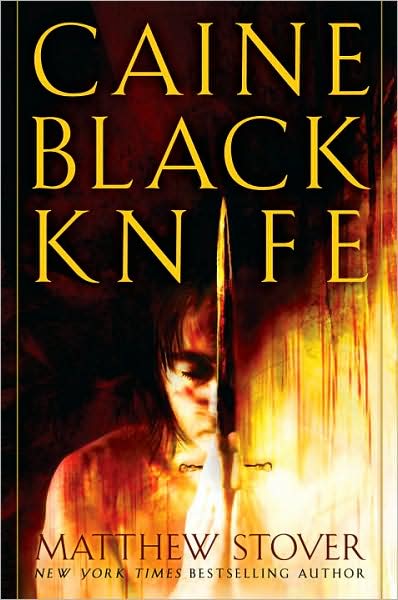 Caine Black Knife
(The Third Act of Caine)
by
Matthew Stover
(
Del Rey
, Trade Paperback 10/14/2008) – What can I say that I haven't yet said? I got the ARC of this over the summer and read then, too. I posted my review this past week and as it stands now
Caine Black Knife
is my top book of the year.
In
Heroes Die
and
Blade of Tyshalle
, Matthew Stover created a new kind of fantasy novel, and a new kind of hero to go with it: Caine, a street thug turned superstar, battling in a future where reality shows take place in another dimension, on a world where magic exists and gods are up close and personal. In that beautiful, savage land, Caine is an assassin without peer, a living legend born from one of the highest-rated reality shows ever made. That season, Caine almost single-handedly defeated–and all but exterminated–the fiercest of all tribes: the Black Knives. But the shocking truth of what really took place during that blood-drenched adventure has never been revealed . . . until now.
Thirty years later, Caine returns to the scene of his greatest triumph–some would say greatest crime–at the request of his adopted brother Orbek, the last of the true Black Knives. But where Caine goes, danger follows, and he soon finds himself back in familiar territory: fighting for his life against impossible odds, with the fate of two worlds hanging in the balance.
Just the way Caine likes it.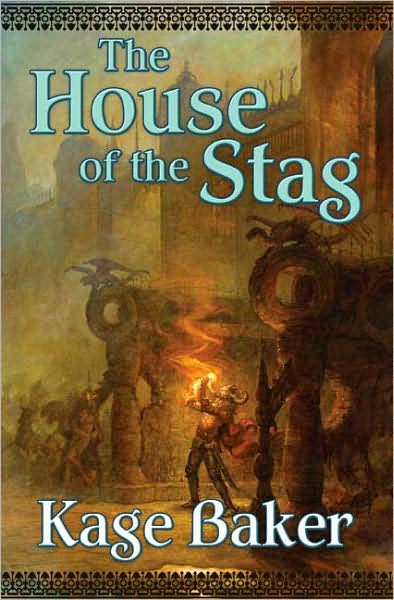 The House of the Stag
by
Kage Baker
(
Tor
, Hardcover 9/30/2008) – I read
The Anvil of the World
and really enjoyed it, which takes place in the same world as this one. Synopsis
Before the Riders came to their remote valley the Yendri led a tranquil pastoral life. When the Riders conquered and enslaved them, only a few escaped to the forests. Rebellion wasn't the Yendri way; they hid, or passively resisted, taking consolation in the prophecies of their spiritual leader.
Only one possessed the necessary rage to fight back: Gard the foundling, half-demon, who began a one-man guerrilla war against the Riders. His struggle ended in the loss of the family he loved, and condemnation from his own people.
Exiled, he was taken as a slave by powerful mages ruling an underground kingdom. Bitterer and wiser, he found more subtle ways to earn his freedom. This is the story of his rise to power, his vengeance, his unlikely redemption and his maturation into a loving father--as well as a lord and commander of demon armies.
Metamorphosis
by
James P. Blaylock
(
Subterranean Press
, Hardcover 3/01/2009) –
Metamorphosis
: three stories, each one involving a man who discovers that he has come to dwell, for an hour or for a lifetime, in a house and in a mind not quite his own. Each one opens doors onto rooms of illusion, radiance, regret, and dark enchantment. Welcome to the stories of three young writers, stories written in collaboration with James P. Blaylock. Welcome to the borderland of illusion and reality.
Three tales, written in collaboration by James P. Blaylock with students in a class by Tim Powers, with an introduction and illustrations by Tim, an afterword by Blaylock, and some necessary meddling by William Ashbless.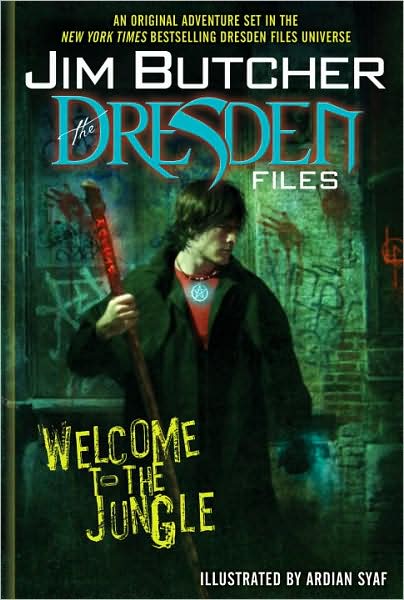 The Dresden Files: Welcome to the Jungle
edited by
Jim Butcher
(w) and
Ardian Syaf
(a) (
Del Rey
/
Dabel Brothers
10/14/2008) – Jim Butcher's mega-successful Dresden Files comes to the comic/graphic novel medium in this terrific collection. I read the series in single issues what I received from Del Rey/Dabel is the hardcover collecting those four issues plus some nice bonus material. I really enjoyed the mini-series and will be posting a review shortly. In short, I think the Dabel's have another winner on their hands.
The Other in the Mirror
by
Philip Jose Farmer
and Dustjacket by
Bob Eggleton
(
Subterranean Press
, Hardcover 3/01/2009) – I read Farmer's
Riverword
novels and really enjoyed the first few quite a bit so this omnibus could be pretty cool. Subterranean has been publishing nice author retrospective/introductory volumes/omnibuses and this looks like it will carry on that tradition.
The Other in the Mirror
brings together three classic novels by Philip José Farmer:
Fire and the Night
,
Jesus on Mars
, and
Night of Light
. All three are united by one of SF's central tropes, that of The Other.
Fire and the Night
is a mainstream novel so rare that even many of Farmer's most dedicated fans have never read it. First published in 1962, it is also one of the author's most daring works, exploring the issue of racial Otherness in a mesmerizing tale of temptation and entrapment in a small industrial Midwestern town.
In Jesus on Mars
, Richard Orme and the crew of the Barsoom embark on the first manned mission to the Red Planet, intent on investigating what seemed to be evidence of life beamed back to Earth by a robotic survey satellite. But Orme discovers in the hollowed-out Martian caverns what he and the scientists back home least expect: a group of aliens, as well as humans transplanted from first century A.D. Earth, led by a being who claims to be Jesus of Nazareth Himself. Soon Orme and his crew are shocked to find that The Other they face is made all that more alien because of its similarity to humanity's past.
Night of Light
is not only one of Farmer's most psychologically gripping SF tales, it is also the novel which inspired Jimi Hendrix's psychedelic rock classic "Purple Haze." John Carmody is a fugitive from Earth, condemned to exile for brutally murdering his wife. Hired by the galactic Church on a mission to squelch a burgeoning rival religion, Carmody must take the Chance on the planet Dante's Joy and risk his worst nightmares becoming reality. But that's not the worst of it: the Fathers of Algul and the Fathers of Yess have their own plans for the conscienceless Carmody—for to the inhabitants of Dante's Joy, Carmody himself is The Other...and they need his alien flesh to give birth to God.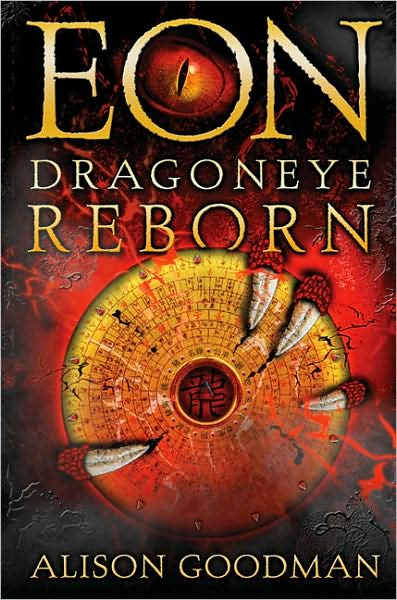 Eon: Dragoneye Reborn
by
Alison Goodman
(
Viking Children's Books
Hardcover 12/26/2008) – This sounds interesting enough, I suppose. My only concern is that it will be another
Eragon
, quality wise. This is Goodman's third book, so I think that might outweigh those fears. Viking has a strong marketing push behind this one, moving the original pub date from the fall to just after Christmas hoping to catch some gift-card sales and the packaging on the ARC is nice. Here's the synopsis:
Does young Eon have the power to become a Dragoneye? His ruthlessly ambitious master believe he does. Now the years of gruelling training will be put to the test: it's time for the terrifying Rat-Dragon to choose his next apprentice. In a spectacular sequence of events, Eon is catapulted into the opulent but treacherous world of the imperial court. But Eon is playing a dangerous game: he is in fact Eona, a young woman whose true identity must remain hidden, for discovery would mean instant death.
Inspired by the rich myths and traditions of Ancient China, shimmering with energy dragons and fraught with tension, this is a fast-paced, exhilarating page-turner.
Wizard's First Rule
by
Terry Goodkind
(
Tor
Trade Paperback 9/30/2008) – I'm not the biggest fan of this series of books; Tor is re-issuing with another cover to promote the syndicated TV series based off of the books.
ex-Kop
by
Warren Hammond
(
Tor
Hardcover 9/30/2008) – Sequel to Hammond's debut novel
Kop
, this novel continues the futuristic noir that, on the surface, is very reminiscent of
Blade Runner
. In this hardboiled science fiction thriller, Juno, having been booted off the police force, is barely getting by as a low-level bagman and photographer for the scandal rags. But it gets worse: his wife is in critical condition at the hospital and Juno doesn't have the money to pay her bills. Desperate for cash, Juno agrees to help his ex-partner, Maggie Orzo, solve a difficult case. A young girl sits on death row, accused of brutally murdering her own parents. She's confessed to the murders, but Maggie isn't buying it, so she sends Juno out to get some answers.
Working with Maggie, Juno comes into contact with her new partner, Ian. As dirty as they come, Ian is eager to rise in the police force no matter what the cost. Somehow Ian, a vicious serial killer, and the girl on death row are all connected. It is up to Juno and Maggie to find out how before more people die.
Tender Morsels
by
Margo Lanagan
(
Knopf Books for Young Readers
, 10/14/2008) – Lanagan has written some acclaimed short stories and this novel looks like a pretty interesting tale: Set in two worlds and worrying at the border between them. Liga lives modestly in her own personal heaven, a world given to her in exchange for her earthly life. Her two daughters grow up in this soft place, protected from the violence that once harmed their mother. But the real world cannot be denied forever—
magicked men and wild bears break down the borders of Liga's refuge. Now, having known Heaven, how will these three women survive in a world where beauty and brutality lie side by side?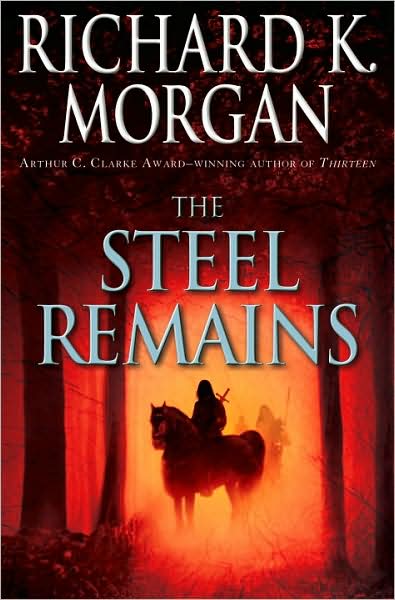 The Steel Remains
by
Richard K. Morgan
(
Del Rey
Hardcover 01/20/2009) – This is the ARC of the US edition coming out in January. Del Rey has been staggering the release of Morgan's novels about 6 months or so after the UK publication. What else can I say about this that I didn't say
in my review
? Or that
Hobbit didn't say in his review
? Anyway, here's a snippet:
One of the most potent aspects of the novel is Morgan's unrestrained approach to both the sex and the violence. The sex is intimate and graphic and the violence is on the same level of graphic description, as well as the sexual proclivity of the protagonist, Ringil. Ringil does embody these two aspects very much, from the graphic nature of his trysts to the violent nature of many of his physical encounters with enemies, Morgan is unrelenting in how he puts Ringil into all of these scenes. The harsh language, the graphically depicted non-traditional sex, and stark reality of violence all add a stamp of boldness readers of Morgan's science fiction will find familiar. Some will (and have already) found these intertwined aspects of the novel off-putting. Too bad for them.
As well as Morgan depicts the characters, what he does to an even stronger degree in The Steel Remains is depict the overall mood of the story and world in which it takes place. Ringil's world is filled with a great deal of tension and angst with the past of war ever-present as well as the fear of potential war in the air as well in addition to an overall feeling of melancholy and malaise. The word gritty, as I've said in previous reviews, gets thrown around all to often and in that sense, the word loses some of its original meaning and potency. Here, I suppose, I would call the world in The Steel Remains gritty and harsh, it is dirty, uncompromising and very real. One gets a feel for the dirt under the fingernails Ringil might have after much travel and war; the feeling of exasperation Ringil expresses in many of his encounters also epitomizes the mood of the story.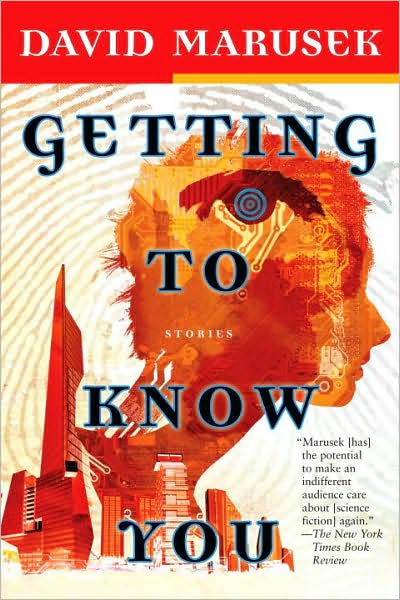 Getting to Know You
by
David Marusek
(
Del Rey
, Trade Paperback 12/30/2008) – David Marusek has been on my radar since his debut novel, Counting Heads, was released almost two three years ago now, to much acclaim. His short stories have won awards (Theodore Sturgeon Memorial Award) and acclaim as well. This collection was originally offered as a limited edition by Subterranean Press last year.
Juggler of Worlds
by
Larry Niven
and
Edward M. Lerner
(
Tor
, Hardcover 9/23/2008) – Set 200 years before the events of Niven's most famous novel,
Ringworld
, this book is itself a sequel to
Fleet of Worlds
, which I really enjoyed last year. I was, in fact, surprised by how much I enjoyed
Fleet of Worlds
, and hadn't realized the sequel was coming out now. Either way, this and Kage Baker's book landing in front of my garage on Monday were two pleasant surprises. As always, when I get to them is always up for debate.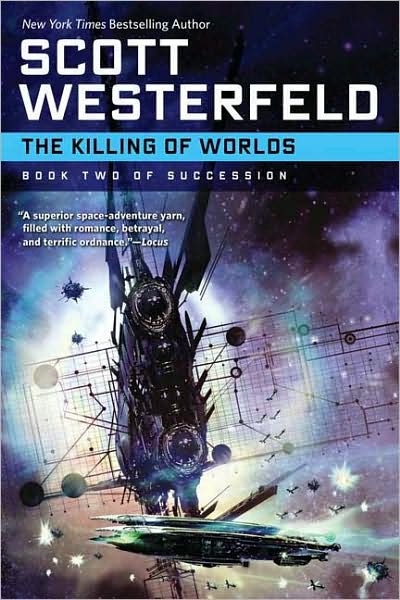 The Killing of Worlds: Book Two of Succession
by
Scott Westerfeld
(
Tor
Trade Paperback (9/30/2008) – This is the second half of the
Succession
duology begun in
The Risen Empire
. I only read the first half of this duology, actually a book split by the publishers, but since reading and loving his novels
Peeps
and
The Last Days
, I've wanted to revisit this Space Opera.