Well, it looks like Ace/Daw/Roc AKA Penguin passed along all of their October releases to me this week. Every book from them came in a separate package over the course of a few days. SFFWorld seems to be down; again.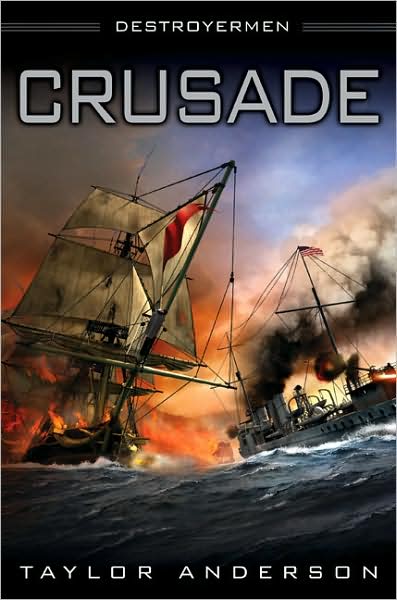 Crusade:
Destroyermen Book 2
by
Taylor Anderson
(
ROC
, Hardcover 10/07/2008) – I liked the first book,
Into the Storm
, quite a bit both for the action and world/creatures Anderson created, so I'm looking forward to this one.
Lieutenant Commander Matthew Reddy, along with the men and women of Walker, have chosen sides in a war not of their making. They have allied with the Lemurians—a mammalian race whose peaceful existence is under attack from the warlike, reptilian Grik.
The Lemurians are vastly outnumbered and ignorant of warfare, and even the guns and technology of Walker cannot turn the tide of battle. Luckily they are not alone. Reddy finally finds Mahan, the other destroyer that passed through the rift. Together, the two American ships will teach the Lemurians to fight and stand against the bloodthirsty Grik...Or so they think.
For there is another vessel that does not belong on these strange seas—the massive Japanese battle cruiser Amagi, the very ship that Walker was fleeing from when the rift took them. Like Mahan, it followed them through. And now Amagi is in the hands of the Grik.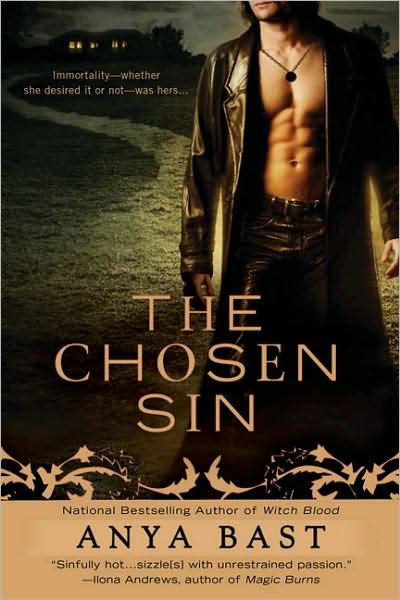 The Chosen Sin
by
Anya Bast
(
Heat
Paperback 10/06/2008) – Sometimes in the weekly batch of books, one book in the haul just puts me off completely. I don't know, maybe its the cover image, but I think this book just doesn't appear to be my thing.
Daria is a special forces agent with one obsession: to wreak vengeance on the vampire who nearly destroyed her. But to succeed, she must become something she detests: a vampire. Her fate rests upon Alejandro Martinez, a sexy vampire with whom she once shared an unforgettable night of scorching passion.
Now, while Daria struggles against her newfound bloodlust, the two must slip into the shadows to bring a monster to justice—even as their desire threatens to consume them…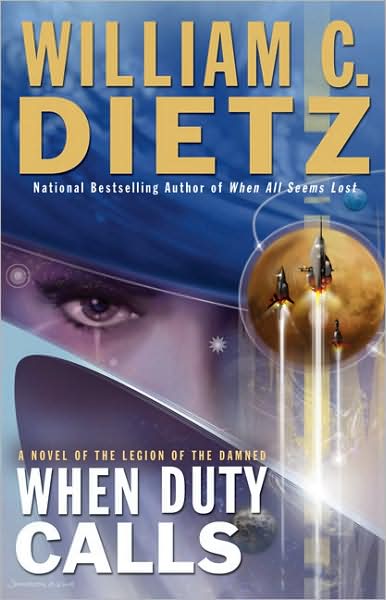 When Duty Calls
(A Novel of the Legion of the Damned) #8
by
William C. Dietz
(
Ace
, Hardcover 10/07/2008) - The eighth book of an ongoing series is a daunting thing to tackle, but I did read a short story set in this world that I remember liking. I may try this one if it seems enough of a stand-alone set in the world Dietz has created. Here's the synopsis:
As the war with the Ramanthian empire continues, Captain Antonio Santana and his force of bio bods and cyborgs find themselves surrounded by enemy forces, faced with annihilation at every turn.
Deep inside the Clone Hegemony, Santana's love—diplomat Christine Vanderveen—copes with concerns about what may be taking place at home, treacherous allies, and her own emotions. And when she meets the charismatic newly elected president of the Clone Republic, she finds herself torn between old love and new loyalty.
As Christine fights her own divided heart, light years away, Santana battles to survive. And this battle may be his last…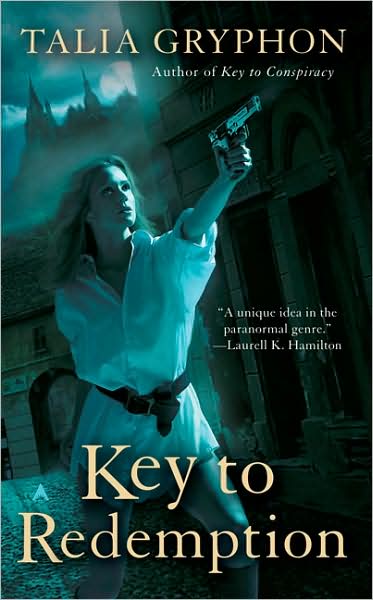 Key to Redemption
by
Talia Gryphon
(
Ace
, Mass Market Paperback 9/30/2008) - Third in a series about a vampire hunter who is also a psychic.
In Romania, the estate of master vampire Aleksei Rachlav has become the headquarters for those paramortals who stand against Dracula's army. And soldier and paramortal psychologist Gillian Key finds herself with a new group of clients. One is straight out of legend—a disfigured, masked man who haunts a Parisian opera house— and who becomes Aleksei's rival for Gillian's heart.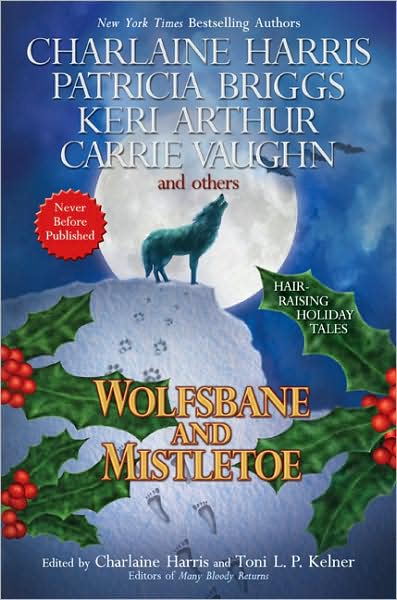 Wolfsbane and Mistletoe
edited by
Charlaine Harris
and
Toni P.L. Kelner
(
Ace
10/07/2008) - Of the long list of contributors I've only read Simon Green and
Carrie Vaughn
, but have wanted to read Briggs and Harris.
New York Times bestselling authors Charlaine Harris, Patricia Briggs, Keri Arthur, and Carrie Vaughn—along with eleven other masters of the genre—offer all-new stories on werewolves and the holidays, a fresh variation on the concept that worked so well with birthdays and vampires in Many Bloody Returns.
The holidays can bring out the beast in anyone. They are particularly hard for lycanthropes. Charlaine Harris and Toni L. P. Kelner have harvested the scariest, funniest and saddest werewolf tales by an outstanding pack of authors, best read by the light of a full moon with a silver bullet close at hand.
Whether wolfing down a holiday feast (use your imagination) or craving some hair of the dog on New Year's morning, the werewolves in these frighteningly original stories will surprise, delight, amuse, and scare the pants off readers who love a little wolfsbane with their mistletoe.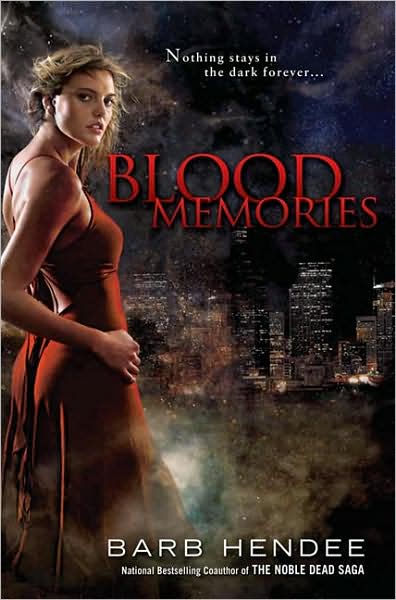 Blood Memories
by
Barb Hendee
(
ROC
, 10/07/2008) - She and her husband, J.C. Hendee, have been on my radar for a bit because of their
Noble Dead
saga, which sounds interesting blend of high fantasy and vampire fiction. I've seen relatively positive reviews for the books, but this new book is Barb flying solo in a new world. I think this is a re-issue of either a self-published or small press version of her first novel, originally published in 1999 before
The Noble Dead
became so popular (moving from paperback first issues to hardcover first issues, much like
E.E. Knight
and
Jim Butcher
)
Eleisha Clevon has the face of a teen angel, but she is no angel. Unlike most vampires, she doesn't like to kill, but self-preservation comes first. When an old friend destroys himself by walking into sunlight right in front of her, Eleisha is shocked. And what she finds afterward points to how very sick of his existence he had become — piling drained corpses in the basement and keeping records of other vampires' real names and addresses.
Because now, there are policemen on the case: two very special humans with some gifts of their own. They know who Eleisha is, and, even more dangerous, what she is.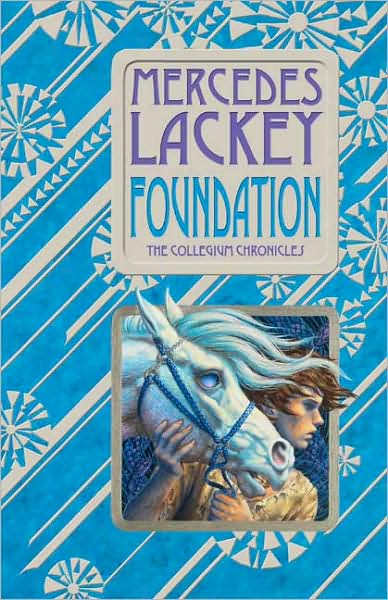 Foundation Book One of the Collegium Chronicles
(A Valdemar Novel)
by
Mercedes Lackey
(
DAW
Hardcover 10/07/2008) - I've been reading fantasy for quite some time and Lackey's been one of mainstays on the shelves whom I've never read. This is an "episode" of a series that contains over 25 books. On one hand, a book like this could be somewhat daunting for a new reader. On the other,
Foundation
at least seems somewhat approachable to new readers.
In this chronicle of the early history of Valdemar, Mercedes Lackey's bestselling world, a thirteen year- old orphan named Magpie escapes a life of slavery in the gem mines when he is chosen by one of the magical Companion horses of Valdemar to be trained as a Herald. Thrust into the center of a legend in the making, Magpie discovers talents he never knew he had—and witnesses the founding of the great Heralds' Collegium.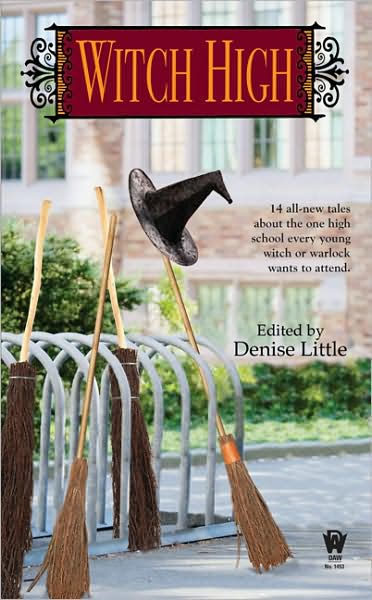 Witch High
by
Denise Little
(
DAW
Mass Market Paperback 10/07/2008) - Another of those themed anthologies, this time its 14 stories based around magic schools.
High school is different for everyone. For some, it's a time to shine, and for others, a time to survive. Then there are the students who attend those special schools for the gifted. But what if there was a school that catered to those rarest of students—those who can do magic?
These fourteen tales explore the challenges that students of the magical arts may face in a high school of their very own. If you think chemistry is tough, try alchemy. If you ever fell victim to a school bully, how would you deal with a bully gifted with powerful magic? And if you needed more time to study, what spell could give you all the time you desired?
These are just a few of the magical adventures that will await you when you enter Salem Township Public High School #4— otherwise known as Witch High...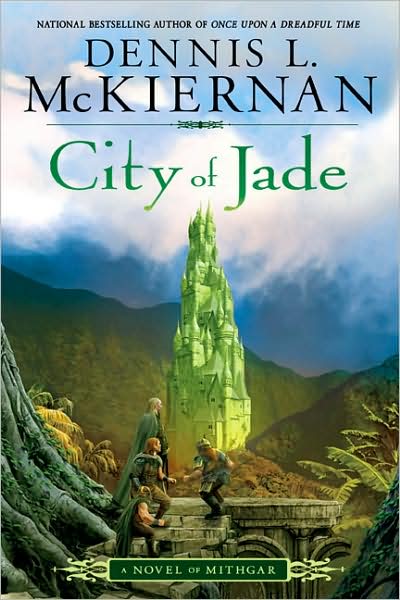 City of Jade (A Novel of Mithgar)
by
Dennis L. McKiernan
(
ROC
Hardcover 10/07/2008) – I've seen McKiernan described as both a good storyteller and a Tolkien hack clone. Whether I get to this one and come to my own conclusions, well, we'll just see. Although part of the overall
Mithgar
cycle, this seems to stand on its own. The cover is a fairly typical fantasy cover, but I think it is appealing.
The myth of a lost city carved of precious jade has proven irresistible to many in Mithgar. Now Aravan, captain of the Elven ship Eroean, has undertaken a quest to find it. With his true love Aylis, the Magekind Seeress, beside him and a crew of men and dwarves, he sets sail to follow the lure of legend.
The journey will be long and perilous—and the voyagers will find more than treasure awaiting them in the City of Jade. They will find dark sorcery and great danger, and some among them will find death.