This week's Sunday run down is brought to you by
Orbit
,
Tor
, and
Plume
.
Transition
by
Iain M. Banks
(
Orbit
Hardcover 09/23/2009) – I've only read a little bit of Mr. Banks's output, but I enjoyed it quite a bit. This novel is not part of his
Culture
saga and is more of a modern/near future SF thriller.
A world that hangs suspended between triumph and catastrophe, between the dismantling of the Wall and the fall of the Twin Towers, frozen in the shadow of suicide terrorism and global financial collapse, such a world requires a firm hand and a guiding light. But does it need the Concern: an all-powerful organization with a malevolent presiding genius, pervasive influence and numberless invisible operatives in possession of extraordinary powers?

On the Concern's books are Temudjin Oh, an un-killable assassin who journeys between the peaks of Nepal, a version of Victorian London and the dark palaces of Venice; and a nameless, faceless torturer known only as the Philosopher. And then there's the renegade Mrs. Mulverhill, who recruits rebels to her side; and Patient 8262, hiding out from a dirty past in a forgotten hospital ward. As these vivid, strange and sensuous worlds circle and collide, the implications of turning traitor to the Concern become horribly apparent, and an unstable universe is set on a dizzying course.
The Quiet War
by
Paul McAuley
(
Pyr
Trade Paperback 09/152009) – McAuley's been writing well-received Science Fiction for well over a decade. I read some shorts by him as well as his
Confluence
trilogy, which was pretty good. This newest is a space opera that sounds intriguing:
Twenty-third century Earth, ravaged by climate change, looks backwards to the holy ideal of a pre-industrial Eden. Political power has been grabbed by a few powerful families and their green saints. Millions of people are imprisoned in teeming cities; millions more labour on Pharaonic projects to rebuild ruined ecosystems. On the moons of Jupiter and Saturn, the Outers, descendants of refugees from Earth's repressive regimes, have constructed a wild variety of self-sufficient cities and settlements: scientific utopias crammed with exuberant creations of the genetic arts; the last outposts of every kind of democratic tradition. The fragile detente between the Outer cities and the dynasties of Earth is threatened by the ambitions of the rising generation of Outers, who want to break free of their cosy, inward-looking pocket paradises, colonise the rest of the Solar System, and drive human evolution in a hundred new directions. On Earth, many demand pre-emptive action against the Outers before it's too late; others want to exploit the talents of their scientists and gene wizards. Amid campaigns for peace and reconciliation, political machinations, crude displays of military might, and espionage by cunningly wrought agents, the two branches of humanity edge towards war . . .

The Dame
(
Saga of the First King
#2) by
R.A. Salvatore
(
Tor
Hardcover 08/18/2009) – I read the first of this new series
The Ancient
last year and was (surprisingly) entertained by it. This here's the sequel/second book in the series:
The vast road network of Honce, completed a decade before, had brought great optimism to the people of the land. Commerce could travel more freely and so could armies, and those armies, it was hoped, would rid the land at long last of the vicious, bloody cap dwarfs and goblins. For the first time, the many individual kingdoms, the holdings of Honce, would be brought closer together, perhaps even united. For the last few years, those promises had become a nightmare to the folk, as two powerful lairds fought for supremacy of a hoped-for united kingdom. Bransen Garibond, the Highwayman, held little real interest in that fight. To him the warring lairds were two sides of the same coin. Whichever side won, the outcome for the people of Honce would be the same, Bransen believed. A journey north, however, taught Bransen that his views were simplistic at best, and that some things--like honor and true friendship-- might truly matter. In The Dame, Bransen's road becomes a quest for the truth, of Honce and of himself, a quest to put right over wrong. That path is fraught with confusion and fraud, and a purposeful blurring of morality by those who would seek to use the Highwayman's extraordinary battle skills and popularity among the commonfolk for their own nefarious ends.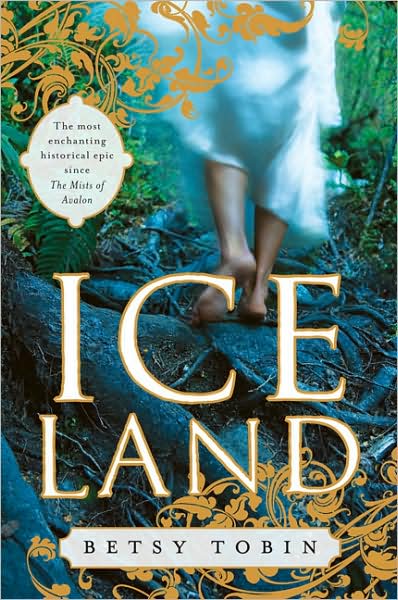 Ice Land
by Betsy Tobin (
Plume
Trade Paperback 08/25/2009) – A Mythic historical fiction which is being compared to Marion Zimmer Bradley's
Mists of Avalon
., with praise from Diana Gabaldon, Kristen Britain, and
Publishers Weekly
, among others. An
excerpt
is available
here
.
Iceland, AD 1000 - Freya knows that her people are doomed. Warned by the Fates of an impending disaster, she must embark on a journey to find a magnificent gold necklace, one said to possess the power to alter the course of history. But even as Freya travels deep into the mountains of Iceland, the country is on the brink of war. The new world order of Christianity is threatening the old ways of Iceland's people, and tangled amidst it all are two star-crossed lovers who destiny draws them together even as their families are determined to tear them apart

Infused with the rich history and mythology of Iceland, Betsy Tobin's sweeping novel is an epic adventure of forbidden love, lust, jealousy, faith and magical wonder set under the shadow of a smoldering volcano..