This week's
Books in the Mail
post is brought to you by
Black Library
,
Nightshade Books
, and
Vandguard Press
.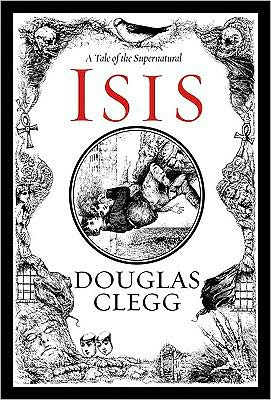 Isis
by
Douglass Clegg
(
Vandguard Press
Hardcover 09/15/2009) – Douglass Clegg has been writing well-received horror for quite a few years now, well over a decade. One of those writers who I've, unfortunately, yet to read but have been wanting to read for some time. As I often say, maybe this will be the first book I read by him.
If you lost someone you loved, what would you pay to bring them back from the dead?

Old Marsh, the gardener at Belerion Hall, warned the Villiers girl about the old ruins along the sea-cliffs. "Never go in, miss. Never say a prayer at its door. If you are angry, do not seek revenge by the Laughing Maiden stone or at the threshold of the Tombs. There be those who listen for oaths and vows….What may be said in innocence becomes flesh and blood in such places."

She was born Iris Catherine Villiers. She became Isis. From childhood until her sixteenth year, Iris Villiers wandered the stone-hedged gardens and the steep cliffs along the coast of Cornwall near her ancestral home. Surrounded by the stern judgments of her grandfather-the Gray Minister-and the taunts of her cruel governess, Iris finds solace in her beloved older brother who has always protected her.

But when a tragic accident occurs from the ledge of an open window, Iris discovers that she possesses the ability to speak to the dead…

Be careful what you wish for…it just may find you.
The Year's Best Horror Volume 1
by
Ellen Datlow
(
Nightshade Books
Trade Paperback 10/11/2009) – Since The Year's Best Fantasy and Horror were split up a couple of years ago, Ms. Datlow brought the Horror component over to Nightshade with this, the first volume.
An Air Force Loadmaster is menaced by strange sounds within his cargo; a man is asked to track down a childhood friend... who died years earlier; doomed pioneers forge a path westward as a young mother discovers her true nature; an alcoholic strikes a dangerous bargain with a gregarious stranger; urban explorers delve into a ruined book depository, finding more than they anticipated; residents of a rural Wisconsin town defend against a legendary monster; a woman wracked by survivor's guilt is haunted by the ghosts of a tragic crash; a detective strives to solve the mystery of a dismembered girl; an orphan returns to a wicked witch's candy house; a group of smugglers find themselves buried to the necks in sand; an unanticipated guest brings doom to a high-class party; a teacher attempts to lead his students to safety as the world comes to an end around them...

What frightens us, what unnerves us? What causes that delicious shiver of fear to travel the lengths of our spines? It seems the answer changes every year. Every year the bar is raised; the screw is tightened. Ellen Datlow knows what scares us; the twenty-one stories and poems included in this anthology were chosen from magazines, webzines, anthologies, literary journals, and single author collections to represent the best horror of the year.

Legendary editor Ellen Datlow (Poe: New Tales Inspired by Edgar Allan Poe), winner of multiple Hugo, Bram Stoker, and World Fantasy awards, joins Night Shade Books in presenting The Best Horror of the Year, Volume One.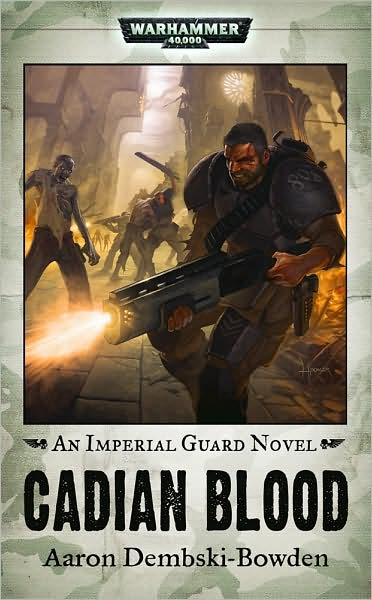 Cadian Blood
(
Imperial Guard Series
) by
Aaron Dembski-Bowden
(
Black Library
Mass Market Paperback 09/25/2009) – This is a first time author so this might be another good entry point for the Warhammer 40,000 franchise and the
Imperial Guard Series
itself.
Here's
a sample extract:
When the Imperial shrine world of Kathur is blighted by Chaos, the brave Guardsmen of Cadia are sent to reclaim it. The plague of Nurgle has set in deeply on the planet, forcing the Cadians into battle with an innumerable legion of the infected. In the midst of battle, Captain Parmenion Thade is thrust into an unlikely commanding role. Yet, he cannot imagine what lies ahead on Kathur, and just how important it will be to ensure victory there -
Space Wolf: The Second Omnibus
(The
Space Wolves Series
) by
William King
and
Lee Lightner
(
Black Library
, Trade Paperback 09/22/2009) – One of the things I like about Black Library and their various
Warhammer
franchises is that they seem to be quite fan friendly in their products. In other words, they keep their series in print through Omnibus editions and I'm a big fan of the omnibus. The title on this one is pretty self-explanatory.
Wolfblade - The ancient Navigator House of Belisarius has long been bound to the mighty Space Wolves as allies. In return for the means to navigate the treacherous warp, the Space Wolves provide an honour guard of elite warriors – the Wolfblade – to protect the House. When Ragnar takes up his duties on ancient Terra he soon becomes embroiled in an assassination plot that reaches into the very depths of Imperium! Unused to the delicate political machinations, Ragnar must resort to the howling fury of the Wolves if he is to save this noble dynasty and regain his honour!

Sons of Fenris - Ragnar Blackmane is a legend within the hallowed ranks of the Space Wolves – his exploits are legendary and his courage is limitless. When Ragnar is sent to investigate reports of Chaos attacks on the planet Hyades, he encounters his Chapter's most bitter rivals – the Dark Angels Space Marines. As old feuds come to the fore, both sides call in reinforcements and the situation quickly escalates out of control. Can these two ancient rivals call a truce and work together or will the savage forces of Chaos exploit the infighting and complete their nefarious plans?

Wolf's Honour - Following events described in Sons of Fenris, the Space Wolves find themselves under attack from all sides by the Thousand Sons Chaos Space marines. In a last–ditch attempt to stop their ancient enemy, Ragnar and his battle–brothers launch a lightning strike on the Thousand Sons' base. Will the Space Wolves triumph, and can Ragnar retrieve the Spear of Russ from his nemesis, the Chaos Space Marine Madox?
Shamanslayer
(A
Gotrek and Feilx
Novel) by
Nathan Long
(
Black Library Paperback
9/29/2009)
Gotrek and Feilx
is probably the most popular and long-running series/franchise in the
Warhammer
fantasy line of books, this being the 12th book in the series. The folks at Black Library, as they seem to do for most of their fiction, provided a
sample chapter
Dwarf Trollslayer Gotrek and his human companion Felix Jaeger, Warhammer's most famous pair of heroes, head off to a new adventure in the latest novel of this best-selling fantasy series against a horde of beastmen who threaten the safety of the Empire.
Madness of Flowers
by
Jay Lake
(
Nightshade Books
Trade Paperback 10/15/2009) – This is the follow-up to Lake's
Trial of Flowers
, which is a nice looking book and was received very well. In regard to this one, how can you go wrong with a polar bear on a cover?
The battle has been fought and won, and all have been transformed by the struggle. Imago of Lockwood has become Lord Mayor of the City Imperishable, though at a price beyond his wildest imagination. Bijaz the Dwarf has been imbued with a godlike power and a responsibility he scarcely understands. And Jason the Factor, resurrected from death at the hands of his sister, the Tokhari sandwalker Kalliope, has become the sula ma-jieni na-dia, the fabled Dead Man of Winter. When a beautiful mountebank arrives in the City Imperishable, offering to lead an expedition to uncover the lost tomb of the Imperator Terminus, she stirs up the mob with promises of treasure and imperial power... but what will her quest unleash? Political intrigue, adventure, and all-out war await the principles and inhabitants of the City Imperishable. Through it all, the City may endure, but none will remain untouched by the Madness of Flowers...