Since I can't possibly read every book I receive for review, the least I can do is mention them here. This way, I'm not ignoring the efforts of the publishers. This time of the month, usually the first or second week is when the Penguin imprints
Ace/Roc
and
DAW
) send out the books they plan on publishing the following month. As such, I have a pretty big haul this week.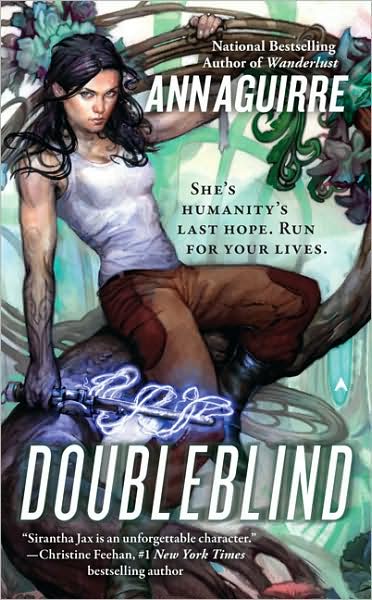 Doubleblind
by
Ann Aguirre
(
Ace
Paperback 09/29/2009) – Third in a "romantic science fiction" about a young girl, Jax, who has the ability to jump ships through grimspace
Sirantha Jax isn't known for diplomatic finesse. As a "Jumper" who navigates ships through grimspace, she's used to kicking ass first and taking names later—much later. Not exactly the obvious choice to sell the Conglomerate to the Ithtorians, a people whose opinions of humans are as hard as their exoskeletons.

And Ithiss-Tor council meetings aren't the only place where Ambassador Jax needs to maneuver carefully. Her lover, March, is frozen in permanent "kill" mode, and his hair-trigger threatens to sabotage the talks—not to mention their relationship.

But Jax won't give up on the man or the mission. With the Outskirts beleaguered by raiders, pirates, and the flesh-eating Morgut, an alliance with Ithiss-Tor may be humanity's only hope. Which has Jax wondering why a notorious troublemaker like her was given the job.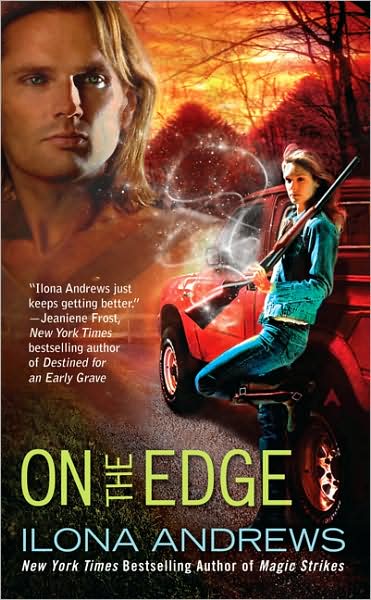 On the Edge
(
The Edge
#1) by
Ilona Andrews
(
Ace
Mass Market Paperback 10/02/2009) – First in a new paranormal romance series by the NY Times Bestselling author.
The Broken is a place where people shop at Wal-Mart and magic is nothing more than a fairy tale.

The Weird is a realm where blueblood aristocrats rule and the strength of your magic can change your destiny.

Rose Drayton lives on the Edge, the place between both worlds. A perilous existence indeed, made even more so by a flood of magic-hungry creatures bent on absolute destruction.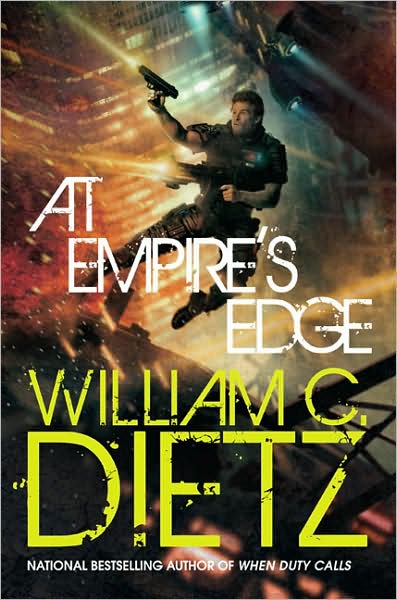 At Empire's Edge
by
William C. Dietz
(
Ace
Hardcover 10/06/2009) – Dietz spent a lot of time in the military and as such, a lot of his books would be considered Military Science Fiction. This one, however, sounds like something Richard K. Morgan might write.
In a far-distant future, the Uman Empire has spread to the stars and beyond, conquering and colonizing worlds, ruling with a benevolent—but iron—fist. The Pax Umana reigns, and all is well. But on one planet, the remnants of a violent, shape-shifting race called the Sagathis are confined, kept captive by xeno-cops, who have been bio-engineered to be able to see through their guises. Still, sometimes one manages to escape.

Zak Cato is a xeno-cop. He's returning a fugitive Sagathi when things go horribly wrong. Cato— the only survivor after the rest of his men are slaughtered—must now figure out who betrayed them and bring the alien in, whatever the cost.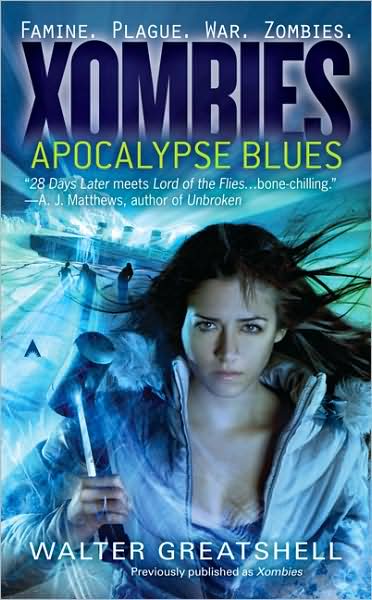 Xombies: Apocalypse Blues
by
Walter Greatshell
(
Ace
Paperback 09/29/2009) – This is a reprint of Greatshell's 2004 novel,
Xombies
. Why it's re-titled lies in the minds and hearts of (I assume) the marketing group over at Ace:
Lulu Pangloss has problems. She has no friends, her mom is difficult, and her absentee father is a deadbeat. Things can hardly get any worse...or so she thinks.

Then the world comes to an end.

It starts with Agent X, a plague that turns women into raving, demonic predators--Xombies--who then hunt down and infect anyone they can catch. Guns are useless; armies are helpless.

With civilization collapsing all around her, Lulu hitches a ride with a crew of wary male refugees, and together they flee for the last place on Earth rumored to be safe. But what they find is as unexpected, and as terrifying, as the hell they've left behind.

Zombie Raccoons & Killer Bunnies
edited by Martin H. Greenberg and Kerrie Hughes (
DAW Books
Mass Market Paperback 10/06/2009) – This is DAW's Monthly Themed Anthology and all I can say looking at this book is WOW. Well that and the Quizno's
Sponge Monkeys
.
From a farmer at war with Nature's creatures, to dangerous doings when the henhouse goes on-line, to the hazards of keeping company with a book wyrm, here are ingenious tales that will make readers laugh or cry—or double-check to make sure that their windows and doors are firmly locked against the things that prowl the night.
Hunting Memories
(
The Vampire Memories
#2) by
Barb Hendee
(
Roc
Trade Paperback 10/06/2009) – This is the second novel in Barb Hendee's solo series about, you guessed it, vampires. The
Vampire Memories
series looks to have more of an urban fantasy (current definition) feel than the
Nobel Dead
saga she coauthors with her husband.
You are not alone. There are others like you…"

When she read those words, Eleisha Clevon knew she had to respond to Rose de Spenser's letter and connect with another vampire. Both reluctant predators, they venture outside only when the hunger becomes unbearable, try not to draw attention to themselves—and feel guilty when ending human lives.

But Eleisha has learned a way to draw blood from her victims without killing them. She wants to share this knowledge with like-minded vampires and create a haven where they can exist together—and forge a united front against Julian Ashton, a vampire who has been hunting down and destroying his own kind for the last century. To win Rose to her cause, Eleisha must risk meeting her face-to-face, knowing full well she might be an agent of Julian's—but never expecting the revelations Rose has to share about Eleisha's own vampire origins…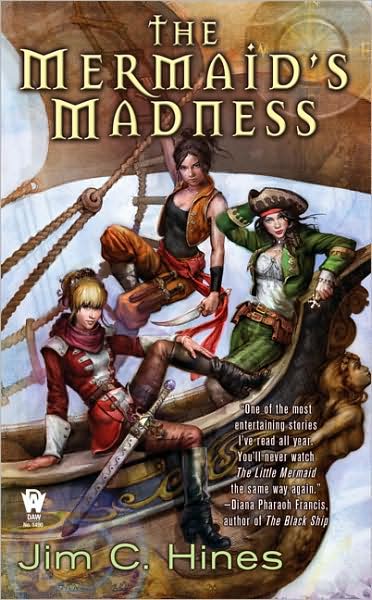 The Mermaid's Madness
(
Princess Series #2
) by
Jim C. Hines
(
DAW Books
, Mass Market Paperback 10/06/2009) – I still have Jim's first book in this series
The Stepsister Scheme
staring at me from the unread shelf. I plan on reading both of them soonishly. Jim runs a great
blog / LiveJournal
, particularly the now defunct
lol cats book cover features
and seems an affable and generous writer.
What would happen if a star writer went back to the darker themes of the original fairy tales for plots, and then crossed the Disney princesses with "Charlie's Angels"? What he'd end up with is The Mermaid's Madness-a whole new take on "The Little Mermaid." And with Jim C. Hines, of Jig the Goblin fame, penning the tale, you can bet it won't be "They lived happily ever after."
Gwenhwyfar: The White Spirit
(
A Novel of King Arthur
) by
Mercedes Lackey
(
DAW
Hardcover 10/06/2009) – The extremely prolific author turns her pen to one of the most well worn myths/legends – King Arthur
The bestselling author of the Valdemar novels pens a classic tale about King Arthur's legendary queen.

Gwenhwyfar moves in a world where gods walk among their pagan worshipers, where nebulous visions warn of future perils, and where there are two paths for a woman: the path of the Blessing or the rarer path of the Warrior. Gwenhwyfar chooses the latter, giving up the power that she is born into. Yet the daughter of a King is never truly free to follow her own calling. Acting as the "son" her father never had, when called upon to serve another purpose by the Ladies of the Well, she bows to circumstances to become Arthur's queen—only to find herself facing temptation and treachery, intrigue and betrayal, but also love and redemption.

Unleashed
by
John Levitt
(
Ace
Paperback 11/24/2009) – Third in an Urban Fantasy series about a man and his 'dog.'
Mason is an enforcer, keeping magical practitioners on the straight and narrow. His "dog" Louie, is a faithful familiar who's proven over and over that he's a practitioner's best friend. But this time, Louie's in the line of fire when practitioners in San Francisco accidentally unleash a monster into the world.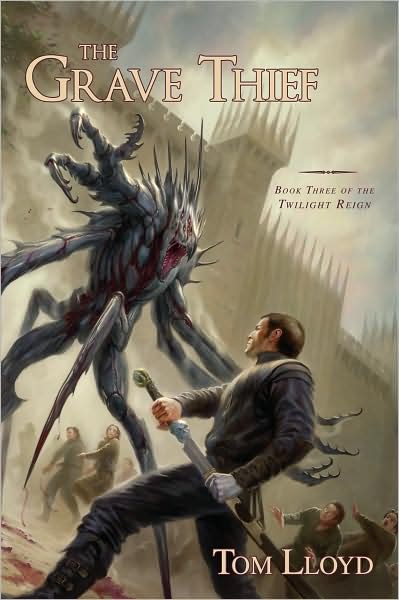 The Grave Thief
by (
Book Three of the Twilight Reign
) by
Tom Lloyd
. (
Pyr
Trade Paperback 09/15/2009) – Third volume in Lloyd's high fantasy trilogy, which as been released in pretty quick succession here in the US.
Scree has been wiped from the face of the Land in a brutal demonstration of intent. While those responsible scatter to work on the next step in their plan, the stakes are raised - all the way to the heavens - as the Gods themselves enter the fray. Returning home to a nation divided by fanaticism, Lord Isak is haunted both by the consequences of his actions in Scree and by visions of his own impending death. As the full extent of Azaer's schemes become clearer, he realises prophecy and zealotry must play their part in his battle-plans if there is to be any chance of surviving the coming years. As a white-eye, Isak has had to embrace the darker parts of his own soul, but now the savage religious fervour sweeping his nation must also be accepted and turned to purpose, in the name of survival. With the battle lines vague and allegiances uncertain, the time for heartless decisions and ruthless action has come. Two figures oppose Isak and his allies: the greatest warrior in history, who dreams of empire and Godhood, and a newborn baby whose dreams have no limit.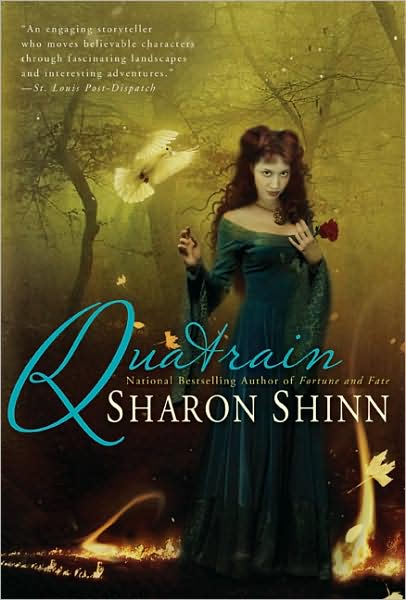 Quatrain
by
Sharon Shinn
(
Ace
Hardcover 10/06/2009) – I've only read
Archangel
by Shinn more than 10 years ago, but I enjoyed it quite a bit. This book seems like a good primer/introduction to all of her work.
Four original novellas, all set in the fantastical worlds of national bestselling author Sharon Shinn - Flight (Samaria); Blood (Heart of Gold); Gold (Summers at Castle Auburn); and Flame (Twelve Houses).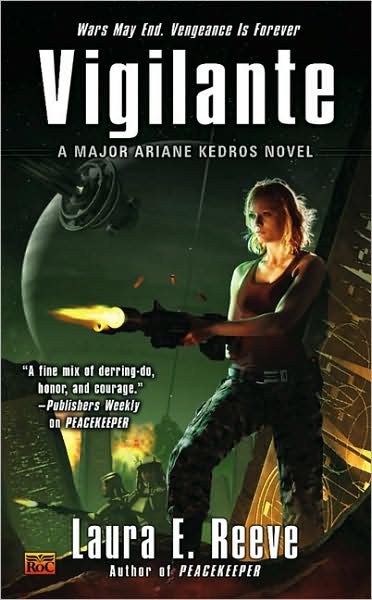 Vigilante
by (
Major Ariane Kedros #2
)
Laura E. Reeve
(
Roc
Mass Market Paperback 10/06/2009) – Like the Jim Hines book I received this week, I have the previous book in this series sitting on the unread shelf staring at me and making me feel guilty because I do want to read this. I think getting the sequel/second book will push me a little bit more.
Amidst an uneasy peace between the Autonomists and the Terrans, Major Ariane Kedros and her partner, Matthew Journey, have discovered alien ruins on a remote planet—ruins that bear evidence to an ancient and highly advanced technology. But their discovery has drawn the interest of high stakes players from every corner of the universe—including that of the rogue leader of a fringe Terran sect. Ari must find a way to stop him, before they all become ancient history...