Sunday is
Books in the Mail
time, so here's the tally of books I received for review during the previous week. Since I can't possibly get to all of the books publishers send me, the next best thing is to at least not ignore them, which is the main purpose of this post.
All that said, this week was a pretty big week at the o' Stuff mailbox/porch/in-front-of-the-garage...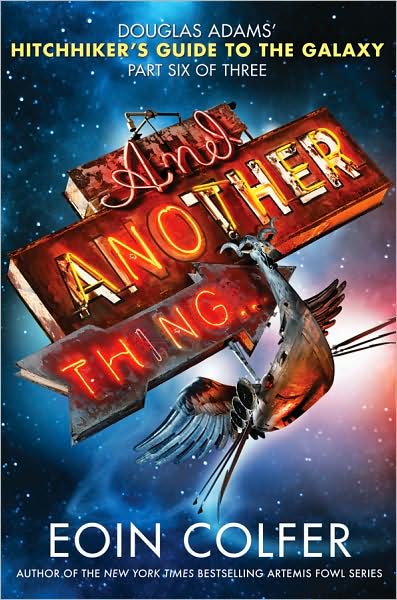 And Another Thing...
(Book #6 in
The Hithchiker's Guide to the Galaxy
Trilogy) by
Eoin Colfer
(
Hyperion
Trade Paperback 10/11/2009) – I have a deep affection for the first 4 or 5 books in the trilogy and have read them each a couple of times. My wife loves the books, too. There seems to be some positivity surrounding this continuation of a deceased author's defining work, quite the opposite of what's happening with the
Dune
books. In fact, a number of very positive reviews cropped up the day of the book's release
An Englishman's continuing search through space and time for a decent cup of tea . .

Arthur Dent's accidental association with that wholly remarkable book, The Hitchhiker's Guide to the Galaxy, has not been entirely without incident.

Arthur has travelled the length breadth and depth of known, and unknown, space. He has stumbled forwards and backwards through time. He has been blown up, reassembled, cruelly imprisoned, horribly released, and colorfully insulted more than is strictly necessary. And of course Arthur Dent has comprehensively failed to grasp the meaning of life, the universe, and everything.

Arthur has finally made it home to Earth, but that does not mean he has escaped his fate.

Arthur's chances of getting his hands on a decent cuppa have evaporated rapidly along with all the world's oceans. For no sooner has he touched down on the planet Earth than he finds out that it is about to be blown up . . . ..again.

And Another Thing . . . is the rather unexpected, but very welcome, sixth installment of the Hitchhiker's Guide to the Galaxy series. It features a pantheon of unemployed gods, everyone's favorite renegade Galactic President, a lovestruck green alien, an irritating computer, and at least one very large slab of cheese.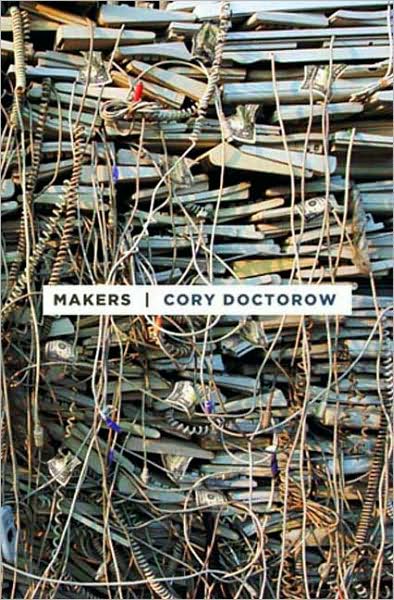 Makers
by (
Cory Doctorow
(
Tor
Hardcover 10/27/2009) – This is Doctorow's first novel since
Makers
, which I thought was one of the best books I read last year:
Perry and Lester invent things—seashell robots that make toast, Boogie Woogie Elmo dolls that drive cars. They also invent entirely new economic systems, like the "New Work," a New Deal for the technological era. Barefoot bankers cross the nation, microinvesting in high-tech communal mini-startups like Perry and Lester's. Together, they transform the country, and Andrea Fleeks, a journo-turned-blogger, is there to document it.

Then it slides into collapse. The New Work bust puts the dot.combomb to shame. Perry and Lester build a network of interactive rides in abandoned Wal-Marts across the land. As their rides, which commemorate the New Work's glory days, gain in popularity, a rogue Disney executive grows jealous, and convinces the police that Perry and Lester's 3D printers are being used to run off AK-47s.

Hordes of goths descend on the shantytown built by the New Workers, joining the cult. Lawsuits multiply as venture capitalists take on a new investment strategy: backing litigation against companies like Disney. Lester and Perry's friendship falls to pieces when Lester gets the 'fatkins' treatment, turning him into a sybaritic gigolo.
The Commanding Stone
(
The Osserian Saga
#3) by
David Forbes
(
EOS
Mass Market Paperback 10/03/2009) – I read and liked the first book,
The Amber Wizard
when it first published in 2006 and subsequently
interviewed David
. I liked the book and now I have books 2 and 3 to read back to back.
Gerin, King of Khedesh, has long since accepted the mantle of Amber Wizard—the first in a millennium—with all the terrible responsibility that accompanies it. He has prevented the dread wizard-king, Asankaru, from attaining the all-powerful Words of Making, but the enemy grows stronger by the day.

And now Gerin must be resolute and pursue the secret of the Words at any and all cost. For a new foe has emerged in a furious race toward a magical artifact that can awaken and command monsters long thought dead. And nothing will survive the devastation wrought by dragon fire.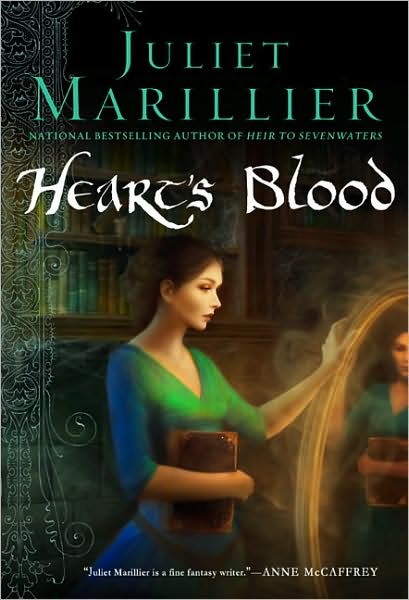 Heart's Blood
edited by
Juliet Marillier
(
Roc
Hardcover 11/03/2009) – Taking a break from her popular
Sevenwaters
milieu, Marillier spins a romantic fantasy that seems to touch upon some similar themes. I only read
Daughter of the Forest
and thought it was good.
The national bestselling "fine folklorist and gifted narrator"(Publishers Weekly) of the Sevenwaters novels conjures a new sweeping romantic fantasy.

Anluan has been crippled since childhood, part of a curse that has besieged his family and his home of Whistling Tor. But when the young scribe Caitrin is retained to sort through family documents, she brings about unexpected changes in the household, casting a hopeful light against the despairing shadows.

But to truly free Anluan's burdened soul, Caitrin must unravel the web of sorcery woven by his ancestors before it claims his life-and their love…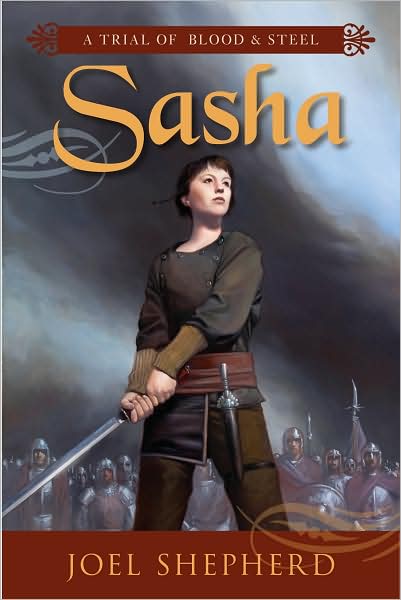 Sasha
(
A Trial of Blood and Steel
#1) by
Joel Shepherd
(
Pyr
Trade Paperback 10/13/2009) – Joel made a big splash with his
Cassandra Kresnov
series (
Crossover
,
Breakaway
, and
Killswitch
). With this series, he seems to be sticking with a strong heroine, although he's switched gears and is telling a (historical?) fantasy with these books
SASHA IS A FIGHTER, THE LIKE OF WHICH THE HIGHLAND COUNTRY OF LENAYIN HAS NEVER SEEN.

Spurning her royal heritage to be raised by the great warrior, Kessligh, her exquisite swordplay astonishes all who witness it. But Sasha is still young, untested in battle and often led by her rash temper. In the complex world of Lenayin loyalties, her defiant wilfulness is attracting the wrong kind of attention.

Lenayin is a land almost divided by its two faiths: the Verenthane of the ruling classes and the pagan Goeren-yai, amongst whom Sasha now lives. The Goeren-yai worship swordplay and honour and begin to see Sasha as the great spirit—the Synnich—who will unite them. But Sasha is still searching for what she believes and must choose her side carefully.

When the Udalyn people—the symbol of Goeren-yai pride and courage—are attacked, Sasha will face her moment of testing. How will she act? Is she ready to lead? Can she be the saviour they need her to be?
Legacy
by
Tom Sniegoski
(
Delacorte Books for Young Readers
Hardcover 11/03/2009) – Sniegoski is a pretty prolific writer, this is the third book I've received for review over the past year with his name on it. This story is about superheroes and sounds, thematically, a bit similar to Robert Kirkman's
Invincible
.
What if you found out your deadbeat father is a superhero? Would you leave your small-town life to take up the mantle of a father you never knew? For 18-year-old Lucas, the choice is an easy one: he's not going to leave behind his mother and his comfortable life for a father who's never shown any interest in him. But his father—known officially as billionaire Clayton Hartwell, and secretly as the vigilante superhero The Raptor—tells Lucas that as he is dying, evil is growing, and the world needs Lucas to become the new Raptor. When Lucas's mother is killed by mysterious warriors, he realizes that his father is right. Once in Seraph City, Lucas is stunned by the amount of poverty and crime. But after observing his father's "heroic" behavior up close, Lucas is left wondering about the line between good and evil. And eventually, he must decide whether to take a stand against the one man who loves him in order to defend a world that desperately needs him.
Eclipse Three
edited by
Jonathan Strahan
(
Night Shade Books
Trade Paperback October 2009) – This is the third in Strahan's acclaimed annual, unthemed anthology series of original fiction.
I thought the first one was good
, but haven't gotten to the second one yet, and this one looks pretty impressive, too.
To observe an eclipse is to witness a rare and unusual event. Under darkened skies the sun becomes a negative image of itself, its corona transforming the landscape into a strange space where anything might happen, and any story may be true...

In the spirit of classic science fiction anthologies such as Universe, Orbit, and Starlight, master anthologist Jonathan Strahan (The Best Science Fiction and Fantasy of the Year) presents the non-themed genre anthology Eclipse: New Science Fiction and Fantasy. Here you will find stories where strange and wonderful things happen--where reality is eclipsed by something magical and new.

Continuing in the footsteps of the multiple-award-nominated anthologies Eclipse One and Eclipse Two, Eclipse Three delivers new fiction by some of the genre's most celebrated authors, including Karen Joy Fowler's story of a family's desperation and a rebellious young woman's strange incarceration; Ellen Klages's fable of a practical girl, an unusual tortoise, and an ancient mathematical puzzle; Pat Cadigan's story of a mysterious photograph and two friends' journey through space and time in order to solve its riddle; Jeffrey Ford's tale of a legendary sword imbued with the power to turn flesh to coral, and of the artist that wields it; Daniel Abraham's story of divine providence, sacred oaths, and the omens that indicate whether a man is fit to be king; and Caitlin R. Kiernan's chronicle of an astronaut whose memories of a lover lost to an alien intelligence haunt her.

Table of Contents:

The Pelican Bar, Karen Joy Fowler
A Practical Girl, Ellen Klages
Don't Mention Madagascar, Pat Cadigan
On the Road, Nnedi Okorafor
Swell, Elizabeth Bear
Useless Things, Maureen F. McHugh
The Coral Heart, Jeffrey Ford
It Takes Two, Nicola Griffith
Sleight of Hand, Peter S. Beagle
The Pretender's Tourney, Daniel Abraham
Yes We Have No Bananas, Paul Di Filippo
Mesopotamian Fire, Jane Yolen & Adam Stemple
The Visited Man, Molly Gloss
Galapagos, Caitlin R. Kiernan
Dolce Domum, Ellen Kushner
Blackout
by (
Connie Willis
(
Bantam Spectra
Hardcover 02/10/2010) – Willis is one of the most awarded writers in the Science Fiction genre. Her most famous novel
Doomsday Book
also centers on Time Travel. I expect this novel will be on awards lists next year.
Blackout is the opening movement of a vast, absorbing two-volume novel that may well prove to be Connie Willis's masterpiece. Like her multi-award winning The Doomsday Book, this marvelous new work marries the intricate mechanics of time travel to the gritty – and dangerous – realities of actual human history.

The narrative opens in Oxford, England in 2060, where a trio of time traveling scholars prepares to depart for various corners of the Second World War. Their mission: to observe, from a "safe" vantage point, the day-to-day nature of life during a critical historical moment, As the action ranges from the evacuation of Dunkirk to the manor houses of rural England to the quotidian horrors of London during the Blitz, the objective nature of their roles gradually changes. Cut off from the safety net of the future and caught up in the "chaotic system" that is history, they are forced to participate, in unexpected ways, in the defining events of the era.

Blackout is an ingeniously constructed time travel novel and a grand entertainment. More than that, it is a moving, exquisitely detailed portrait of a world under siege, a world dominated by chaos, uncertainty, and the threat of imminent extinction. It is the rare sort of book that transcends the limits of genre, offering pleasure, insight, and illumination on virtually every page.
Iron Company
by Chris Wraight (
Black Library
Mass Market 11/04/2009) – The breadth of these
Warhammer
novels continues to impress me – the folks at
Black Library
really have quite a few different series going on.

.


When retired engineer Magnus Ironblood is tempted into one more campaign, he finds himself working alongside some unlikely allies. Sent as part of an Imperial force to bring to heel the secessionist forces of Countess von Kleister, this rag-tag army finds themselves outgunned. Digging deep into their reserves of courage and ingenuity they must fight the enemy forces with everything they have. But will it be enough to succeed where other have failed?