A very big week of arrivals at the 'o Stuff homestead with all of the books in this post except one arriving on Monday alone.
Random House
finally did something I wish all the other publishers would do – send all their books (from 4 different imprints) in one box. That saves on their shipping costs and the amount of those big, thick, yellow envelopes I accumulate.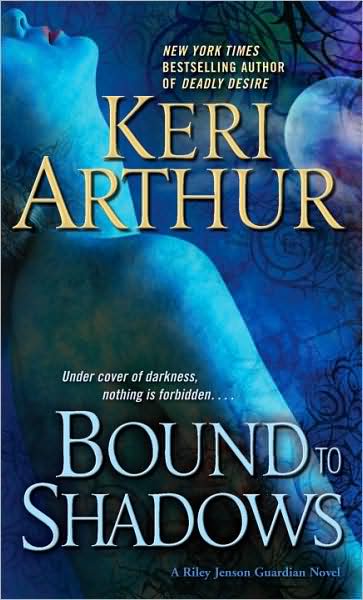 Bound to Shadows
(A
Riley Jenson Guardian Novel
) by
Keri Arthur
(
Dell
Mass Market Paperback 10/27/2009) – 10 books in 4 years, that isn't too bad – this is a werewolf/vampire urban fantasy that the kids love so much nowadays:.
In the darkness, demons come out to play and someone must bring their sins to light. Part vampire, part werewolf, Riley Jenson knows what can happen when vamps don't play well with others. But she's never seen anything like this: a series of brutal murders surrounding the latest hot spot for vampire-human hookups—and the victims aren't just killed, they're beheaded. Now Riley is launching into action, toying with a seductive—and highly suspicious—club owner, and finding herself in the middle of another mystery: women being killed one by one, without a trace of violence.

For Riley, solving multiple cases—in a world going mad with human and vampire passions—would have been tough enough. Instead she has two jealous lovers on her hands: Kye Murphy, the amber-eyed werewolf who makes Riley's wolf blood howl—and Quinn, the cool, elegant vamp who has over a thousand years' experience at fulfilling women's desires. While she's busy juggling these two sexy beasts, Riley's detective work takes a stunningly violent turn. Finding a murderer is now a matter of life and death. Especially since the killer has long since found her...
By the Mountain Bound
(
The Edda of Burdens
) by
Elizabeth Bear
(
Tor
Hardcover 10/27/2009) I've yet to read any of Bear's novel-length fiction, although I have enjoyed most of the short fiction I've read from her. Since this book is a prequel rather than a sequel/second book, this his possibiilties
For five hundred years the immortal Children of the Light, einherjar and valkyrie, have lived together in the North of Valdyrgard. They were born out of the Sea, each with a shining crystal sword in his or her hand; they are Angels of Light created in the formation of a new world. But three have come before them, from the death-throes of the old world, Midgard: the world-girdling Serpent, Bearer of Burdens; the Wolf Fenris, eater of the Sun, who now takes the form of an einherjar; and his demon sister, stealer of souls.

The Children spend their days feasting, fighting, hunting, and guarding their human charges. But one dreadful day a woman is washed up from the sea, a Lady who is no mortal, though she is not valkyrie either. Thus begins the breaking of the Children of the Light, the tarnishing of their power, and the death of Valdyrgard.

By the Mountain Bound is a prequel to Elizabeth Bear's highly acclaimed All the Windwracked Stars, and tells the painful tale of love and betrayal, sorcery and battle, that led up to the day when Muire was left alone in the snow at the end of the world.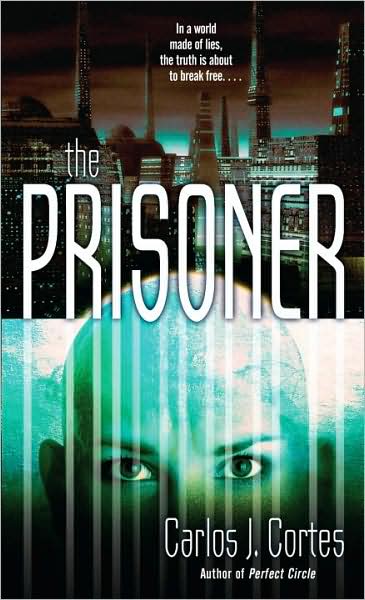 The Prisoner
by
Carlos J. Cortes
(
Bantam Spectra
Mass Market Paperback 10/27/2009) – Near Future SF thriller that has a PKD feel, at least from the synopsis below
2049. Earth's prisons are shut down and all inmates placed in massive hibernation tanks. In the ten years since then, no one has broken out…until now.

When prisoners check into Washington D.C.'s maximum security "sugar cube," they don't check out. Here lie suspended not just the planet's most dangerous criminals, but also half a million so-called "center inmates"—troublesome activists whose only offense is to challenge those in power.

Laurel Cole was one of those inmates—and now she's on the run. After pulling off a meticulously executed escape plan, she and her team must elude the police by descending into the tunnels that run like poisoned veins beneath the city. Pursued by a ruthless mercenary who knows these sewers better than anyone, Laurel seeks help from a group of renegades who live huddled in the fetid darkness. But if she ever hopes to see daylight again—and expose the government's lies—she'll have to go even deeper. . . and the clock is ticking.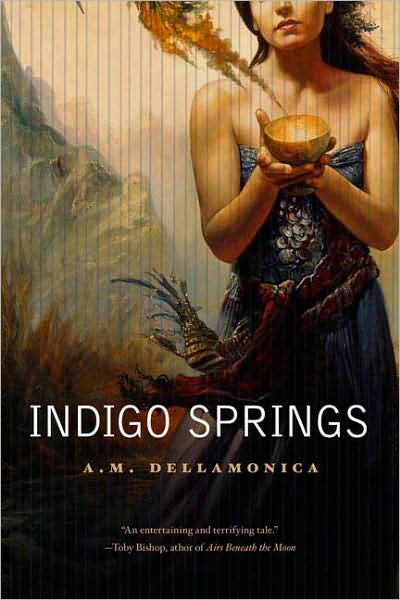 Indigo Springs
by (
A.M. Dellamonica
(
Tor
Trade Paperback 10/27/2009) – I read a couple of her short stories (
Fast Forward 1
,
Mojo
) and from what I remember, I enjoyed them.
Indigo Springs is a sleepy town where things seem pretty normal . . . until Astrid's father dies and she moves into his house. She discovers that for many years her father had been accessing the magic that flowed, literally, in a blue stream beneath the earth, leaking into his house. When she starts to use the liquid "vitagua" to enchant everyday items, the results seem innocent enough: a "'chanted" watch becomes a charm that means you're always in the right place at the right time; a "'chanted" pendant enables the wearer to convince anyone of anything . . .

But as events in Indigo Springs unfold and the true potential of vitagua is revealed, Astrid and her friends unwittingly embark on a journey fraught with power, change, and a future too devastating to contemplate. Friends become enemies and enemies become friends as Astrid discovers secrets from her shrouded childhood that will lead her to a destiny stranger than she could have imagined . . .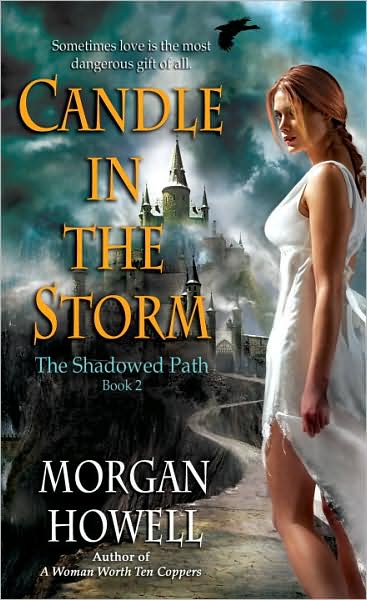 Candle in the Storm
(
The Shadowed Path
#2) by
Morgan Howell
(
Del Rey
Mass Market Paperback 10/27/2009) – Impressively, Howell has released/published 5 books since 2007, one completed trilogy and this one 2/3 complete
The malign shadow of the Devourer has darkened the land, extinguishing life and hope. The followers of the benevolent goddess Karm are hunted mercilessly and cut down by an army of bewitched slayers led by Lord Bahl, the Devourer's flesh-and-blood incarnation. Only two people stand in the way of an apocalyptic bloodbath that will literally bring hell to earth: a man and a woman linked by a love as strong as it is unlikely–Honus, a grim-faced warrior dedicated to Karm, and Yim, a beautiful former slave with the divine power to stop Lord Bahl.

But that power will prove a terrible curse as Yim is called upon to make a costly sacrifice–a sacrifice that will not only put her love for Honus to the test but call into question her very faith. As the evil storm descends, can the flame of hope endure?.
State of Decay
(
Revivors
) by
James Knapp
(
Ace
Mass Market Paperback 02/02/2010) – Debut novel about zombies intentionally reanimated. Sounds interesting.
Would you allow the military to reanimate your corpse, knowing it would commit atrocities, if it meant avoiding service in a brutal war during your lifetime?

What if your level of citizenship depended on your answer? To gain a chance at a better life, or feed your family, which would you choose then? Or would you choose neither, and accept a life of hardship and poverty? What if you came face to face with your own death, and realized too late you had made the wrong decision?
Small Miracles
by
Edward M. Lerner
(
Tor
Hardcover 10/27/2009) – Lerner is a busy man having written or co-written 5 books in the past couple of years
Garner Nanotechnology is developing nanotech-enhanced protective suits and autonomous first-aid nanobots. It's cutting-edge stuff, and when it saves Brent Cleary from a pipeline explosion that killed hundreds, the Army takes notice.

Near-death experience changes a person, so no one is entirely surprised when easy-going Brent turns somber and studious, focused and cold. Not at first. But Kim O'Donnell, Brent's best friend, cannot get past some of the changes. This just isn't her friend, and she wonders what's gotten into him.

With an Army field trial imminent and the company's future at stake, possible nanotech side effects aren't something anyone wants to discuss. The bad news is, Kim's right. Something has gotten into Brent – and he isn't the only one changing. If Kim can't stop them … maybe we'll all change.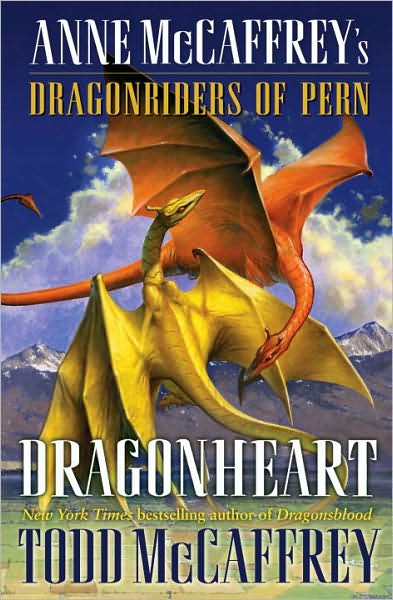 Dragonheart (Dragonriders of Pern)
by
Todd McCaffrey
(
Del Rey
Mass Market Paperback 10/27/2009) –
Another year another
Pern
novel, this things come out like clockwork, which is great for
Pern
/McCaffrey's legion of fans.
The grim specter of sickness looms over the Weyrs of Pern, felling fire-lizards and posing a potentially devastating threat to their dragon cousins, Pern's sole defense against the deadly phenomenon that is Thread. Fiona, the youngest and only surviving daughter of Lord Bemin, is just coming of age, and about to assume the duties of a Weyrwoman, when word spreads that dragons have indeed begun succumbing to the new contagion. With the next season of Threadfall quickly approaching, and the already diminished ranks of the dragons once more under siege, every Weyr across Pern is in crisis mode. It is hardly the time for disturbing distractions–such as the strange voice Fiona suddenly hears in her mind at the darkest and most urgent moments.

Circumstances and the mood of the weyrfolk worsen when advance patrols relay the dreaded news that black dust–the unmistakable herald of falling Thread–has been sighted. As more dragons sicken and die, leaving only a new generation of weyrlings too young to succeed them, Weyrleader B'Nik and queen rider Lorana arrive from Benden Weyr to comb Fort Weyr's archives in a desperate search for clues from the past that may hold the solution to the plague.

But could the actual past itself prove the pathway to salvation for Pern's stricken dragons and the entire imperiled planet? Guided by a mysterious ally from a wholly unexpected place, and trusting in the unique dragon gift for transcending time, Fiona will join a risky expedition with far-reaching consequences for both Pern's future and her personal destiny.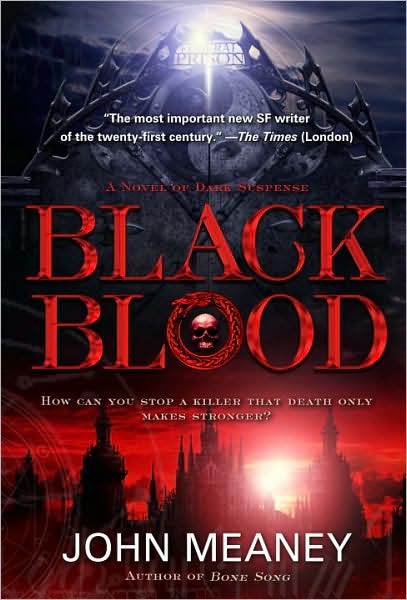 Black Blood
by
John Meaney
(
Bantam Spectra
Trade Paperback 10/27/2009) – I thought the first book in this Dark SF/SF Horror/SF-Mystery series
Bone Song
was pretty good so this book seems like it will go to the 'definitely to read' pile:
In John Meaney's follow-up to the much-acclaimed Bone Song, a cop in a morbidly lush necropolis crosses the barrier between life and death to avenge the murder of his lover—a woman whose heart now beats in his chest.…

Tristopolitan police lieutenant Donal Riordan returned from the dead for one purpose: to stop the killer who took not only his life but his reason for living it. But first he must penetrate a secret cabal known as the Black Circle, whose stranglehold on the city's elite is preparation for a magical coup d'état fueled by a sacrifice of unprecedented bloodshed. At the center of this ring of evil is the man responsible for his lover's murder—a man Donal has already had to kill once before.
Elric in the Dream Realms
(
Chronicles of the Last Emperor of Melniboné: Volume 5
) by
Michael Moorcock
(
Del Rey
Trade Paperback 10/27/2009) – This is the fifth volume in Del Rey's terrific looking repackaging of Moorcock's iconic Anti-hero, Elric. Each volume has had a different artist, this one's cover and interior is by Michael William Kaluta. There's also an introduction by
Neil Gaiman
. I've read most of the Elric stories in various forms, either in the Science Fiction Book Club omnibuses or the
White Wolf
versions.
Kinslayer. Soul reaver. Sorcerer. Thief. And last emperor of a cruel, decadent race. Elric of Melniboné is all of these–and more. His life is sustained by drugs and magic–and energy sucked from the victims of his vampiric black sword, Stormbringer, a weapon feared by men and gods alike. Denied the oblivion he seeks, poised between a tragic past he cannot escape and a terrifying future he is doomed to bring about, Elric is a hero like no other.

Del Rey is proud to present the fifth installment in its definitive collection featuring the immortal creation of Michael Moorcock, named Grand Master by the Science Fiction and Fantasy Writers of America. Highlights include an epic novel of Elric's early years, The Fortress of the Pearl; the script of the graphic novel Elric: The Making of a Sorcerer; a previously unpublished proposal for a new series; and Hugo Award—winning author Neil Gaiman's moving fictional tribute to Elric, the short story "One Life, Furnished in Early Moorcock."

Gorgeously illustrated by Michael Wm. Kaluta, Elric: In the Dream Realms is a dream come true for sword-and-sorcery fans.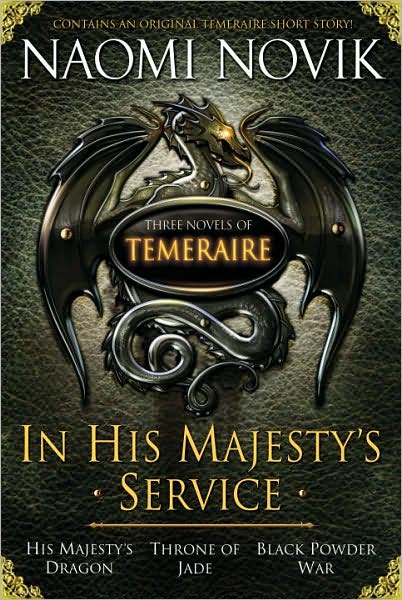 In His Majesty's Service
(
Temeraire
) by
Naomi Novik
(
Del Rey Books
Hardcover 10/27/2009) – This is an omnibus of the first three enjoyable books in Novik's popular Dragons-in-Napoleonic-War series (
His Majesty's Dragon
,
Throne of Jade
,
Black Powder War
):
Together in one volume, here are the first three novels in Naomi Novik's New York Times bestselling Temeraire series, combining the gripping history of the Napoleonic era, the thrill of Anne McCaffrey's Dragonriders of Pern books, and the excitement of Patrick O'Brian's seafaring adventures. In His Majesty's Service also includes an exclusive original Temeraire short story.

Capt. Will Laurence is serving with honor in the British Navy when his ship captures a French frigate harboring most a unusual cargo–an incalculably valuable dragon egg. When the egg hatches, Laurence unexpectedly becomes the master of the young dragon Temeraire and finds himself on an extraordinary journey that will shatter his orderly, respectable life and alter the course of his nation's history.

Thrust into England's Aerial Corps, Laurence and Temeraire undergo rigorous training while staving off French forces intent on breaching British soil. But the pair has more than France to contend with when China learns that an imperial dragon intended for Napoleon–Temeraire himself– has fallen into British hands. The emperor summons the new pilot and his dragon to the Far East, a long voyage fraught with peril and intrigue. From England's shores to China's palaces, from the Silk Road's outer limits to the embattled borders of Prussia and Poland, Laurence and Temeraire must defend their partnership and their country from powerful adversaries around the globe. But can they succeed against the massed forces of Bonaparte's implacable army?
Diving into the Wreck
by
Kristine Kathryn Rusch
(
Pyr
Trade Paperback November 2009) – Rusch is a very
prolific
writer who bounces between genres, with a lot of SF on her shelves. This is a stand alone novel that sounds pretty interesting and reminds me a bit, from the description only, of Jack McDevitt.
Boss loves to dive historical ships, derelict spacecraft found adrift in the blackness between the stars. Sometimes she salvages for money, but mostly she's an active historian. She wants to know about the past—to experience it firsthand. Once she's dived the ship, she'll either leave it for others to find or file a claim so that she can bring tourists to dive it as well. It's a good life for a tough loner, with more interest in artifacts than people.

Then one day, Boss finds the claim of a lifetime: an enormous spacecraft, incredibly old, and apparently Earth-made. It's impossible for something so old, built in the days before Faster Than Light travel, to have journeyed this far from Earth. It shouldn't be here. It can't be here. And yet, it is. Boss's curiosity is up, and she's determined to investigate. She hires a group of divers to explore the wreck with her, the best team she can assemble. But some secrets are best kept hidden, and the past won't give up its treasures without exacting a price in blood.

What Boss finds could rewrite history, cost lives, and start an intergalactic war.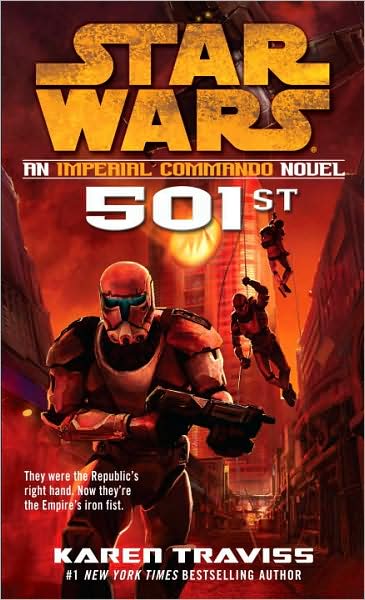 Star Wars 501st
(
An Imperial Commando Novel
) by
Karen Traviss
(
Del Rey/Star Wars Books
Hardcover 10/27/2009) – Traviss is a somewhat controversial
Star Wars
writer – she's got legions and legions of admirers and some who don't like her so much. She's
leaving the Star Wars books behind due to some conflicts
between her stories and
The Clone Wars
TV show.
The Clone Wars are over, but for those with reason to run from the new galactic Empire, the battle to survive has only just begun. . . .

The Jedi have been decimated in the Great Purge, and the Republic has fallen. Now the former Republic Commandos–the galaxy's finest special forces troops, cloned from Jango Fett–find themselves on opposing sides and in very different armor. Some have deserted and fled to Mandalore with the mercenaries, renegade clone troopers, and rogue Jedi who make up Kal Skirata's ragtag resistance to Imperial occupation. Others–including men from Delta and Omega squads–now serve as Imperial Commandos, a black ops unit within Vader's own 501st Legion, tasked to hunt down fugitive Jedi and clone deserters. For Darman, grieving for his Jedi wife and separated from his son, it's an agonizing test of loyalty. But he's not the only one who'll be forced to test the ties of brotherhood. On Mandalore, clone deserters and the planet's own natives, who have no love for the Jedi, will have their most cherished beliefs challenged. In the savage new galactic order, old feuds may have to be set aside to unite against a far bigger threat, and nobody can take old loyalties for granted..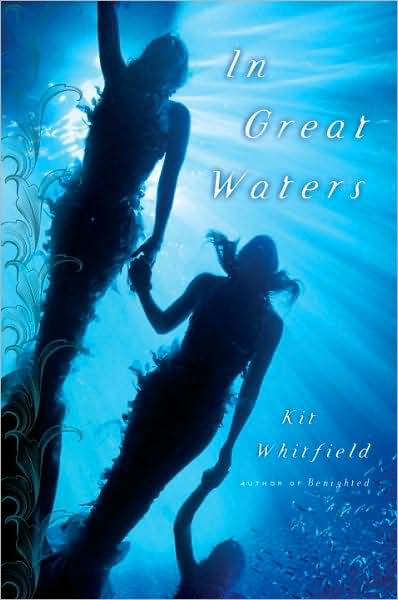 In Great Waters
by
Kit Whitfield
(
Del Rey
Trade Paperback 10/27/2009) – Owen read/reviewed Kit's first novel
Bareback
(aka Benighted in the US) and
interviewed her back in 2007
and reviewed
In Great Waters
a few months ago. This book deals with mer-people:
During a time of great upheaval, the citizens of Venice make a pact that will change the world. The landsmen of the city broker a treaty with a water-dwelling tribe of deepsmen, cementing the alliance through marriage. The mingling of the two races produces a fresh, peerless strain of royal blood. To protect their shores, other nations make their own partnerships with this new breed–and then, jealous of their power, ban any further unions between the two peoples. Dalliance with a deepswoman becomes punishable by death. Any "bastard" child must be destroyed.

This is an Earth where the legends of the deep are true–where the people of the ocean are as real and as dangerous as the people of the land. This is the world of intrigue and betrayal that Kit Whitfield brings to life in an unforgettable alternate history: the tale of Anne, the youngest princess of a faltering England, struggling to survive in a troubled court, and Henry, a bastard abandoned on the shore to face his bewildering destiny, finding himself a pawn in a game he does not understand.

Yet even a pawn may checkmate a king.