This week's reviews are brought to you by Nila and myself.
I took a headfirst dive into
Rachel Aaron
's
The Legend of Eli Monpress
, which is an omnibus of the first three novels in the series
The Spirit Thief
,
The Spirit Rebellion
, and
The Spirit Eater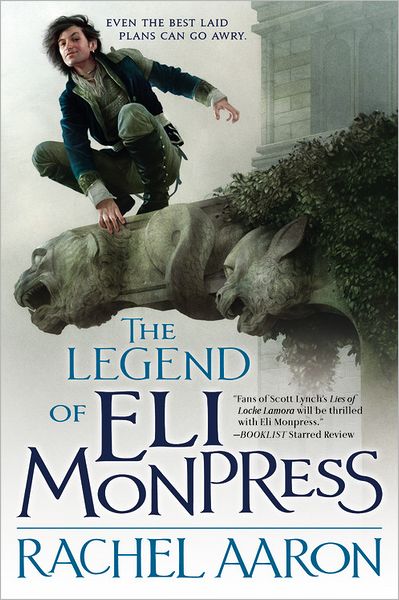 Set in what seems to be a vaguely fantasized France and Italy, Rachel Aaron's

Eli Monpress

novels, the first three of which (

The Spirit Thief

,

The Spirit Rebellion

, and

The Spirit Eater

) appear in The Legend of Eli Monpress could be characterized as many things within the fantasy genre. High Fantasy, Swords and Sorcery, Adventure Fantasy, Light Fantasy – all are apt, but mostly, they are just fun, entertaining reads. In Aaron's world, every object has a spirit (rocks, doors, dogs) and magic is employed by a wizard's cooperation and employment of these spirits. When Spirits are enslaved or made to act against their will, the body of magicians known as the Spirit Council steps into the situation.
…
Let's look at the characters: Eli Monpress would be the first person to tell you he's the greatest thief in the world, he'd also tell you that he's charming, smart, and a lot of fun. Sometimes characters and people who boast about themselves are full of hot air and quite the opposite of what their words say. In the case of Eli, he's pretty much telling the truth. I don't think I can get out of this review without drawing a comparison to Scott Lynch's Locke Lamora because the similarities are there – both characters are confident, snarky, and head strong thieves. Though Aaron and Lynch may be drawing from the same source material and the sense of fun is present in both author's works, that's where the strong similarities end.
Nila is continuing with Mike Shevdon's
The Courts of the Feyre
with the second novel,
The Road to Bedlam
:
The Road to Bedlam by Mike Shevdon is the second book in the Courts of the Feyre series. The story begins nine months after the concluding events in Sixty-One Nails, the first book in this series. Niall Petersen, our hero, is training hard to be a Warder of the Seven Courts and Blackbird, his half-feyre partner, is well on her way to being a mom for the first time in her 800 year-or-so existence.
…

Though not as fast paced as the first in this series, Mr. Shevdon does not disappoint his fans with The Road to Bedlam. The magical fabric of Mr. Shevdon's world is expanded in this book. We learn more of how humans have lived alongside the feyre, and how that relationship has grown and changed with the rapid changes modern technology has brought. Niall gets to use some of his newly learned skills against humans and fey. The fight scenes are real and gritty, intense enough to shock, and entirely believable..…