Only two books this week, one of which some of you may have heard of before…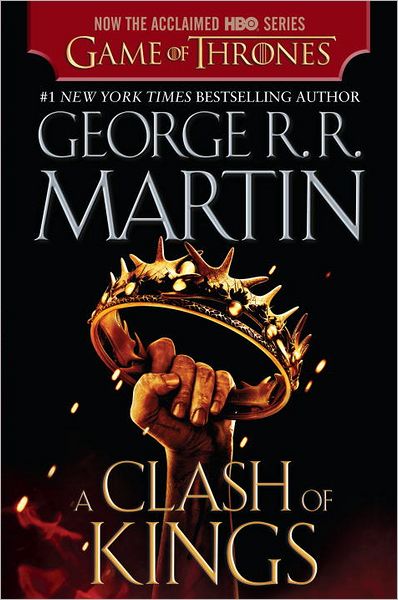 A Clash of Kings
(
A Song of Ice and Fire
#2) by
George R.R. Martin
(
Bantam Spectra
, Mass Market Paperback 03/06/2012) – I've read this book three times at this point, so it is somewhat convenient to have a mass market paperback edition to carry around rather than the big ol' hardcover for the re-read I'll do before
The Winds of Winder
.
A SONG OF ICE AND FIRE: BOOK TWO

In this thrilling sequel to A Game of Thrones, George R. R. Martin has created a work of unsurpassed vision, power, and imagination. A Clash of Kings transports us to a world of revelry and revenge, wizardry and warfare unlike any we have ever experienced.

A comet the color of blood and flame cuts across the sky. And from the ancient citadel of Dragonstone to the forbidding shores of Winterfell, chaos reigns. Six factions struggle for control of a divided land and the Iron Throne of the Seven Kingdoms, preparing to stake their claims through tempest, turmoil, and war. It is a tale in which brother plots against brother and the dead rise to walk in the night. Here a princess masquerades as an orphan boy; a knight of the mind prepares a poison for a treacherous sorceress; and wild men descend from the Mountains of the Moon to ravage the countryside. Against a backdrop of incest and fratricide, alchemy and murder, victory may go to the men and women possessed of the coldest steel . . . and the coldest hearts. For when kings clash, the whole land trembles.
Judgment at Proteus
(
Quadrail
#5) by
Timothy Zahn
(
Tor
, Hardcover 06/05/2012) – This is the fifth and concluding volume in Zahn's space opera series
Quadrail
, which began with
Night Train to Rigel
.
The climactic novel of the star-spanning Quadrail space opera

In Timothy Zahn's Judgment at Proteus, the Quadrail that connects the twelve civilizations of our galaxy has been the flashpoint of a battle for dominance fought mostly unnoticed by humankind. But Frank Compton of Earth, aided by the enigmatic woman Bayta, has fought on the front lines, using every bit of his human ingenuity and secret agent skills to outwit the Modhri, a group intelligence that would control the minds of every sentient being it can touch.

Following a trail of deception and death to Proteus Station, Compton has discovered a conspiracy that threatens all life in the galaxy: the Shonkla'raa, an ancient enemy thought to be long dead, is rising again. So serious is the danger that the Modhri, the enemy of his enemy, may now be his friend, as the burgeoning threat of a race of invincible soldiers emerges.

If Compton and Bayta can't stop them, the Shonkla'raa will decimate all who oppose them, destroying the Quadrail and billions of lives throughout the galaxy.