Some interesting books arrived this week. Cany anybody guess which will be read first from this group of arrivals?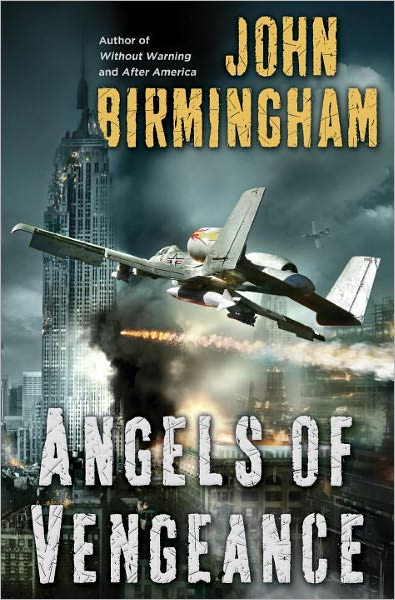 Angels of Vengeance
by
John Birmingham
(
Del Rey
Hardcover 04/10/2012) – I read Birmingham's
Weapons of Choice
when it first published, liked it, but just didn't return to the series. This book brings to a conclusion the unnamed series begun with
Without Warning
and is the 'final' version of the ARC I received in January.
When an inexplicable wave of energy slammed into North America, millions died. In the rest of the world, wars erupted, borders vanished, and the powerful lost their grip on power. Against this backdrop, with a conflicted U.S. president struggling to make momentous decisions in Seattle and a madman fomenting rebellion in Texas, three women are fighting their own battles—for survival, justice, and revenge.

Special agent Caitlin Monroe moves stealthily through a South American jungle. Her target: a former French official now held prisoner by a ruthless despot. To free the prisoner, Caitlin will kill anyone who gets in her way. And then she will get the truth about how a master terrorist escaped a secret detention center in French Guadeloupe to strike a fatal blow in New York City.

Sofia Peiraro is a teenage girl who witnessed firsthand the murder and mayhem of Texas under the rule of General Mad Jack Blackstone. Sofia might have tried to build a life with her father in the struggling remnants of Kansas City—if a vicious murder hadn't set her on another course altogether: back to Texas, even to Blackstone himself.

Julianne Balwyn is a British-born aristocrat turned smuggler. Shopping in the most fashionable neighborhood of Darwin, Australia—now a fantastic neo-urban frontier—Jules has a pistol holstered in the small of her lovely back. She is playing the most dangerous game of all: waiting for the person who is hunting her to show his face—so she can kill him first.

Three women in three corners of a world plunged into electrifying chaos. Nation-states struggling for their survival. Immigrants struggling for new lives. John Birmingham's astounding new novel—the conclusion to the series begun in Without Warning and After America—is an intense adventure that races from the halls of power to shattered streets to gleaming new cities, as humanity struggles to grasp its better angels—and purge its worst demons.
Jack of Ravens
(
Kingdom of the Serpent
#1) by
Mark Chadbourn
(
Pyr
Trade Paperback 03/11/2012) – First in a newish series which continues to expand upon Chadbourn's previous Celtic flavored trilogies and is the first of the last trilogy of trilogies. This one was Short-listed for the British Fantasy Award.
Jack Churchill, archaeologist and dreamer, walks out of the mist and into Celtic Britain more than two thousand years before he was born, with no knowledge of how he got there. All Jack wants is to get home to his own time where the woman he loves waits for him. Finding his way to the timeless mystical Otherworld, the home of the gods, he plans to while away the days, the years, the millennia, until his own era rolls around again . . . but nothing is ever that simple.

A great Evil waits in modern times and will do all in its power to stop Jack's return. In a universe where time and space are meaningless, its tendrils stretch back through the years . . . Through Roman times, the Elizabethan age, Victoria's reign, the Second World War to the Swinging Sixties, the Evil sets its traps to destroy Jack.

Mark Chadbourn gives us a high adventure of dazzling sword fights, passionate romance and apocalyptic wars in the days leading up to Ragnarok, the End-Times: a breathtaking, surreal vision of twisting realities where nothing is quite what it seems.
The Burning Man
(
Kingdom of the Serpent
#2) by
Mark Chadbourn
(
Pyr
Trade Paperback 04/24/2012) – Pyr is employing that tried-and-true publishing schedule by issuing a trilogy over a three month period. This is the second in the series which continues to expand upon Chadbourn's previous Celtic flavored.
After a long journey across the ages, Jack Churchill has returned to the modern world, only to find it in the grip of a terrible, dark force. The population is unaware, mesmerized by the Mundane Spell that keeps them in thrall. With a small group of trusted allies, Jack sets out to find the two "keys" that can shatter the spell.

But the keys are people—one with the power of creation, one the power of destruction—and they are hidden somewhere among the world's billions.

As the search fans out across the globe, ancient powers begin to stir. In the bleak North, in Egypt, in Greece, in all the Great Dominions, the old gods are returning to stake their claim. The odds appear insurmountable, the need desperate . . . This is a time for heroes.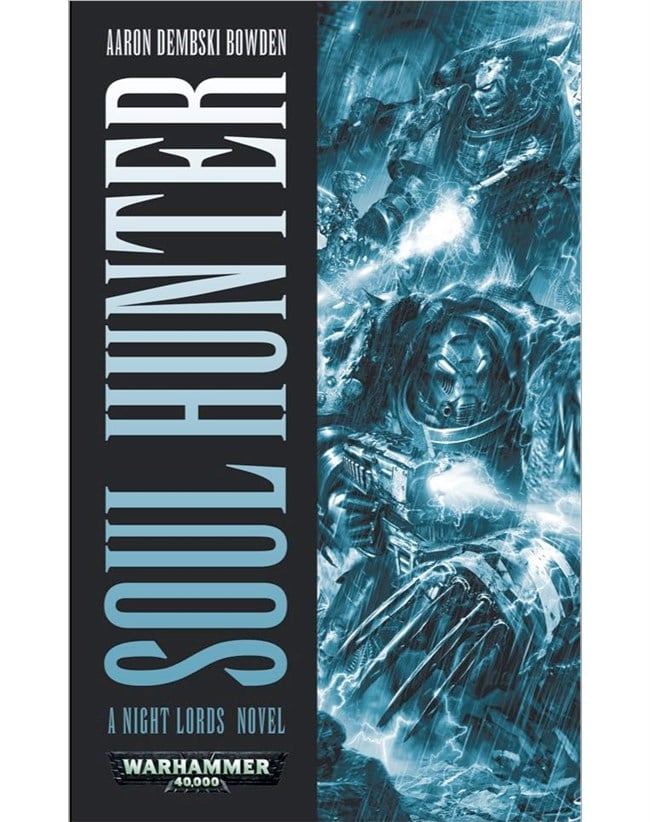 Soul Hunters
(A
Night Lords
Novel by
Aaron Dembski-Boween
(
Black Library
, Mass Market Paperback 04/07/2012) – This trilogy is Dembski-Bowden's baby much like Kyme's got the
Tome of Fire
trilogy to his own. This would be the final book in the trilogy.
The Night Lords form an uneasy allegiance with the Black Legion in order to assault the valuable planet of Crythe Primus. The Imperial world puts up a stern defence, but the biggest obstacle to success will be the disunity and mistrust between the two Legions. Will their covenant last long enough for them to succeed in their mission?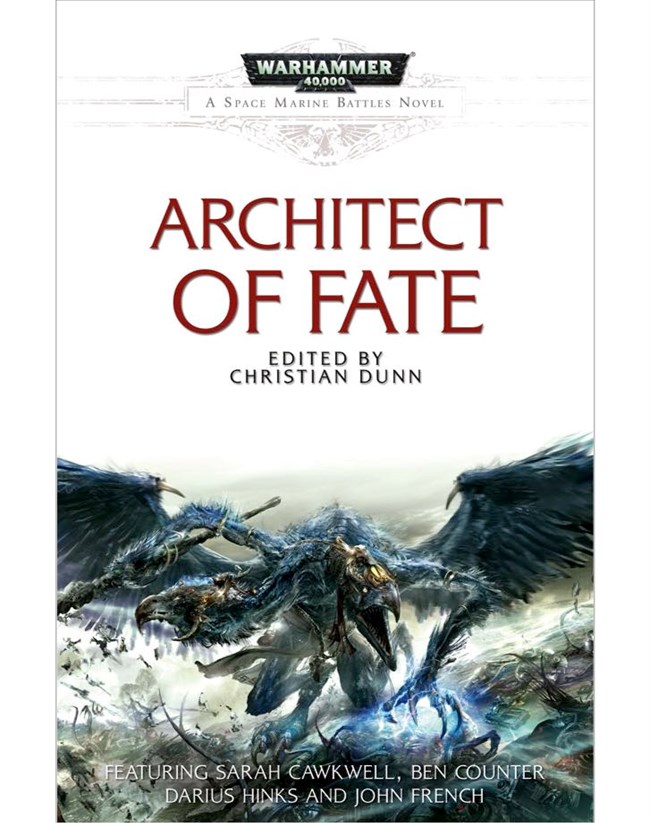 Architect of Fate
edited by Christian Dunn (
Black Library
, Trade Paperback 4/14/2012) – Collected for the first time, all four parts of the Architect of Fate novella series are presented in a single printed volume. The infamous Kairos Fateweaver, greater daemon of Tzeentch and master of manipulation, has discovered the limits of his power – even one so prescient as he cannot divine beyond the event horizon at the end of the 41st Millennium.:
THE STORY
The Space Marines stand against the darkness, and yet on countless battlefields they play unwitting roles in the schemes of Fateweaver. From the doomed world of Ilissus, through the embattled corridors of the Endeavour of Will, to the borders of the Eye of Terror itself – friend and foe alike follow the great plan that he set in motion many thousands of years ago. But not even the Architect of Fate himself can foresee the destiny that lies in wait for him...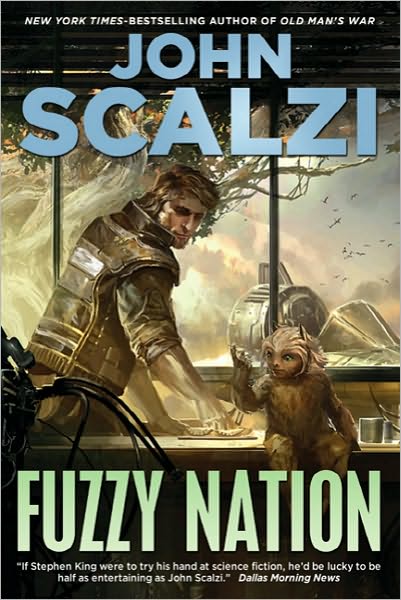 Fuzzy Nation
by
John Scalzi
(
Tor
Hardcover 05/10/2011) – Scalzi is one the smartest and most accessible Science Fiction writers publishing today. In other words, he writes stuff SF readers will enjoy as well as readers who tend not to read as much SF. What I've read by him, I've enjoyed enormously, though unfortunately I missed this one last year. This initially began as a
fun exercise
for Scalzi. Usually, when good writers do things for fun, the readers like us are the beneficiaries.
Jack Holloway works alone, for reasons he doesn't care to talk about. Hundreds of miles from ZaraCorp's headquarters on planet, 178 light-years from the corporation's headquarters on Earth, Jack is content as an independent contractor, prospecting and surveying at his own pace. As for his past, that's not up for discussion.

Then, in the wake of an accidental cliff collapse, Jack discovers a seam of unimaginably valuable jewels, to which he manages to lay legal claim just as ZaraCorp is cancelling their contract with him for his part in causing the collapse. Briefly in the catbird seat, legally speaking, Jack pressures ZaraCorp into recognizing his claim, and cuts them in as partners to help extract the wealth.

But there's another wrinkle to ZaraCorp's relationship with the planet Zarathustra. Their entire legal right to exploit the verdant Earth-like planet, the basis of the wealth they derive from extracting its resources, is based on being able to certify to the authorities on Earth that Zarathustra is home to no sentient species.

Then a small furry biped—trusting, appealing, and ridiculously cute—shows up at Jack's outback home. Followed by its family. As it dawns on Jack that despite their stature, these are people, he begins to suspect that ZaraCorp's claim to a planet's worth of wealth is very flimsy indeed…and that ZaraCorp may stop at nothing to eliminate the "fuzzys" before their existence becomes more widely known.

Redshirts
by
John Scalzi
(
Tor
Hardcover 06/05/2011) – Scalzi is having fun again, this time playing with the time-honored "
Redshirt trope
" which originated on
Star Trek
. This sounds like fun stuff indeed. Tor is also doing a
giveway for the book
.
Ensign Andrew Dahl has just been assigned to the Universal Union Capital Ship Intrepid, flagship of the Universal Union since the year 2456. It's a prestige posting, and Andrew is thrilled all the more to be assigned to the ship's Xenobiology laboratory.

Life couldn't be better…until Andrew begins to pick up on the fact that (1) every Away Mission involves some kind of lethal confrontation with alien forces, (2) the ship's captain, its chief science officer, and the handsome Lieutenant Kerensky always survive these confrontations, and (3) at least one low-ranked crew member is, sadly, always killed.

Not surprisingly, a great deal of energy below decks is expended on avoiding, at all costs, being assigned to an Away Mission. Then Andrew stumbles on information that completely transforms his and his colleagues' understanding of what the starship Intrepid really is…and offers them a crazy, high-risk chance to save their own lives.
The Mongoliad
by
Erik Bear
,
Greg Bear
,
Joseph Brassey
,
E. D. deBirmingham
,
Cooper Moo
,
Neal Stephenson
, and
Mark Teppo
(
47North
, Trade Paperback 04/24/2012) – What started as a fictional experiment across several multimedia platforms not comes to book form.
Hugo and Nebula Award-winning authors Neal Stephenson and Greg Bear have teamed up with an ensemble of respected authors and newcomers to create The Mongoliad: Book One, the first book in the epic Foreworld Series, which chronicles the birth of Western martial arts.

It is the spring of 1241. The Mongol takeover of Europe is almost complete. The hordes commanded by the sons of Genghis Khan have swept out of their immense grassy plains and ravaged Russia, Poland, and Hungary... and now seem poised to sweep west to Paris and south to Rome. King and Pope and peasant alike face a bleak future - until a small band of warriors, inheritors of a millennium-old secret tradition, conceive of a desperate plan to kill the Khan of Khans.

Their leader, an elder of the order of warrior monks, will lead his elite group on a perilous journey into the East. They will be guided by an elusive and sharp-witted young woman, who believes the master's plan is insane. But this small band is the West's last, best hope to turn back the floodtide of the Mongol Empire.

Caine's Law
by
Matthew Stover
(
The Acts of Caine
#4) (
Del Rey
Trade Paperback 04/03/2012) – Stover is one of my three or four favorite writers to begin publishing in the last decade and a half, as long-time readers of this blog will know. I've been looking forward to this one for quite some time so I'll be jumping into it real soon now.
SOME LAWS YOU BREAK. SOME BREAK YOU.
AND THEN THERE'S CAINE'S LAW.

From the moment Caine first appeared in the pages of Heroes Die, two things were clear. First, that Matthew Stover was one of the most gifted fantasy writers of his generation. And second, that Caine was a hero whose peers go by such names as Conan and Elric. Like them, Caine was something new: a civilized man who embraced savagery, an actor whose life was a lie, a force of destruction so potent that even gods thought twice about crossing him. Now Stover brings back his greatest creation for his most stunning performance yet.

Caine is washed up and hung out to dry, a crippled husk kept isolated and restrained by the studio that exploited him. Now they have dragged him back for one last deal. But Caine has other plans. Those plans take him back to Overworld, the alternate reality where gods are real and magic is the ultimate weapon. There, in a violent odyssey through time and space, Caine will face the demons of his past, find true love, and just possibly destroy the universe.

Hey, it's a crappy job, but somebody's got to do it.