As of last week, I've been posting
Books in the Mail
for a year. Here's the reason why – I get a lot of review books from publishers. Some in ARC (Advance Reader Copy) format, many in final published format you'd see on the shelves of Barnes and Noble. While a lot of the books I've received are really appealing, it is impossible for me to read everything that arrives on my porch/in my mailbox/in front of my garage, especially with getting 7 – 10 books in some weeks. So, about a year ago, I decided I'd post an e-mail just like this once a week to at least acknowledge the books I received the prior week.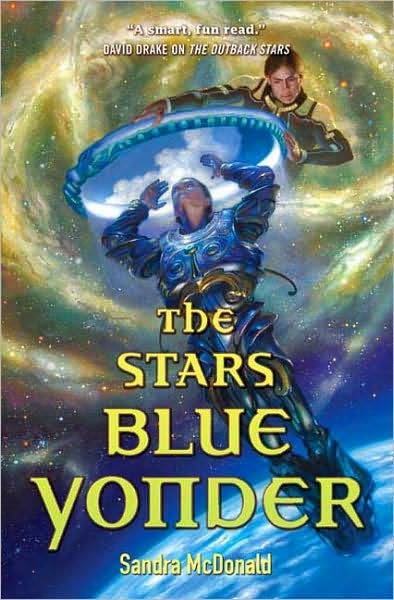 The Stars Blue Yonder
by
Sandra McDonald
(
Tor
Hardcover 07/21/2009) – I read
The Outback Stars
the first book in this series (and McDonald's first novel) in 2007 and thought it was a good debut. This here is the third book in the series:
Chief Terry Myell died and became a god. Now he's back to life, careening around space and time at the behest of a voice that told him to save all of mankind. Helping and hindering this quest are his elderly wife, his young wife, grandchildren who haven't been born yet, romantic rivals he hasn't even met, a descendant from two thousand years in the future, and an alien nemesis who calls itself the Flying Doctor. Life in the military has never been so complicated.

Commander Jodenny Scott would agree. She's seven months pregnant and trying to come to peace with her husband's death. When Myell reappears with tales of time travel, she's not sure what to believe.

But with an invading army bearing down on Earth's last fleet of spaceships, there's not much time for debate. When the dust clears Jodenny is stranded in an Australia she never imagined, and Myell's more desperate than ever to rescue her—from aliens, from treachery, and from history itself.
The Dame
(Saga of the First King
#2) by
R.A. Salvatore
(
Tor
Hardcover 08/18/2009) – I read the first of this new series
The Ancient
last year and was (surprisingly) entertained by it. This here's the sequel/second book in the series:
The vast road network of Honce, completed a decade before, had brought great optimism to the people of the land. Commerce could travel more freely and so could armies, and those armies, it was hoped, would rid the land at long last of the vicious, bloody cap dwarfs and goblins. For the first time, the many individual kingdoms, the holdings of Honce, would be brought closer together, perhaps even united. For the last few years, those promises had become a nightmare to the folk, as two powerful lairds fought for supremacy of a hoped-for united kingdom. Bransen Garibond, the Highwayman, held little real interest in that fight. To him the warring lairds were two sides of the same coin. Whichever side won, the outcome for the people of Honce would be the same, Bransen believed. A journey north, however, taught Bransen that his views were simplistic at best, and that some things--like honor and true friendship-- might truly matter. In The Dame, Bransen's road becomes a quest for the truth, of Honce and of himself, a quest to put right over wrong. That path is fraught with confusion and fraud, and a purposeful blurring of morality by those who would seek to use the Highwayman's extraordinary battle skills and popularity among the commonfolk for their own nefarious ends.
Star Wars: The Clone Wars
: No Prisoners
by
Karen Traviss
(
Del Rey
Trade Paperback 05/15/2009) – Travis is a very good writer and her
Star Wars
novels are held in very high regard. This is her latest, which is based on the very entertaining
Clone Wars
television show.
The Clone Wars rage on. As insurgent Separatists fight furiously to wrest control of the galaxy from the Republic, Supreme Chancellor Palpatine cunningly manipulates both sides for his own sinister purposes.

Torrent Company's Captain Rex agrees to temporarily relieve Anakin Skywalker of Ahsoka, his ubiquitous–and insatiably curious–Padawan, by bringing her along on a routine three-day shakedown cruise aboard Captain Gilad Pellaeon's newly refitted assault ship. But the training run becomes an active–and dangerous–rescue mission when Republic undercover agent Hallena Devis goes missing in the middle of a Separatist invasion.

Dispatched to a distant world to aid a local dictator facing a revolution, Hallena finds herself surrounded by angry freedom fighters and questioning the Republic's methods–and motives. Summoned to rescue the missing operative who is also his secret love, Pellaeon–sworn to protect the Republic over all–is torn between duty and desire. And Ahsoka, sent in with Rex and six untested clone troopers to extract Hallena, encounters a new and different Jedi philosophy, which shakes the foundation of her upbringing to the core. As danger and intrigue intensify, the loyalties and convictions of all involved will be tested. . . .