Another sizeable batch of arrivals here at the o' Stuff…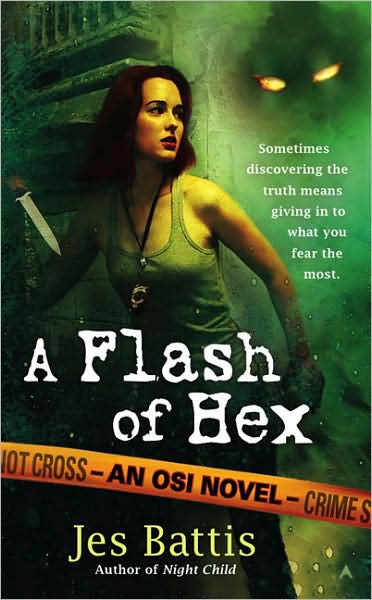 A Flash of Hex
(
Tess Corday/OSI
#2) by
Jes Battis
(
Ace
Mass Market Paperback 06/02/2009) – CSI Meets Vampires and Demons in Battis's second novel featuring Occult Special Investigator Tess Corday
As an Occult Special Investigator, Tess Corday has seen her fair share of disturbing crime scenes--but nothing ever shocked her as much as the ritualistic murder of a drugged-out runaway kid, who she soon learns was not the first such victim.

All the dead teens had traces of the dangerous magical drug called Hex in their bodies. All were the children of powerful mage families. All were killed with the sacred tools of mages. It adds up to the chilling possibility that the OSI is dealing with a serial killer, one who has incredible inhuman powers.

To stop the slaughter, Tess and her partner Derrick will go anywhere and do anything—including seeking help from the necromancer Lucian Agrado, whom Tess is under orders to avoid . But as the deaths continue, Tess becomes convinced that the identity of the killer is locked inside her own head. And the question is—how many rules is she willing to break to get to the truth?
The Dresden Files: Storm Front Volume 1: The Gathering Storm
by
Jim Butcher
(writer-novel), Mark Powers (script adaptation) and
Ardian Syaf
(a) (
Del Rey
/
Dabel Brothers
06/02/2009)- – I've read up to
Blood Rites
, book six in the novel series and this is the first part of the Dabel's adaptation of the first novel
Storm Front
.
For his first case, Harry is called in to consult on a grisly double murder committed with the blackest of magic. At first, the less-than-solvent Harry's eyes light up with dollar signs. But where there's black magic, there's a black mage. Now, that black mage knows Harry's name. And things are about to get very...interesting.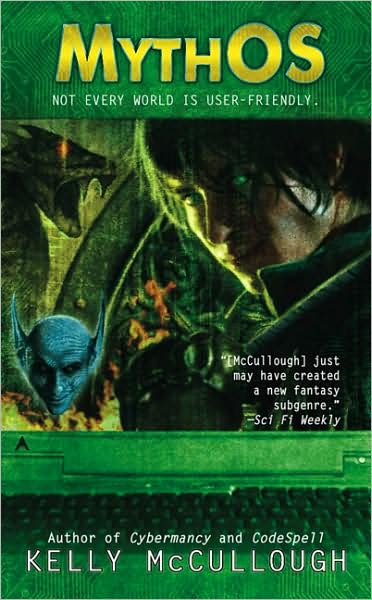 MythOS
by
Kelly McCullough
(
Ace
Mass Market Paperback 06/02/2009) – Fourth in a series that mixes fantasy magic and Cybperbunk.
In the 21st century, magic has advanced with the times and gone digital. But when Ravirn—a computer savvy sorcerer—is thrown into a parallel world where magic runs on a different operating system, he'll need mad skills to get out alive.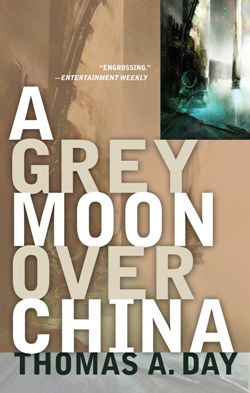 A Grey Moon Over China
by
Thomas Day
(
Tor
Hardcover 05/19/2009) – This book sounds pretty interesting, Tor picked it up after the book received a lot of praise when it was published by small press publisher
Black Heron Press
. I might be bumping this one up on the pile.
Army engineer Eduardo Torres is caught up in the world's raging oil wars when he stumbles onto the plans for a quantum-energy battery. This remarkable device could slow civilization's inevitable descent into environmental disaster, but Torres has other plans. Forming a private army, he uses the device to revive an abandoned space colonization effort in an ambitious campaign to lead humanity to a new life in a distant solar system.

The massive endeavor faces many challenges before the fleet finally embarks for the Holzstein System many light-years away. But even as the feuding colonists struggle to carve out homes on alien worlds, they discover that they have not left their old conflicts and inner demons behind. Nor are they alone on this new frontier. Awaiting them are inhuman beings who strike without warning or explanation--and who may spell the end of humanity's last hope.

Epic in scope, yet filled with searing human drama and emotion, A Grey Moon Over China is a monumental science fiction saga by an amazing new talent.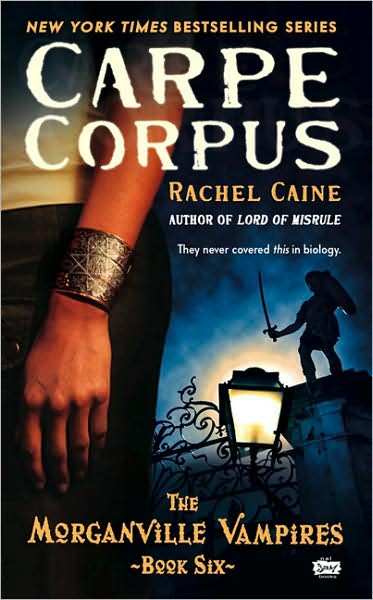 Carpe Corpus
(
Morganville Vampires
#6) by
Rachel Caine
(
Signet
Mass Market Paperback 06/02/2009) – This is the sixth book in a Young Adult series about college students and vampires.
In the small college town of Morganville, vampires and humans lived in (relative) peace—until all the rules got rewritten when the evil vampire Bishop arrived, looking for the lost book of vampire secrets. He's kept a death grip on the town ever since. Now an underground resistance is brewing, and in order to contain it, Bishop must go to even greater lengths. He vows to obliterate the town and all its inhabitants—the living and the undead. Claire Danvers and her friends are the only ones who stand in his way. But even if they defeat Bishop, will the vampires ever be content to go back to the old rules, after having such a taste of power?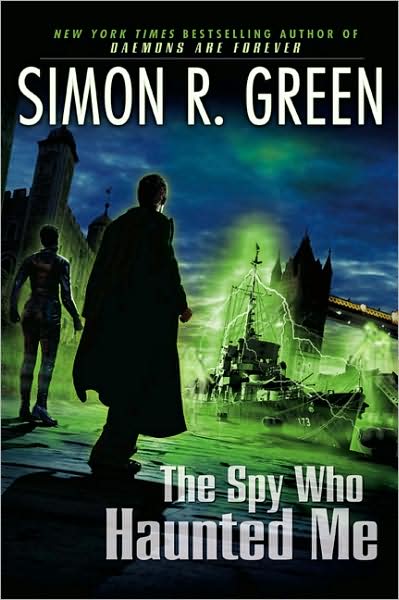 The Spy Who Haunted Me
(
Secret Histories/Eddie "Shaman Bond" Drood
#3) by
Simon R. Green
(
Roc
Hardcover 06/02/2009) – Green churns quite a few books every year and each in a different series. This is spy fiction meets myth and magic.
Eddie Drood's evil-stomping skills have come to the attention of the legendary Alexander King, Independent Agent extraordinaire. The best of the best, King spent a lifetime working for anyone and everyone, doing anything and everything, for the right price. Now, he's on his deathbed and looking to bestow all of his priceless secrets to a successor, provided he or she wins a contest to solve the world's greatest mysteries. Eddie has to win, because King holds the most important secret of all to the Droods—the identity of the traitor in their midst...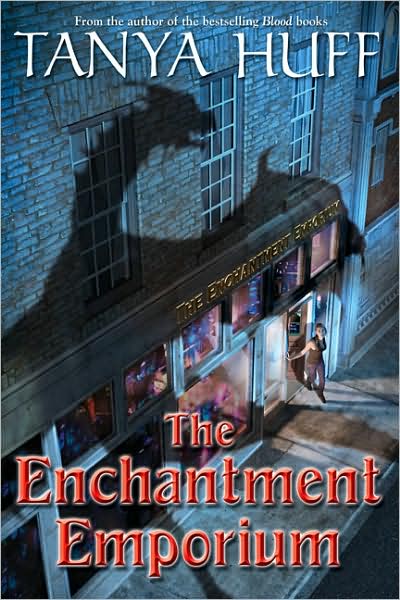 The Enchantment Emporium
by
Tanya Huff
(
DAW
Hardcover 06/02/2009) – This looks like either a standalone or new series for the popular Huff. I've seen good things about her Vampire series
The Blood Books
, but this is a modern day fantasy:
The bestselling author of the Blood Books delivers a masterful new urban fantasy.

Alysha Gale is a member of a family capable of changing the world with the charms they cast. Then she receives word that she's inherited her grandmother's junk shop in Calgary, only to discover upon arriving that she'll be serving the fey community. And when Alysha learns just how much trouble is brewing in Calgary, even calling in the family to help may not be enough to save the day.
Swordplay
by Denise Little (
DAW
Mass Market Paperback 06/02/2009) – The June Monthly anthology from DAW is themed around swordsmen and swords. And who says short fiction is dying?
Seventeen rapier-sharp stories of swordplay, magic, and adventure...

From a samurai's sword to an assassin's blade, from Custer's cavalry sword to D'Artagnan's deadly weapon, from the sword of Damocles to the legendary Excalibur, these all-new spellbinding tales get straight to the point. Whether it's a sword bespelled to crave blood, cold steel that magicks its wielder into a video game, or a dwarf-crafted blade meant to slay a dragon, these weapons each come sheathed in their own fascinating story that cuts right to the heart of fantasy adventure.
The City and the City
by
China Miéville
(
Subterranean Press
Limited and Lettered Hardcover July 2009) – New fiction from China Miéville is always a good thing and this one looks terrific.
New York Times bestselling author China Miéville delivers his most accomplished novel yet, an existential thriller set in a city unlike any other–real or imagined.

When a murdered woman is found in the city of Beszel, somewhere at the edge of Europe, it looks to be a routine case for Inspector Tyador Borlú of the Extreme Crime Squad. But as he investigates, the evidence points to conspiracies far stranger and more deadly than anything he could have imagined.

Borlú must travel from the decaying Beszel to the only metropolis on Earth as strange as his own. This is a border crossing like no other, a journey as psychic as it is physical, a shift in perception, a seeing of the unseen. His destination is Beszel's equal, rival, and intimate neighbor, the rich and vibrant city of Ul Qoma. With Ul Qoman detective Qussim Dhatt, and struggling with his own transition, Borlú is enmeshed in a sordid underworld of rabid nationalists intent on destroying their neighboring city, and unificationists who dream of dissolving the two into one. As the detectives uncover the dead woman's secrets, they begin to suspect a truth that could cost them and those they care about more than their lives.

What stands against them are murderous powers in Beszel and in Ul Qoma: and, most terrifying of all, that which lies between these two cities.

Casting shades of Kafka and Philip K. Dick, Raymond Chandler and 1984, The City & the City is a murder mystery taken to dazzling metaphysical and artistic heights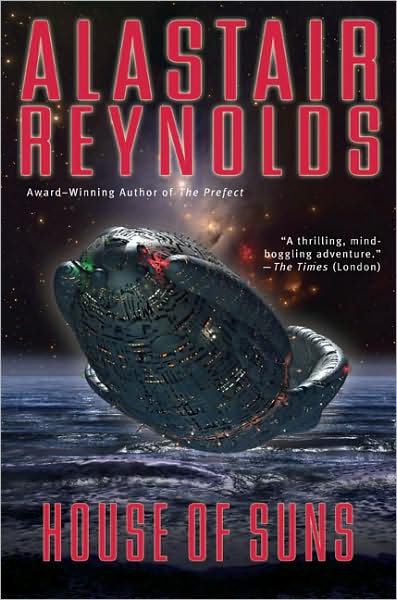 House of Suns
by
Alastair Reynolds
(
Ace
Hardcover 06/02/2009) – This is the first of two books by Alastair Reynolds that arrived this past week and set in the same world as
Thousandth Night
, which I read and thoroughly enjoyed when it was in the great Dozois-edited anthology
One Million A.D.
.
Six million years ago, at the very dawn of the starfaring era, Abigail Gentian fractured herself into a thousand male and female clones: the shatterlings. Sent out into the galaxy, these shatterlings have stood aloof as they document the rise and fall of countless human empires. They meet every two hundred thousand years, to exchange news and memories of their travels with their siblings.

Campion and Purslane are not only late for their thirty-second reunion, but they have brought along an amnesiac golden robot for a guest. But the wayward shatterlings get more than the scolding they expect: they face the discovery that someone has a very serious grudge against the Gentian line, and there is a very real possibility of traitors in their midst. The surviving shatterlings have to dodge exotic weapons while they regroup to try to solve the mystery of who is persecuting them, and why - before their ancient line is wiped out of existence, for ever.
Thousandth Night & Minla's Flowers
by
Alastair Reynolds
(
Subterranean Press
Limited Edition Hardcover October 2009) – In the tradition of the old Ace Doubles, Subterranean is offering two novella length stories from Alastair Reynolds. I read one of them
Thousandth Night
since it was in the great Dozois-edited anthology
One Million A.D.
while the other,
Minla's Flowers
is in the
New Space Opera
which has been on my to-read shelf for well over a year.
For many of us, the Ace Double Novels of the '50s and '60s have long been a source both of pleasure and nostalgia. This new double volume from Subterranean Press stands squarely in that distinguished tradition, offering a pair of colorful, fast-paced stories from the reigning master of the intergalactic space opera: Alastair Reynolds.

Thousandth Night, the genesis for the epic novel House of Suns, is quintessential Reynolds. A visionary account of intrigue, ambition, and technological marvels set within a beautifully realized far-future milieu, it combines world-class storytelling with a provocative meditation on the mystery, grandeur, and inconceivable immensity of the universe.

The masterful novella Minla's Flowers features Merlin, a familiar figure to Reynolds's readers. Diverted by technical difficulties to a planet known as Lecythus, Merlin finds himself forced to play a part in the moral and military dilemmas of a world on the verge of extinction.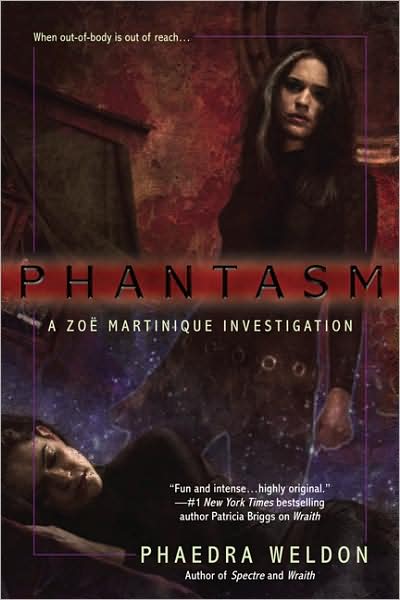 Phantasm
(
Zoë Martinique Investigation
#3) by
Phaedra Weldon
(
Ace
Trade Paperback 06/02/2009) – Third in a series about a paranormal investigator
The newest in a series that's "part paranormal whodunit, part urban fantasy"(Publishers Weekly) by the author of Wraith and Spectre.

Just when Zoë Martinique, formerly ordinary twenty-something, was getting used to the idea that she was possessed of extraordinary powers, she lost them. Without cause or warning. And at the worst possible time.

Now, unless she can figure out how to go Wraith again, she won't be able to rescue her mother, whose soul is trapped on the Abysmal plane. Her only hope is to join forces with an old enemy, who has his own dark reasons for helping her. From him she learns that only a traumatic experience can bring the Wraith back. To get out-of-body, Zoë will have to look for big, dangerous trouble—and fast.

For there is a deadly and powerful being within the Abysmal that wishes Zoë never existed...and it's coming for her.