This is the post where I tell my faithful readers about the books I received for review during the previous week. It is impossible for me to get to all of the books publishers are kind enough to send me, so I figured I could at least mention them on the blog so I'm not totally ignoring what arrived. Some weeks are thinner than others, and around the second week of each month is usually when I get a lot of stuff with an official pub date for the following month (i.e. this, the second week of June saw a number of arrivals that will be on the shelves during the first week of July) - those are the "final" books as they appear on shelves. The other types of books I receive are ARCs (
A
dvance
R
eader/
R
eading
C
opies) which publishers send to reviewers and booksellers weeks (and often months) in advance to generate early feedback and anticipation for the books.
All that said, this week was a good week, a bunch of books I plan on reading and others that look interesting, along with the two I've been wanting to see on US shelves for a while...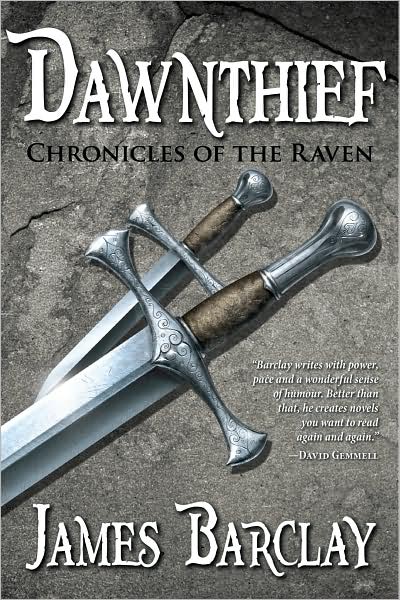 Dawntheif
(
Chronicles of the Raven
#1) by
James Barclay
(
Pyr
Trade Paperback 09/22/2009) – Finally! A U.S. publisher picked up the great work of James Barclay. I read his
Raven
novels back in 2001 under the UK Gollancz imprint and reviewed them for SFFWorld* and thoroughly enjoyed them at the time. What I couldn't figure out was
why
a U.S. publisher never picked up the series. Well, little to my surprise
Pyr
comes along and decides to do the immediate shelf-presence thing by releasing the first three books in successive months.
*I'm not going to link to those reviews since they were written a long time ago when my reviewing skills weren't quite what they are today.
The Raven have fought together for years, six men carving out a living as swords for hire in the war that has torn Balaia apart, loyal only to themselves and their code. But when they agree to escort a Xesteskian mage on a secret mission they are pulled into a world of politics and ancients secrets. For the first time The Raven cannot trust even their own strength and prowess, for the first time their code is in doubt. How is it that they are fighting for one of the most evil colleges of magic known? Searching for the secret location of Dawnthief; a spell that could end the world? Aiming not to destroy it but to cast it . . . DAWNTHIEF is a fast paced epic about a band of all-too-human heroes.
Noonshade
(
Chronicles of the Raven
#2) by
James Barclay
(
Pyr
Trade Paperback 10/22/2009) – Second
The Chronicles of the Raven
and again, here we are with that simple and effective immediate shelf presence idea quite a few publishers are employing nowadays.
The enthralling sequel to DAWNTHIEF takes the adventure into a new dimension. The Raven must fight to help the dragons of the Brood Kan defend the dimensional rip opened in the skies of Balaia by the casting of Dawnthief. And then they must somehow close the rip. And all the time the Wesmen are rampaging through Balaia, laying waste to its cities and besieging the mages of Julatsa in Dordova.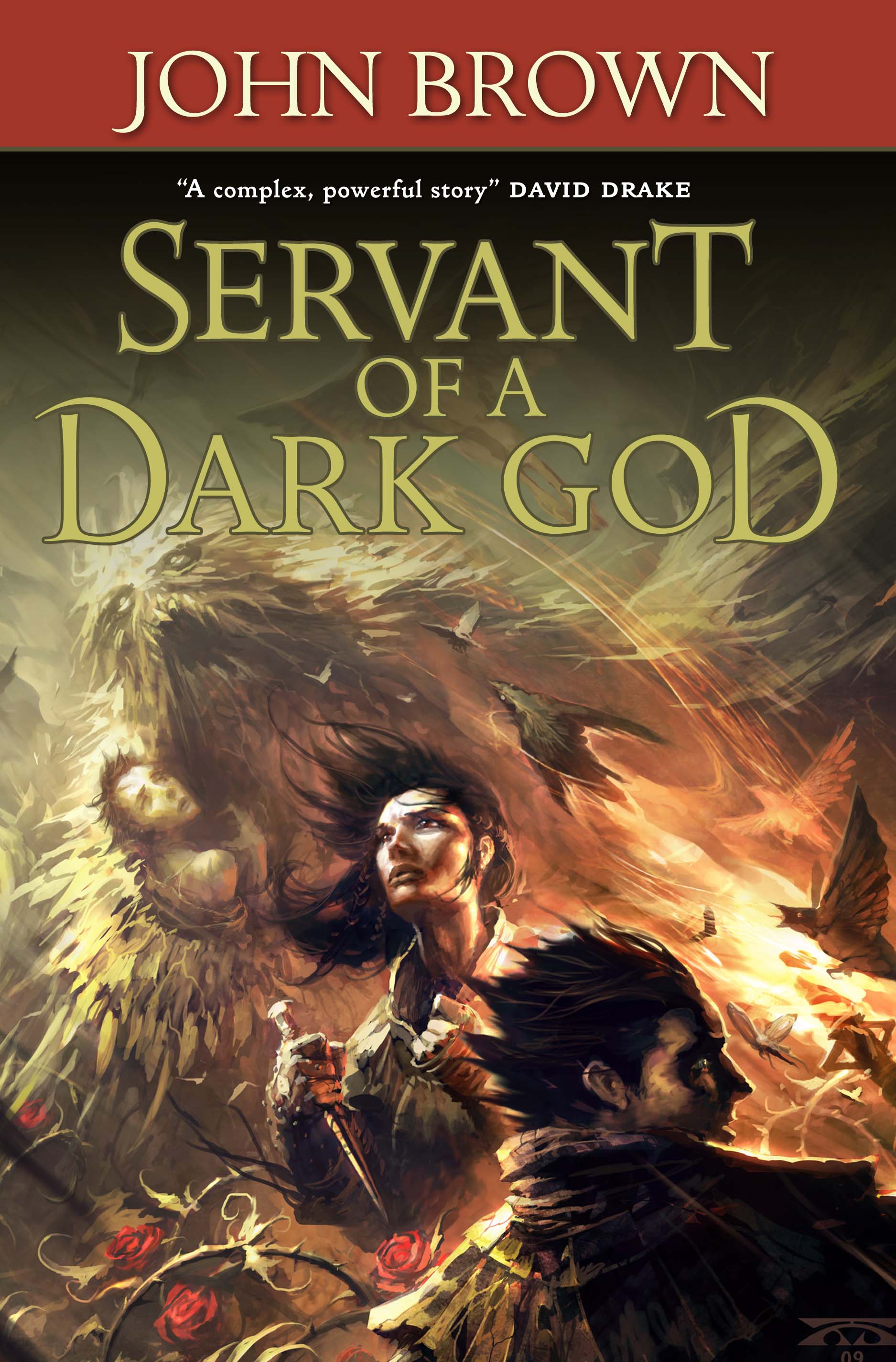 Servant of a Dark God
by
John D. Brown
(
Tor
Hardcover 10/13/2009) – First in a new Epic Fantasy series. The ARC has some nice quotes from David Drake, David Farland, Kage Baker, and Ken Scholes and the cover is another stellar piece of art by Raymond Swanland. With the book not releasing until October, there isn't much available on the Web about it but from skimming over his
Web site
, Brown seems an interesting fellow. I left the cover on this one a bit larger just because Swanland's art for it is awesome.
Young Talen lives in a world where the days of a person's life can be harvested, bought, and stolen. Only the great Divines, who rule every land, and the human soul-eaters, dark ones who steal from man and beast and become twisted by their polluted draws, know the secrets of this power. This land's Divine has gone missing and soul-eaters are found among Talen's people.

The Clans muster a massive hunt, and Talen finds himself a target. Thinking his struggle is against both soul-eaters and their hunters, Talen actually has far larger problems. A being of awesome power has arisen, one whose diet consists of the days of man. Her Mothers once ranched human subjects like cattle. She has emerged to take back what is rightfully hers.

Trapped in a web of lies and ancient secrets, Talen must struggle to identify his true enemy before the Mother finds the one whom she will transform into the lord of the human harvest.
Orphan's Triumph
(
Jason Wander
#5) by
Robert Buettner
(
Orbit
Mass Market Paperback 06/09/2009) – I've reading and enjoying Buettner's brand of Military Science Fiction since the books were under the WarnerAspect imprint before Orbit took over an snazzed up the covers (although I like the originals, too). I reviewed
Orphanage
(#1),
Orphan's Destiny
(#2),
Orphan's Journey
(#3), and
Orphan's Alliance
(#4). Here's the blurb/synopsis for this volume:
Jason Wander is ready to lead the final charge into battle.

After forty years of fighting the Slugs, mankind's reunited planets control the vital crossroad that secures their uneasy union. The doomsday weapon that can end the war, and the mighty fleet that will carry it to the Slug homeworld, lie within humanity's grasp.

Since the Slug Blitz orphaned Jason Wander, he has risen from infantry recruit to commander of Earth's garrisons on the emerging allied planets. But four decades of service have cost Jason not just his friends and family, but his innocence.

When an enemy counter stroke threatens to reverse the war and destroy mankind, Jason must finally confront not only his lifelong alien enemy, but the reality of what a lifetime as a soldier has made him.
Countdown
by
Greg Cox
(
Ace
Trade Paperback 07/07/2009) – I'm a DC fanboy but I wasn't even following this comic series as it was published, which was a letdown after the mostly good
52
. That said, Cox has a good reputation for writing these adaptations. I recall reading both the novelization of both
The Death of Superman
and
Knightfall
and thinking it was a pretty impressive job to transfer the comics story to prose.

Cosmic legend has it that when the primordial gods of antiquity perished in some bygone cataclysm, the universe gave birth to a new breed of gods who reigned from two eternally warring worlds, the heavenly New Genesis and the hellish Apokolips. Now, a vast conspiracy of evil is determined to eradicate the New Gods, stealing their souls to wield universal power that can destroy all of reality.

At the end of an age in which time, space, and reality may bow before such sinister forces, the fate of the Earth lies in the hands of five unlikely super heroes who have one destiny to fulfill: to save the world at all costs, regardless of the consequences.
Skinwalker
(
Jane Yellowrock
#1) by
Faith Hunter
(
Roc
Mass Market Paperback 7/07/2009) – The first in (what some might say is yet another) Vampire Hunter series. The twist here is that the hunter is a Native American shapeshifter.
Jane Yellowrock is the last of her kind—a skinwalker of Cherokee descent who can turn into any creature she desires and hunts vampires for a living. But now she's been hired by Katherine Fontaneau, one of the oldest vampires in New Orleans and the madam of Katie's Ladies, to hunt a powerful rogue vampire who's killing other vamps...
Rift in the Sky
(
Stratification
#3) by
Julie E. Czerneda
(
DAW
Hardcover 7/07/2009) – Third novel in a trilogy, which itself is a prequel to a larger series, the
Trade Pact Universe
. I haven't read anything by Ms. Czernada (unfortunately), but she's one of those authors who has rattled off 13 novels in just over a decade, which is pretty impressive in and of itself.
Despite all good intentions, the lure of the Talent to move through space using the M'hir dimension is too much for the Om'ray of Cersi to resist. As the awareness of this talent spreads, all those Om'ray who are capable converge on the settlement at Sona. To prevent the disruption of the Agreement and the destruction that it would unleash, the M'hiray, as they now call themselves, agree to leave Cersi forever and try to establish their own haven within the Trade Pact worlds—only to learn that not everybody wants peace.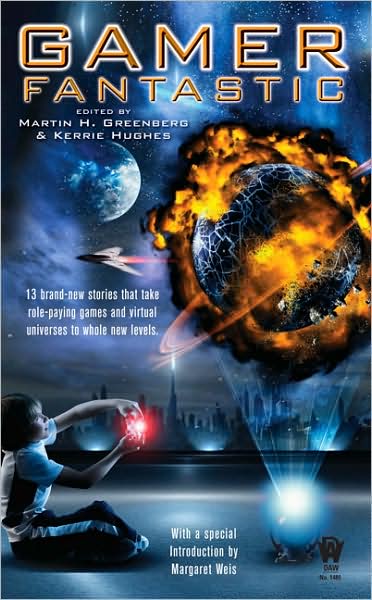 Gamer Fantastic
edited by
Martin H. Greenberg
and Kerrie Hughes (
DAW
Mass Market Paperback 7/07/2009) – DAW's July monthly themed-anthology revolves around (as the title implies) the intersection of "real world" with worlds in games, mostly of the video or role playing variety. Contributors include Jim C. Hines, Ed Greenwood, S.L. Farrell, and Bill Fawcett
Let the games begin!

These thirteen original stories by veterans of the fantasy realms take role-playing games and universes to a whole new level.

From a teenager who finds a better future in virtual reality; to a private investigator hired to find a dying man's grandson in the midst of a virtual reality theme park; from a person gifted with the power to pull things out of books into the real world; to a psychologist using fantasy role-playing to heal his patients; from a gaming convention where the real winners may not be who they seem to be; to a multi-layered role-playing game that leads participants from reality to reality and games within games—these imaginative and fascinating new tales will captivate both lovers of original fantasy and anyone who has ever fallen under the spell of role-playing games.
The Dark Reaches
by
Kristin Landon
(
Ace
Mass Market Paperback 07/07/2009) – Third in a space-opera/science fiction romance/military science fiction series. When I first saw the cover I said to myself, "Self, that sure looks like
Aeryn Sun
." The previous books in the series are
The Hidden Worlds
(#1) and
The Cold Minds
(#2). Here's the synopsis for this volume:
After the Earth was destroyed by ruthless machine intelligences known as the Cold Minds, the remnants of the human race sought refuge among the Hidden Worlds. Now, renegade pilot Linnea Kiaho and her fellow pilot Iain sen Paolo embark on a dangerous journey to Earth's solar system, where humans may have survived. But what they find is a secret so powerful it may save the Hidden Worlds—or shatter them forever.
Son of Retro Pulp Tales
by
Joe. R. Landsdale
and Keith Landsdale (
Subterranean Press
Hardcover 08/15/2009) Continuing in the vein of the Award winning Retro Pulp Tales, Joe R. Lansdale and his son Keith Lansdale present Son of Retro Pulp Tales. More stories in the tradition of the pulps, early digest magazines and pre sixties films, this one contains everything from Lovecraftian monsters to demons to hardboiled shootouts to plain ole unchained oddness.
So, tuck yourself in bed with a reading light and a snack, and prepare to be transported to wild worlds and weird situations by the pure storyteller tradition. Come on in, the pulp is fine.:
The Toad Prince by Harlan Ellison
Quiet Bullets by Christopher Golden
Border Town by James Grady
The Crawling Sky by Joe R. Lansdale
The Lizard Men of Blood River by Stephen Mertz
The Perfect Nanny by William F. Nolan
Catastrophe Box by Cherie Priest
The Forgotten Kingdom by Mike Resnick
A Gunfight by David J. Schow
Pretty Green Eyes by Timothy Truman
The Brown Bomber and the Nazi Werewolves by Matt Venne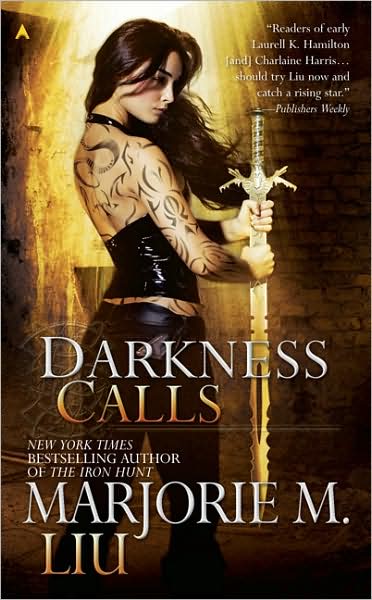 Darkness Calls
(
Hunter Kiss
#2) by
Marjorie M. Liu
(
Ace
Mass Market Paperback 07/07/2009) – Second in a series about a Tattooed Zombie Hunter. Liu has written for Marvel Comics and has authored a couple of other series, she's hit the
New York Times
bestseller list, too.
Demon hunter Maxine Kiss, inked with living tattoos, is on a mission to rescue the man she loves from a bloodthirsty army. To save him, Maxine has only one choice: to lose control—and release her own powers of darkness.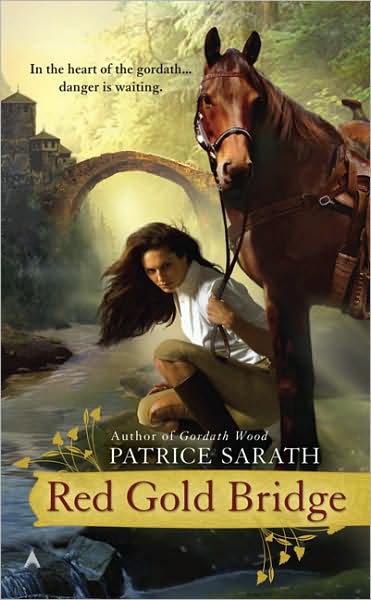 Red Gold Bridge
by
Patrice Sarath
(
Ace
Mass Market Paperback 07/07/2009) – This is a sequel to the author's debut
Gordath Wood
, which I haven't read. Here's the synopsis for this book:
In the heart of the gordath, danger is waiting...

A year ago, Lynn Romano and Kate Mossland stumbled through the gordath, a portal between our world and the war-torn society called Aeritan. Now, a powerful Aeritan general has crossed through to Earth, and his obsession with Kate could tear both worlds apart.

As a guardian of Red Gold Bridge, it's Joe Felz's job to keep the portal closed between worlds. After all, last time it opened, all hell broke loose. But some old enemies are back, and they want to stir things up again. It's up to Joe to stop them. When strange things start to happen on her horse farm in New York, Lynn knows it means one thing: the gordath is open and Joe's in trouble.

Kate just wants to be a normal teenager again. Then General Marthen shows up, and Kate has to choose between two worlds and two fates.
The God Engines
by
John Scalzi
(
DAW
Trade Paperback 12/15/2009) – As a fan of Scalzi, I'm very interested to read his take on fantasy. This is a novella-length story with a very interesting cover. .
Captain Ean Tephe is a man of faith, whose allegiance to his lord and to his ship is uncontested. The Bishopry Militant knows this -- and so, when it needs a ship and crew to undertake a secret, sacred mission to a hidden land, Tephe is the captain to whom the task is given. Tephe knows from that the start that his mission will be a test of his skill as a leader of men and as a devout follower of his god. It's what he doesn't know that matters: to what ends his faith and his ship will ultimately be put -- and that the tests he will face will come not only from his god and the Bishopry Militant, but from another, more malevolent source entirely...

Author John Scalzi has ascended to the top ranks of modern science fiction with the best-selling, Hugo-nominated novels Old Man's War and Zoe's Tale. Now he tries his hand at fantasy, with a dark and different novella that takes your expectations of what fantasy is and does, and sends them tumbling.

Say your prayers... and behold

The God Engines

.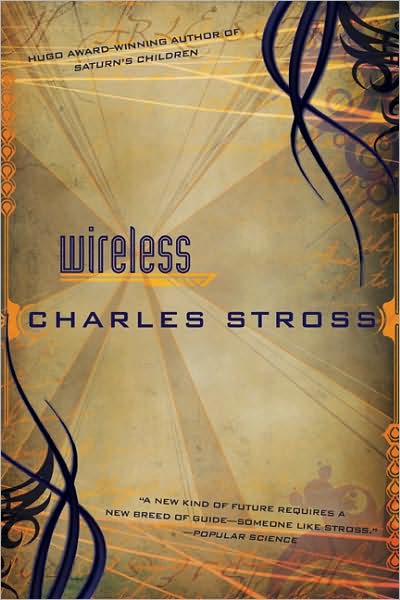 Wireless
by
Charles Stross
(
Ace
Hardcover 07/07/2009) – I've slowly come to like what Stross is doing in Science Fiction and this volume contains one of my favorite pieces of fiction by him
Missile Gap
which was included in the and
One Million A.D.
anthology I reviewed a couple of years back. The whole of this collection includes:
Missile Gap
MAXOS
Snowball's Chance
The Colder War
Trunk and Disorderly
Rogue Farm
Antibodies
Palimpsest (Previously unpublished)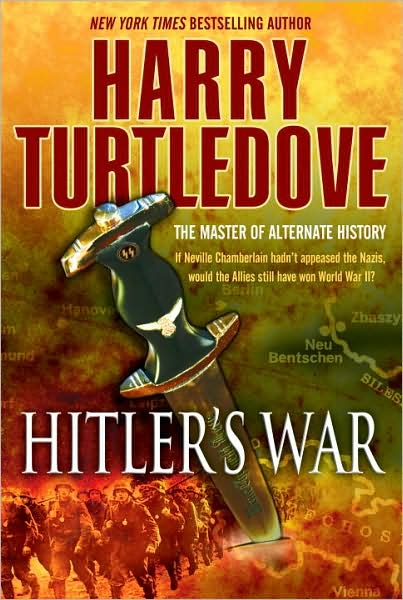 Hitler's War
by
Harry Turtledove
(
Del Rey
Hardcover 08/04/2009) – Another re-imagining of the outcome of World War II from the writing machine that is Harry Turtledove. Over the past couple of years, I've probably received between 6 and 10 Turtledove books for review.
Alternate history master Harry Turtledove sets his sights on one of the most fascinating periods in history—World War II. In gripping detail, he imagines how the war in Europe would have ended had British Prime Minister Neville Chamberlain refused to allow Hitler's annexation of the Sudetenland.