This was a nice slow week of only two arrivals after a monster week last week..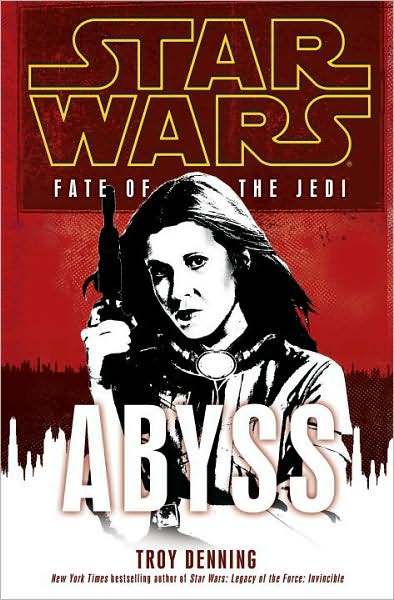 Abyss
: (
Fate of the Jedi Book Three
) by
Troy Denning
(
LucasBooks
Hardcover 08/18/2009) – This would be the third in the series of Expanded Universe novels under the
Fate of the Jedi
banner. I still haven't read the
Legacy of the Force
series, but I do enjoy some of these Expanded Universe novels. Denning's
Star by Star
was one of the stand out entries in
The New Jedi Order
series and the folks at LucasBooks/Del Rey/Star Wars seem to like him as well, since he's written quite a few of the recent EU books.
Following a trail of clues across the galaxy, Luke Skywalker continues his quest to find the reasons behind Jacen Solo's dark downfall and to win redemption for the Jedi Order. Sojourning among the mysterious Aing-Tii monks has left Luke and his son Ben with no real answers, only the suspicion that the revelations they seek lie in the forbidden reaches of the distant Maw Cluster. There, hidden from the galaxy in a labyrinth of black holes, dwell the Mind Walkers: those whose power to transcend their bodies and be one with the Force is as seductive and intoxicating as it is potentially fatal. But it may be Luke's only path to the truth.

Meanwhile, on Coruscant, the war of wills between Galactic Alliance Chief of State Natasi Daala and the Jedi Order is escalating. Outraged over the carbonite freezing of young Jedi Knights Valin and Jysella Horn after their inexplicable mental breakdowns, the Jedi are determined to defy Daala's martial tactics, override Council Master Kenth Hamner's wavering leadership, and deal on their own terms with the epidemic of madness preying on their ranks. As Han and Leia Solo, along with their daughter Jaina, join the fight to protect more stricken Knights from arrest, Jedi healers race to find a cure for the rapidly spreading affliction. But none of them realize the blaster barrel is already swinging in their direction–and Chief Daala is about to pull the trigger.

Nor do Luke and Ben, deep in the Maw Cluster and pushing their Force abilities beyond known limits, realize how close they are–to the Sith strike squad bent on exterminating the Skywalkers, to a nexus of dark-side energy unprecedented in its power and its hunger, and to an explosive confrontation between opposing wielders of the Force from which only one Master–good or evil–can emerge alive.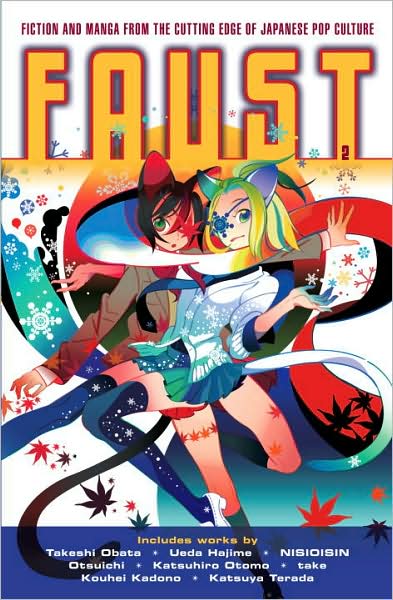 Faust 2
by Faust Editors (
Del Rey Manga
Trade Paperback 06/23/2009) – Second anthology of Manga short stories .
A brilliant anthology featuring manga-inspired fiction from today's best writers with artwork from top manga creators, including

"ECCO," by Tatsuhiko Takimoto (illustrated by D.K): Is life nothing but a cruel joke? One young rebel decides to find out.

"Jagdtiger," by Kouhei Kadono (illustrated by Ueda Hajime): She's a combat-ready synthetic human with a dangerous flaw: a heart.

"Where the Wind Blows," by Otsuichi (illustrated by Takeshi Obata): A newspaper from the future carries a very disturbing story for one particular woman: She will die by the hand of the man she loves.

"Magical Girl Risuka," by NISIOISIN (illustrated by Kinu Nishimura): She's a beautiful witch with magical powers that could change the world. And he's the boy who will give her a reason to do it.

"Gray-Colored Diet Coke" by Yûya Satô: He's nineteen, surrounded by morons, and desperate to escape his crummy part-time job. His best friend's plan worked great, but surely suicide can't be the only way out.