Sundays mean posting about the review books I received the prior week, so here goes with a lot of stuff from the various
Penguin
imprints: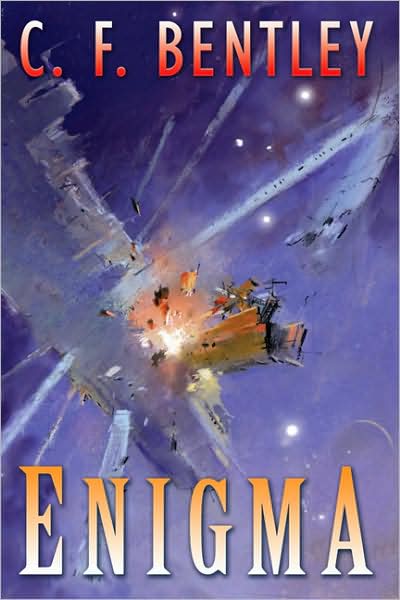 Enigma
by
C. F. Bentley
(
DAW
Hardcover 08/04/2008) – Bentley is one of three pseudonyms, the other two being
P.R. Frost
and
Irene Radford
, and I haven't read any of the three, but under each name, she writes slightly different fiction. Bentley is the name under which she writes Science Fiction and the book here is a sequel to
Harmony
The follow-up to Harmony, from "a bright star in the outer space galaxy of science fiction."(Midwest Book Review)

The world of Harmony, along with its close-knit colony planets, has been isolated from the rest of the universe for many generations. Now, Harmony's High Priestess Sissy and Confederated Star System Agent Jake have traveled to space station Labyrinthe VII, otherwise known as The First Contact Café, where they hope to establish diplomatic relations between the Harmonic Empire and the wider universe. But when an alien ship crashes into the Harmony Diplomatic Wing of Labyrinthe VII, the precarious balance Sissy and Jake have established begins to dissolve.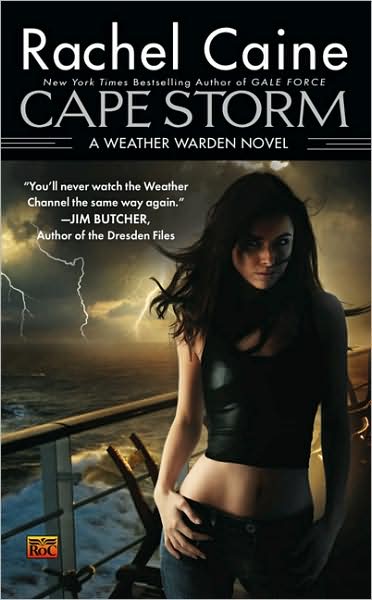 Cape Storm
(
Weather Warden
#) by
Rachel Caine
(
Roc
Mass Market Paperback 08/04/2009) – This here's the eighth book in the popular series about people who control the weather. Caine is very prolific and has four or five series running at the moment.
Weather Warden Joanne Baldwin and her new husband, the Djinn David, are running from a malevolent hurricane bent on destroying her. Joined by an army of fellow Wardens and Djinn onboard a hijacked luxury liner, Joanne has lured the storm into furious pursuit. But even their combined magic may not be enough to stop it—nor the power-mad ex-Weather Warden controlling it...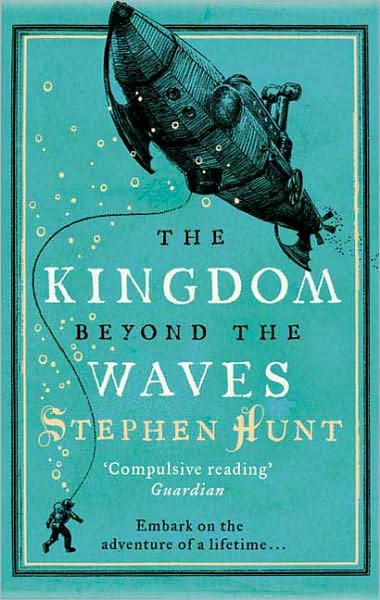 The Kingdom Beyond the Waves
by
Stephen Hunt
(
Tor
(Hardcover 07/21/2007) – Third book set in the universe Hunt created in
The Court of the Air
. Hunt, owner of
SF Crowsnest
has received some positive buzz about these steampunky books. Since this book in particular seems standalonish, I might jump into it.

Professor Amelia Harsh is obsessed with finding the lost civilization of Camlantis, a legendary city from pre-history that is said to have conquered hunger, war, and disease with the creation of the perfect pacifist society. Without official funding, Amelia is forced to accept an offer of patronage from Abraham Quest, the man she blames for her father's bankruptcy and suicide. She hates him, but he has something that Amelia desperately wants--evidence that proves that Camlantis existed and that the Camlantean ruins are buried under one of the sea-like lakes that dot the murderous jungles of Liongeli.

Amelia will blackmail her old friend Commodore Black into ferrying her along a huge river on his ancient U-boat. With an untrusty crew of freed convicts, Quest's force of fearsome female mercenaries on board, and a lunatic steamman acting as their guide, Amelia's luck seems to be going from bad to worse. Her quest for the perfect society has a good chance of bringing her own world to the brink of destruction…



The Kingdom Beyond The Waves

is Stephen Hunt's third novel, set in the same universe as

The Court of the Air

. Amelia Harsh is a female Indiana Jones if there ever was one, and this novel is a rollicking steampunk adventure that will hook readers for one dynamite ride.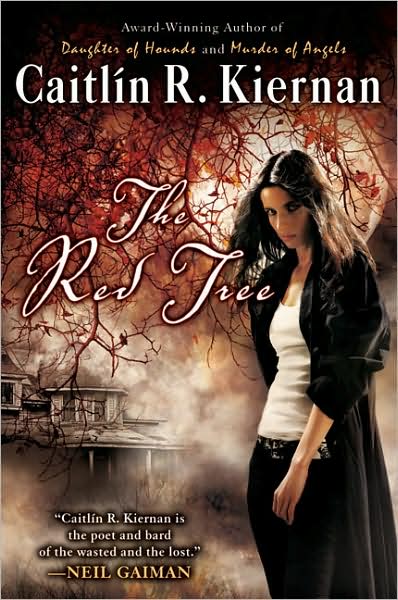 The Red Tree
by
Caitlin R. Kiernan
(
Roc
Trade Paperback 08/04/2009) – I've been wanting to read Kiernan for quite some time, and this book looks like a pretty good opportunity to do just that. She's garnered some high praise and has worked with Neil Gaiman in the past.
Sarah Crowe left Atlanta, and the remnants of a tumultuous relationship, to live alone in an old house in rural Rhode Island. Within its walls she discovers an unfinished manuscript written by the house's former tenant—a parapsychologist obsessed with the ancient oak growing on a desolate corner of the property. And as the gnarled tree takes root in her imagination, Sarah risks her health and her sanity to unearth a revelation planted centuries ago...
The Magicians
by
Lev Grossman
(
Viking
Hardcover 08/11 2009) – Lev Grossman is no stranger to fantasy and science fiction, he's the book reviewer for
Time
magazine who dubbed
George R.R. Martin "The American Tolkien
" and runs the
Nerd World
blog for
Time
.
The Magicians
is his second novel and though it is explicitly fantasy in nature, it is being positioned with a great deal of mainstream appeal.
Quentin Coldwater is brilliant but miserable. A senior in high school, he's still secretly preoccupied with a series of fantasy novels he read as a child, set in a magical land called Fillory. Imagine his surprise when he finds himself unexpectedly admitted to a very secret, very exclusive college of magic in upstate New York, where he receives a thorough and rigorous education in the craft of modern sorcery.

He also discovers all the other things people learn in college: friendship, love, sex, booze, and boredom. Something is missing, though. Magic doesn't bring Quentin the happiness and adventure he dreamed it would. After graduation he and his friends make a stunning discovery: Fillory is real. But the land of Quentin's fantasies turns out to be much darker and more dangerous than he could have imagined. His childhood dream becomes a nightmare with a shocking truth at its heart.

At once psychologically piercing and magnificently absorbing, The Magicians boldly moves into uncharted literary territory, imagining magic as practiced by real people, with their capricious desires and volatile emotions. Lev Grossman creates an utterly original world in which good and evil aren't black and white, love and sex aren't simple or innocent, and power comes at a terrible price.
House of Windows
by
John Langan
(
NightShade Books
Trade Paperback 08/15/2009) – I may have read a couple of Langan's short stories, this is his (I think) debut novel.
From John Langan (Mr. Gaunt and Other Uneasy Encounters) comes House of Windows, a chilling novel in the tradition of Peter Straub, Joe Hill, and Laird Barron.

When a young writer finds himself cornered by a beautiful widow in the waning hours of a late-night cocktail party, he seeks at first to escape, to return to his wife and infant son, but the tale she weaves, of her missing husband, a renowned English professor, and her lost stepson, a soldier killed on a battlefield on the other side of the world, of phantasmal visions, a family curse, and a house... the Belvedere House, a striking mansion whose features suggest a face, hidden just out of view, draws him in, capturing him. What follows is a deeply psychological ghost story of memory and malediction, loss and remorse.
How to Make Friends with Demons
by
Graham Joyce
(
NightShade Books
Hardcover 06/15/2009 / Trade Paperback 02/2010) – Joyce is a superb writer, what I've read by him, I enjoyed a great deal:
The Tooth Fairy
,
Dreamside
, and
Dark Sister
. Here's what this one is about:
William Heaney is a man well acquainted with demons. Not his broken family - his wife has left him for a celebrity chef, his snobbish teenaged son despises him, and his daughter's new boyfriend resembles Nosferatu - nor his drinking problem, nor his unfulfilling government job, but real demons. For demons are real, and William has identified one thousand five hundred and sixty-seven smoky figures, dwelling on the shadowy fringes of human life, influencing our decisions with their sweet and poisoned voices. After a series of seemingly unconnected personal encounters - with a beautiful and captivating woman met in the company of an infuriating poet, a troubled and damaged veteran of Desert Storm with demons of his own, and an old school acquaintance with whom he shared a mystical occult ritual - William Heaney's life is thrown into a direction he does not fully comprehend. Past and present collide. Long-dormant choices and forgotten deceptions surface. Secrets threaten to become exposed. To weather the changes, William Heaney must learn one thing: how to make friends with demons.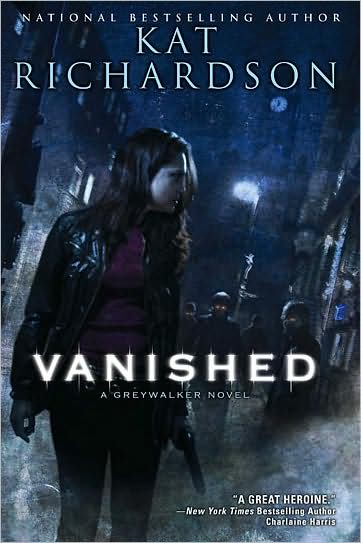 Vanished
(
Greywalker
#4) by
Kat Richardson
(
Roc
Hardcover 08/04/2009) – Fourth book in an Urban Fantasy series about a P.I. who was dead for a couple of minutes and can now see things. Richardson is a another fine example of Roc "promoting" an author to hardcover.
Harper Blaine was your average small-time P.I. until she died—for two minutes. Now Harper is a Greywalker—walking the line between the living world and the paranormal realm. And she's discovering that her new abilities are landing her in all sorts of "strange cases."

But for Harper, her own case may prove the most difficult to solve. Why did she—as opposed to others with near-death experiences—become a Greywalker? When Harper digs into her own past, she unearths some unpleasant truths about her father's early death as well as a mysterious puzzle. Forced by some very demanding vampires to take on an investigation in London, she soon discovers her present troubles in England are entangled with her dark past back in Seattle—and her ultimate destiny as a Greywalker.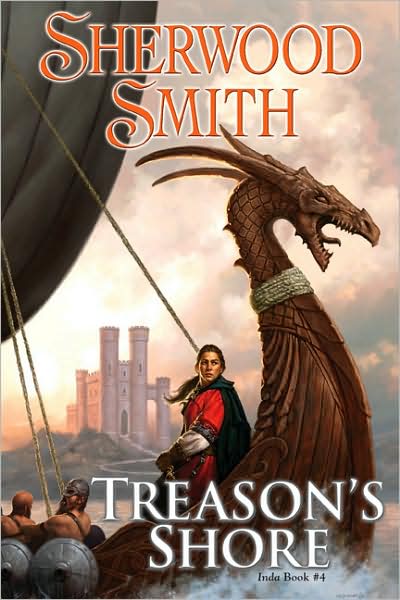 Treason's Shore
(
Inda
#4) by
Shrewood Smith
(
DAW
Harddcover 08/04/2009) – I've been kind of intrigued by this set of books since the first volume was published a few years ago, I've seen good things about them and Smith has a pretty
informative and interesting blog/LiveJournal
. The series even has a
dedicated Wiki
. Here's the blurbage:
Inda, fresh from his triumph on the battlefield against the Venn, takes his place beside King Evred as Harskialdna, the King's Shield. But the Venn are far from defeated and only Inda's fame is strong enough to inspire all the squabbling kingdoms to unite and raise a force mighty enough to protect the strait and repel the enemy. Evred has also ordered Inda to take over the strait once the battle is won, but Inda, a former pirate, knows that this is a very bad idea. Now Inda must choose between obeying his liege—or committing treason.
Lightbreaker
(
The Codex of Souls
#1) by
Mark Teppo
(
NightShade Books
Mass Market Paperback 05/18/2009) – First time author Mark Teppo launches an intriguing Urban Fantasy that has already garnered some
positive reviews
. Teppo is the second or third of NightShade's mass-market original authors.
Markham has returned to Seattle, searching for Katarina, the girl who, a decade ago, touched his soul, literally tearing it from his body. But what he discovers upon arriving is dark magick - of a most ancient and destructive kind!

An encounter with a desperate spirit, leaping destructively from host to host, sets Markham on the trail of secretive cabal of magicians seeking to punch a hole through heaven, extinguishing forever the divine spark. Armed with the Chorus, a phantasmal chain of human souls he wields as a weapon of will, Markham must engage in a magickal battle with earth-shattering stakes!

Markum must delve deep into his past, calling on every aspect of his occult training for there to be any hope of a future. But delve he must, for Markham is a veneficus, a spirit thief, the Lightbreaker...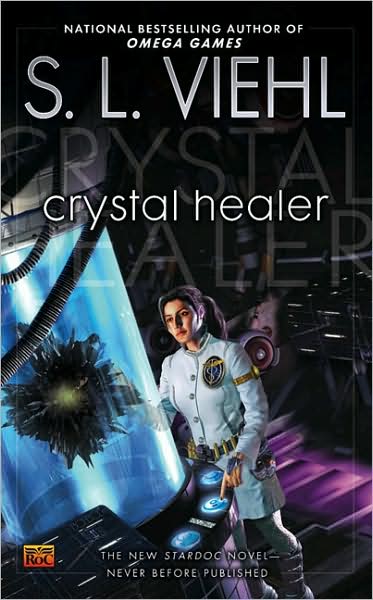 Crystal Healer
(
Stardoc
#9) by
S.L. Viehl
(
Roc
Mass Market Paperback 08/04/2009) – Viehl is an extremely prolific writer, with several current series under multiple pseudonyms, with the
Stardoc
series being her foot in Science Fiction
Genetically engineered interstellar surgeon Dr. Cherijo Torin, her husband Duncan Reever, and a handpicked crew journey to the planet oKia to locate a strange black mineral that is the source of an intergalactic epidemic. When one of the crew members becomes infected, his body slowly begins to crystallize. While Cherijo races to save the crew member, mercenaries arrive in the oKia system, wanting Cherijo's genes—and her near immortality. It will take all of her abilities to elude the mercenaries and discover the black crystal's secrets before it's too late.