I get a lot of books for review from various publishers. I, unfortunately, can't read everything I get so I like to at least acknowledge what comes into the house for review so I do these Sunday postings of Books in the Mail. Here's this week's version:
Nightchild
(
Chronicles of the Raven
#3) by
James Barclay
(
Pyr
Trade Paperback 11/22/2009) – Third installment of
The Chronicles of the Raven
and again, set to release one month after the second book, which is set to release one month after the first. Nothing works better than shelf presence except maybe solid and entertaining writing/storytelling, which James Barclay has in spades:
The concluding volume of the Chronicles is an excellent capstone to a superb series of books. The Raven, again are faced with a world-shattering challenge. What makes this challenge even worse is that it is from their own ranks. The Nightchild refers to the daughter of Erienne and Denser, Lyanna. Lyanna is the prophesized uniting child of Magic, bringing the One magic back to Balaia, uniting the four colleges.

Five years have past since the events of Noonshade e and the Raven have gone their separate ways, finally following through on the promise to retire the made in the beginning of Dawnthief. It is one event in Dawnthief that sets everything in motion for Nightchild, the consummation of Denser and Erienne's relationship.
.
The Martian Chronicles: The Complete Edition
by
Ray Bradbury
(
Subterranean Press
/
PS Publishing
[1] Limited and [2] Lettered Hardcover December 2009) –
The Martian Chronicles
is one of those hallmarks and
IT
books of Science Fiction I've (embarrassingly) never read. Luckily,
Subterranean Press
/
PS Publishing
decided to get together and co-publish a lavish, dense, and beautiful (based on the ARC) edition of these seminal stories in one massive volume inside a terrific cover by Edward Miller, sporting introductions by John Scalzi, Joe Hill, Richard Matheson and Mark Scott Zicree.
In the course of his long, illustrious career, Ray Bradbury has created some of the most memorable and enduring fiction of our time. While no one work can adequately represent the range and depth of his achievement, it may well be that The Martian Chronicles will come to stand as his most singular accomplishment. A visionary account of the first attempt to extend the human enterprise to another planet, this unique and resonant book is both a seminal work of science fiction and a permanent addition to modern popular culture.

The episodic saga begins during the "rocket summer" of 1999, when the first outbound ships depart for Mars, leaving the bleak Ohio winter behind. It ends, 27 years later, during a "million year picnic" which casts a harsh, reflective light on an entire civilization. Along the way, Bradbury introduces a gallery of distinctive characters, all of whom have powerful reasons for seeking a newer life. Some are actively escaping--from racism, from political and cultural repression, from the never-ending prospect of war. Some are actively searching--for adventure, for uncharted horizons, for a sense of spiritual renewal. Together, they create a frontier society as complex, varied, and tragically flawed as the one they left behind.

The result is a work of philosophical humanism filled with memorable scenes and indelible images. A wealthy settler builds a new "House of Usher" and wages bloody war against a dull and lifeless bureaucracy. Translucent "fire balloons" offer intricate lessons in matters of the spirit. A telepathic Martian helplessly absorbs the hopes, grief, and memories of the surrounding human populace. A solitary survivor creates an automated family to help keep loneliness at bay. Moments like these offer something deeper and grander than simple entertainment. As the author pointedly reminds us: "It is good to renew one's wonder." The Martian Chronicles accomplishes this task with wit, grace, and unselfconscious artistry. It will doubtless continue to do so for generations to come.

With more than 50 stories, essays, introductions and two full-length screenplays by Bradbury himself, The Martian Chronicles: the Definitive Edition is a volume for the permanent shelf, one which chronicles the evolution of Bradbury's Mars from the original classic volume and beyond.
Alpha and Omega
(
Alpha and Omega
/
Mercedes Thompson
) by
Patricia Briggs
(
Subterranean Press
Limited (1000 copies) Edition Hardcover Fall 2009) – Brigg's thoughts on this novella, which was originally in the
On the Prowl
anthology and takes place in the same world as her
Mercedes Thompson
novels:
"Alpha and Omega" is Charles's story. Charles is one of those characters who comes on stage to fill out a scene -- or, in this case, to make the Montana pack feel like a "real" pack, one that doesn't just exist for the sake of a novel. But as I wrote a little about him I found out a lot more -- and since he didn't have a real role in the plot, I had to set him aside once he'd performed his alloted role. It would have bothered me more, but I knew that Moon Called was the first in a series so I figured I could use him later. When my editor called to ask me if I thought I could write a novella in Mercy's world -- I thought about it for a while, and decided to give Charles his chance upon the stage. I already had a plot -- he'd been sent to deal with one of the Chicago alphas in Moon Called. Even so, the story took me a little by surprise (which is a good thing). I didn't expect such a strong romance angle in this story, but I liked how it turned out. I hope you enjoy getting to know Charles as much as I did.
Chapterhouse: Dune
by
Frank Herbert
(
Tor
(Hardcover 08/04/2009) – This would be the sixth and final
Dune
novel by Frank Herbert. Although I've read the first one a couple of times, I always wanted to go back and read the remaining book by Herbert. I've got some fill in to do before I get to this one, though. This edition is updated in that it contains an introduction by Brian Herbert, Frank's son. Brian, for good or bad, has gone on to continue the
Dune
series with Kevin J. Anderson for 11 additional books (which is almost double what Frank wrote himself). Be that as it may, here's what can be gleaned about Frank's last book:
The desert planet Arrakis, called Dune, has been destroyed. Now, the Bene Gesserit, heirs to Dune's power, have colonized a green world—and are tuning it into a desert, mile by scorched mile.

Chapterhouse Dune is the last book Frank Herbert wrote before his death: A stunning climax to the epic Dune legend that will live on forever.
The Grave Thief
(Book #3 of
The Twilight Reign
) by
Tom Lloyd
(
Pyr
Trade Paperback September 2009) – These books have found an audience here in the US, I'm just not part of it.
Scree has been wiped from the face of the Land in a brutal demonstration of intent. While those responsible scatter to work on the next step in their plan, the stakes are raised - all the way to the heavens - as the Gods themselves enter the fray. Returning home to a nation divided by fanaticism, Lord Isak is haunted both by the consequences of his actions in Scree and by visions of his own impending death. As the full extent of Azaer's schemes become clearer, he realises prophecy and zealotry must play their part in his battle-plans if there is to be any chance of surviving the coming years. As a white-eye, Isak has had to embrace the darker parts of his own soul, but now the savage religious fervour sweeping his nation must also be accepted and turned to purpose, in the name of survival. With the battle lines vague and allegiances uncertain, the time for heartless decisions and ruthless action has come. Two figures oppose Isak and his allies: the greatest warrior in history, who dreams of empire and Godhood, and a newborn baby whose dreams have no limit.
Desolation Road
by
Ian McDonald
(
Pyr
Trade Paperback July 2009) – Pyr continues to bring Ian McDonald's work to US audiences in this re-issue of his 1998 debut novel, which seems a mix of steampunk and future SF. I loved
River of Gods
and have read some of his shorts.
On a partially terraformed Mars (comfortable temperature and atmosphere, although still mostly desert) a lone scientist is hunting a mysterious being across the desert, using a device best described as an anti-gravity sailboard for transportation. While taking a rest, he neglects to secure the board thoroughly and wakes up in time to see it blown away by the wind. Stranded in the desert, he is fortunate to discover an artificial oasis (created by a long-lost terraforming AI) near a line of railway. With all the necessities of life around him, he awaits rescue or company. Eventually, he is joined by other strays and castaways, and together they found the town of Desolation Road.

Although not a steampunk novel, much of the technology featured in the book, such as locomotives (albeit Fusion) and propellor-driven aircraft, appears to hearken back to Earth's near-history rather than to standard visions of the future. This gives the novel an atmosphere of anachronism and timelessness.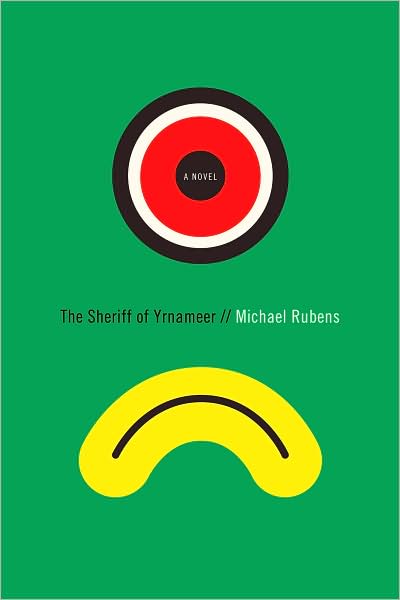 The Sheriff of Yrnameer: A Novel
by
Michael Rubens
(
Pantheon
Hardcover 8/4/2009) – It isn't very often you see a Stephen Colbert blurb on a book not by Stephen Colbert. That combined with the Douglas Adams-ish feel, push this book up a little bit for me. I received the ARC for this back in April and the finished/final book arrived this week in all its green and yellow glory. Rubens is a writer on
The Daily Show
staff.
Meet Cole: hapless space rogue, part-time smuggler, on a path to being full-time dead. His sidekick just stole his girlfriend. The galaxy's most hideous and feared bounty hunter wants to lay eggs in his brain. And the luxury space yacht Cole just hijacked turns out of be filled with interstellar do-gooders, one especially loathsome stowaway, and a cargo of freeze-dried orphans.

Reluctantly compelled to deliver these defenseless, fluidless children to safety, Cole gathers a misfit crew for a desperate journey to the far reaches of the galaxy. Their destination: the mysterious world of Yrnameer, the very last of the your-name-heres—planets without corporate sponsors. But little does Cole know that this legendary utopia is home to a murderous band of outlaws bent on destroying the planet's tiny, peaceful community.

Follow Cole's adventures through a delightfully absurd science-fiction universe, where the artificial intelligence is stupid, dust motes carry branding messages, and middle-management zombies have overrun a corporate training satellite. In the spirit of Douglas Adams and Terry Pratchett, The Sheriff of Yrnameer is sci-fi comedy at its best—mordant, raucously funny, and a thrilling page-turner.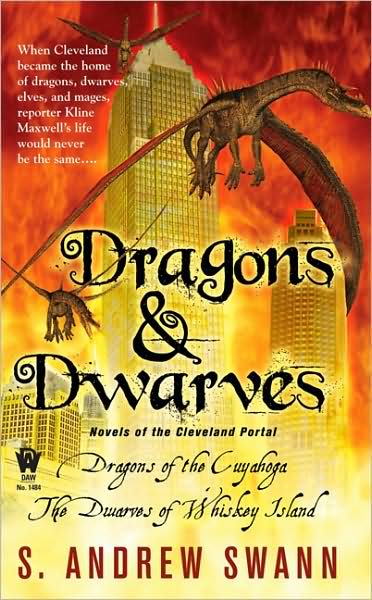 Dragons and Dwarves:Novels of the Cleveland Portal
by
S. Andrew Swann
(
DAW
Mass Market Paperback 08/04/2009) – As I was
saying about two weeks ago regarding
DAW
in specific and
Swann
in particular, here's one of those terrific backlist-author-omnibus editions containing two Urban/Epic Fantasy hybrids -
The Dragons of the Cuyahoga
and
The Dwarves of Whiskey Island
:
The Dragons of the Cuyahoga – A decade after the Portal opened a gate between Cleveland, Ohio and a universe of mages, elves, and dragons, reporter Kline Maxwell works the political beat for the Cleveland Pressand does his best to avoid "fuzzy gnome" stories.

However, when fifteen tons of dragon takes a nose-dive into the Cuyahoga River, killing the supposedly immortal creature, Kline finds himself drawn into the story against his will. Soon, he discovers that the dragon was not just any dragon, and the death was no accident.

Soon he is running from cops, elves and gargoyles— and finds himself wrapped in a web of intrigue that ranges from a network of underground mages, the mayor's office, the port authority, the possibly-corrupt police Special Paranormal Unit, all the way to the federal government.

The Dwarves of Whiskey Island – Two years after investigating the high-profile death of a dragon for the Cleveland Press, reporter Kline Maxwell is safely back on the political beat. Then he receives a call from a dwarf claiming to have information on the suicide of a former city council president, a dwarf who quickly suffers a gruesome death. Soon Kline is again wrapped in a mystical conspiracy of wide-ranging implications.

And at the center of the conspiracy is an ancient evil that has taken an interest in Kline and his family. . .