Here's the list of books I recieved for review last week:
Invincible by Troy Denning
Star Wars Legacy of the Force Book 9
The series looks pretty good (as I said in
my last post
), but I've got some catching up to do. I think the writers and behind the scenes folks did an impressive job with the
New World Order
and I've heard the same type of positivity about these books.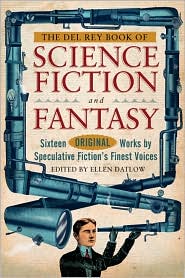 The Del Rey Book of Science Fiction and Fantasy
edited by
Ellen Datlow
This looks to be a new anthology of short fiction, in an increasingly impressive market of original anthologies. I still have Jonathan Strahan's
Eclipse
on my TBR pile. There are some impressive writers in this book - Jeffrey Ford, Elizabeth Bear, Paul McCauley and Kim Newman
Kilimanjaro: a Fable of Utopia by Mike Resnick
(December Subterranean Press)
This is a follow-up to Resnick's watermark novel, Kirinyaga. I haven't read that particular book by Mike Resnick, but what I have read from him, I've enjoyed.
Those Who Went Remain There Still
by
Cherie Priest
(December Subterranean Press)
This looks to be a southern ghost story involving Daniel Boone. I haven't read anything by Cherie Priest so this looks like a good opportunity to giver her a try.
Stonefather
by
Orson Scott Card
(October Subterranean Press)
A novella set in Card's soon-to-be released
Mithermages
fantasy saga. I went through a pretty big OSC phase a few years ago and haven't read much by him since (I think) Shadow Puppets. This should be a good chance to get reacquainted with his work.
Mrs. Blog o' Stuff and I caught Iron Man over the weekend. I was never a big fan of Iron Man. If I have 20
Iron Man
comics in my collection, then that's a lot. I always considered him a B-list Marvel character despite Marvel putting him at the forefrunt of their major storylines over the past few years.
The movie kicked ass. I loved it and didn't expect to like it nearly as much as I did. Downey may be the most perfectly cast superhero this side of Christian Bale. Jeff Bridges was good as the slime-ball enemy. I've seen a lot of his movies but is really that big a guy? Maybe I will give some old Shellhead comics a try on my next visit to the comics shop.