Thankfully, a little break from
last week's gigantic haul
, but a couple of really interesting books nonetheless.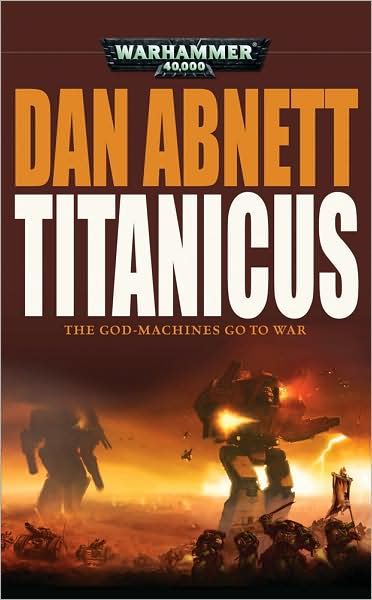 Titanicus
by
Dan Abnett
(
Black Library
11/24/2009) – This is the fourth
Warhammer
book I've received by Abnett, I reallyl need to get cracking.
When the vital forge world of Orestes comes under attack by a legion of Chaos Titans, the planet is forced to appeal for help. Titan Legio Invicta, although fresh from combat and in desperate need of refit and repair, responds, committing its own force of war engines to the battle. As the god-machines stride to war, the world trembles, for the devastation they unleash could destroy the very world they have pledged to save.

Savage Titan action on an apocalyptic scale and dark political intrigue meet head-on in this Warhammer 40,000 epic.
The Saint
(A
Gaunt's Ghost's
Omnibus [#2]) by
Dan Abnett
(
Black Library
08/24/2007) – This is the fifth
Warhammer
book I've received by Abnett, I reallyl need to get cracking.
The second superb omnibus of the phenomenally popular Gaunt's Ghosts series.

The Black Library's flagship military science fiction series is back in a new omnibus edition collecting the books from The Saint sequence (Honour Guard, Guns of Tanith, Straight Silver and Sabbat Martyr). The novels follow the story of Commissar Ibram Gaunt and the Tanith First-and-Only regiment, nicknamed the Ghosts, as they travel from warzone to warzone in the Chaos-infested Sabbat Worlds system. The Ghosts must not only carry out the most dangerous of missions but also survive the deadly politics and in-fighting of the Imperial Guard.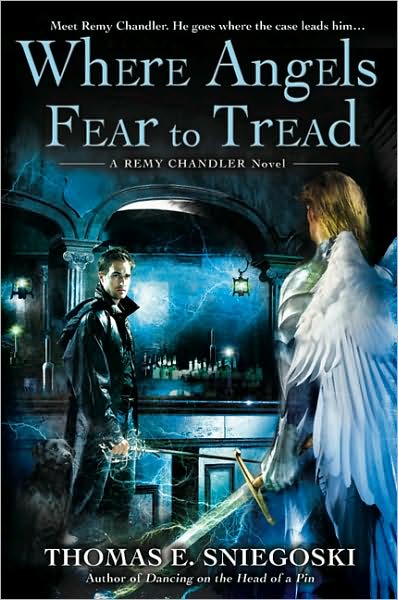 Where Angels Fear to Tread
(The Third
Remy Chandler
novel) by
Thomas E. Sniegoski
(
Roc
Trade Paperback 03/02/2009) – The third in Sniegoski's Urban Fantasy about a former Angel from Heaven who is now a private investigator with supernatural cases. He cranks these books out pretty quickly.
Six year-old Zoe York has been taken and her mother has come to Remy for help. She shows him crude, childlike drawings that she claims are Zoe's visions of the future, everything leading up to her abduction, and some beyond. Like the picture of a man with wings who would come and save her-a man who is an angel.

Zoe's preternatural gifts have made her a target for those who wish to exploit her power to their own destructive ends. The search will take Remy to dark places he would rather avoid. But to save an innocent, Remy will ally himself with a variety of lesser evils-and his soul may pay the price...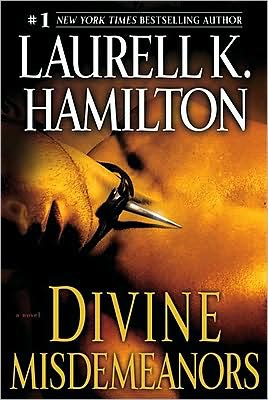 Divine Misdemeanors
(
Meredith Gentry Series #8)
by
Laurell K. Hamilton
(
Ballantine
, Hardcover 12/29/2009) – This is Hamilton's series about faeries in modern day, mixed with a healthy dose of eroticism. She's quite a popular author..
Following on the heels of the heart-stopping conclusion to Swallowing Darkness, Laurell K. Hamilton and Meredith Gentry are back!

Between dark faerie magic and the deepest desires lies the world of Meredith Gentry, princess, private eye, and powerful player in a game of supernatural sexual intrigue. The tension in this extraordinary saga continues to mount as Merry, pregnant with twins, refuses the throne of faerie and retreats with her bodyguards to Los Angeles in an attempt to protect the new life growing within her. Both the deadly destructive factions of the faerie courts -- as well as those who would worship her -- will be equally dangerous to her attempts to create a peaceful haven for her unborn children.

Filled with riveting twists, this new novel adds yet another unforgettable chapter to a story that is both epic and breathtaking..