What would a Tuesday be around here at the o' Stuff without me posting links to new reviews at
SFFWorld
?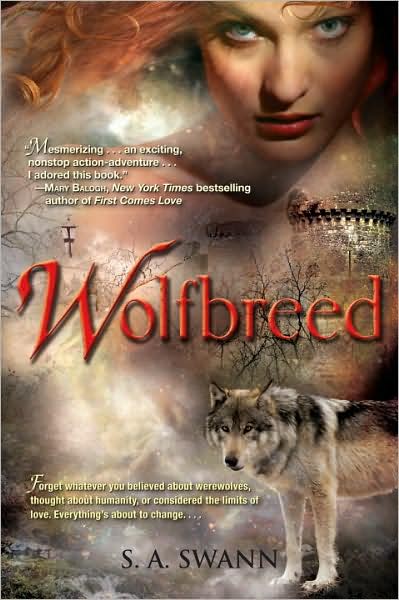 Earlier in the year, I reviewed a very solid Space Opera by S. Andrew Swann -
Prophets
. In his second release of the year, and second I've subsequently reviewed, he drops the "Andrew" in favor of "A." and switches genres – a medieval werewolf fantasy -
Wolfbreed
with very good results:
One of the great things about the book, and an element that helped to keep me turning the pages, was Swann's structure for the novel. In interweaving sections, Swann reveals the past of Lily and her wolfbreed pack-mates as they are trained by the church to terrorize villages. The bulk of the novel deals with the aftermath of Lily's escape as she comes to the attention of Udolf, who is in the woods helping to make his adopted family make ends meet. You see, Udolf's family was slaughtered about a decade prior to the events of the novel in one of the Church's destructive conversions. In addition, Udolf lost an arm the night his family was slaughtered so his self-worth is not exactly high.

Swann fills the novel with multiple conflicts, each of them paralleling each other. In Lily, we have a creature that is conflicted herself – between her human side and her wolf side. During her years as a captive of the church, she was tortured and abused, with hints of rape thrown into the mix. To help herself cope, she split her personality and hid part of herself away to avoid really experiencing those horrid deeds. When she comes to meet Udolf, she is a shell of a person having regressed in her ability to communicate. However, she displays great physical strength and a remarkable ability to heal, which helps Udolf's family a great deal. All told, Swann has given readers an empathetic, remarkably drawn character in Lily.


Dan reviewed new SF adventure by genre veteran
Kristine Kathryn Rusch
,
Diving into the Wreck
:
The universe that makes her [Boss's] story possible also includes a recent war that the Empire won but the Alliance didn't exactly lose. The balance is precarious, hanging by a thread that will be cut if the old stealth technology can be re-discovered by either side.

In three parts, we watch Boss find what she's looking for, lose it, and then attempt to destroy it. Part 1 sets the problems, the ones she must deal with and the ones she doesn't realize she's dealing with. The former comes in the form of the lost stealth technology hidden on a derelict that Boss discovered. It costs two crew members' lives, her fault. The latter comes in the form of what Boss is willing to live with in her universe by Cardinal Woolly in order to stop the plot and save old Three Ex herself.