A nice slow week of arrivals here at the o' Stuff.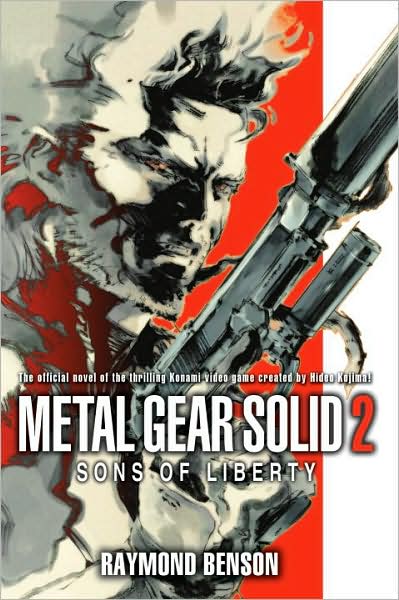 Metal Gear Solid 2: The Novel: Sons of Liberty
by
Raymond Benson
(
Del Rey
, Trade Paperback 11/24/2009) – Del Rey keeps churning out these video game novelizations. .
In a torrential downpour, former FOXHOUND agent Solid Snake stands on the George Washington Bridge–ready to launch himself onto the deck of the U.S.S. Discovery as it passes below. Inside Discovery is a new generation of Metal Gear. But in the next hour, Snake's world explodes.

Two years later, a young, unproven agent code-named Raiden must penetrate the mystery of what went so insanely wrong that night.

In a labyrinthine superstructure in New York Harbor known as the Big Shell, enemies, allies, secret agents, and double-dealers converge: Russian commandos, a cyber Vamp, a long-legged, leather-clad, rifle-bearing beauty named Fortune, a deformed, finely manicured bomber called Fatman, and a mysterious Mister X. Somewhere in the maze, as well, is the president himself–his biometrics coded to a bomb that can take out Manhattan, his loyalties unknown. Now the rookie Raiden is fighting his way to one discovery after another, including the rebirth of Solid Snake himself and a nightmare organization with a history, a plan, and a terrifying superweapon hidden in plain sight.
Dynasty of Evil
(A
Darth Bane
3#) by
Drew Karpyshyn
(
Del Rey/Star Wars Books
Hardcover 12/08/2009) – These
Darth Bane
books seem to be pretty well received and considering Karpyshyn had a big hand in crafting the early early days of
Star Wars
in the
Knights of the Old Republic
games, this isn't too much of a surprise.
Twenty years have passed since Darth Bane, reigning Dark Lord of the Sith, demolished the ancient order devoted to the dark side and reinvented it as a circle of two: one Master to wield the power and pass on the wisdom, and one apprentice to learn, challenge, and ultimately usurp the Dark Lord in a duel to the death. But Bane's acolyte, Zannah, has yet to engage her Master in mortal combat and prove herself a worthy successor. Determined that the Sith dream of galactic domination will not die with him, Bane vows to learn the secret of a forgotten Dark Lord that will assure the Sith's immortality–and his own.

A perfect opportunity arises when a Jedi emissary is assassinated on the troubled mining planet Doan, giving Bane an excuse to dispatch his apprentice on a fact-finding mission–while he himself sets out in secret to capture the ancient holocron of Darth Andeddu and its precious knowledge. But Zannah is no fool. She knows that her ruthless Master has begun to doubt her, and she senses that he is hiding something crucial to her future. If she is going to claim the power she craves, she must take action now.

While Bane storms the remote stronghold of a fanatical Sith cult, Zannah prepares for her Master's downfall by choosing an apprentice of her own: a rogue Jedi cunning and cold-blooded enough to embrace the Sith way and to stand beside her when she at last wrests from Bane the mantle of Dark Lord of the Sith.

But Zannah is not the only one with the desire and power to destroy Darth Bane. Princess Serra of the Doan royal family is haunted by memories of the monstrous Sith soldier who murdered her father and tortured herwhen she was a child. Bent on retribution, she hires a merciless assassin to find her tormentor–and bring him back alive to taste her wrath.

Only a Sith who has taken down her own Master can become Dark Lord of the Sith. So when Bane suddenly vanishes, Zannah must find him–possibly even rescue him–before she can kill him. And so she pursues her quarry from the grim depths of a ravaged world on the brink of catastrophe to the barren reaches of a desert outpost, where the future of the dark side's most powerful disciples will be decided, once and for all, by the final, fatal stroke of a lightsaber.
Destroyer of Worlds
by
Larry Niven
and
Edward M. Lerner
(
Tor
, Hardcover 11/23/2009) – I really enjoyed the first of this
Ringworld
prequel series
Fleet of Worlds
, but was very disappointed by the second book
Juggler of Worlds
last year.
Worlds closer to the galatic core than Known Space are --or were-- home to intelligent speciers. Some learned of the core explosion in time to flee. Destroyer of Worlds opens in 2670, ten years after Juggler of Worlds closes; with refugee species fleeing in an armada of ramscoops in the direction of the Fleet of Worlds. The onrushing aliens are recognized as a threat; they have left in their trail a host of desolated worlds: some raided for supplies, some attacked to eliminate competition, and some for pure xenophobia.

Only the Puppeteers might have the resources to confront this threat--but the Puppeteers are philosophical cowards... they don't confront anyone. They need sepoys to investigate the situation and take action for them. The source of the sepoys? Their newly independent former slave world, New Terra.
Forged by Chaos (Book 3 in the
Warhammer : Age of Reckoning
series) by
C.L. Werner
(
Black Library
Mass Market Paperback 02/14/2009) – Werner is something of a
Warhammer
veteran and this is the third novelization/companion novel to accompany the popular and acclaimed MMPORG..
All across the Empire, the servants of Emperor Karl Franz's Griffon order are struggling to turn back the armies of Chaos. Two such heroes the witch hunter Udo and the warrior priestess Annaliese are caught up in the conflict as they journey into Reikland in trying to aid the war effort. At Altdorf, the capital of the Empire, the warriors of Karl Franz must make their stand lest all the land be lost to Chaos.