Here's the post where I mention the books I receive for review from the various genre publishers. I know I can't possibly read everything I receive, but I can at least mention it here. A big haul this this week, from the usual suspects/publishers.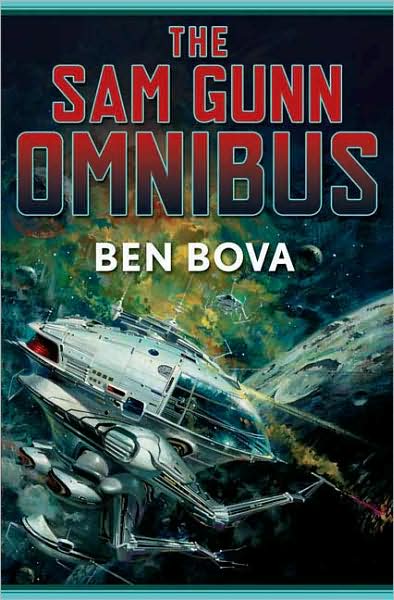 The Sam Gunn Omnibus
by
Ben Bova
(
Tor
Trade Paperback 04/14/2009) – Hobbit/Mark
reviewed this when it published in hardcover
:
A hero without peer or scruples, Sam Gunn has a nose for trouble, money, and women—though not necessarily in that order. A man with the ego (and stature) of a Napoleon, the business acumen of a P. T. Barnum, and the raging hormones of a teenage boy, Sam is the finest astronaut NASA ever trained… and dumped.
More than money and women, Sam Gunn loves justice. Whether he's suing the Pope, helping twin sisters entangled in the virtual sex trade, or on trial for his life on charges of interplanetary genocide, you can be sure of one thing: this is one space jockey who'll meet every challenge with a smile on his lips, an ace up his sleeve…and a weapon in his pocket.
This Omnibus presents all of the tales of Sam Gunn to date, including three never before collected in book form. Here is the entire chronicle of Sam Gunn, trailblazer and scoundrel, as he scams his way from one end of the Solar System to the other, giving bold new meaning to the term venture capitalist.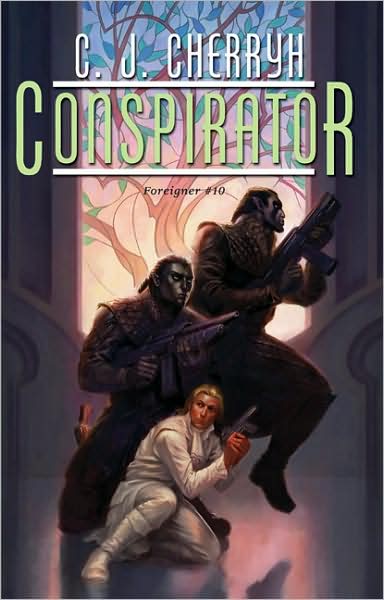 Conspirator
(
Foreigner
#10) by
C. J. Cherryh
(
DAW
Hardcover 05/05/2009) – This is the first of a new trilogy set in Cherryh's
Foreigner
universe of books and the 10th overall.
Cajeiri is the young son of the powerful leader of the Western Association—and he has become a target for forces bent on destroying his father's rule. For Cajeiri is the first ateva youth to have lived in a human environment. And after hundreds of years of fragile atevi-human coexistence, he may very well be the first of his people to ever truly understand the so similar—yet so dangerously different—aliens who share his home planet and threaten the hidebound customs of his race.
Blood of Ambrose
by
James Enge
(
Pyr
Trade Paperback April 2009) – I've been looking forward to this one since I heard about it and read some of Enge's
Morlock
stories in
Black Gate
Magazine
Behind the king's life stands the menacing Protector, and beyond him lies the Protector's Shadow...
Centuries after the death of Uthar the Great, the throne of the Ontilian Empire lies vacant. The late emperor's brother-in-law and murderer, Lord Urdhven, appoints himself Protector to his nephew, young King Lathmar VII and sets out to kill anyone who stands between himself and mastery of the empire, including (if he can manage it) the king himself and his ancient but still formidable ancestress, Ambrosia Viviana.
When Ambrosia is accused of witchcraft and put to trial by combat, she is forced to play her trump card and call on her brother, Morlock Ambrosius—stateless person, master of all magical makers, deadly swordsman, and hopeless drunk.
As ministers of the king, they carry on the battle, magical and mundane, against the Protector and his shadowy patron. But all their struggles will be wasted unless the young king finds the strength to rule in his own right and his own name.
The Patriot Witch
(Book #1 of
Traitor to the Crown
) by
C. C. Finlay
(
Del Rey
Mass Market Paperback 04/28/2009) – I've read a couple of Finlay's short stories and from what I remember, I liked them. For this series,
Del Rey
is employing a great strategy, one in fact that was very successful for them in the past (Naomi Novik's
Temeraire
novels) and Orbit (Brent Weeks's
Night Angel Trilogy
) – releasing a finished trilogy in successive months. Few things can give a writer success like immediate shelf presence. The premise here sounds really interesting and immediately brings to mind Greg Keyes somewhat under-rated
Age of Unreason
and Orson Scott Card's
Tales of Alvin Maker
. Also, this first book has been released as a
free eBook
.
The year is 1775. On the surface, Proctor Brown appears to be an ordinary young man working the family farm in New England. He is a minuteman, a member of the local militia, determined to defend the rights of the colonies. Yet Proctor is so much more. Magic is in his blood, a dark secret passed down from generation to generation. But Proctor's mother has taught him to hide his talents, lest he be labeled a witch and find himself dangling at the end of a rope.

A chance encounter with an arrogant British officer bearing magic of his own catapults Proctor out of his comfortable existence and into the adventure of a lifetime, as resistance sparks rebellion and rebellion becomes revolution. Now, even as he fights alongside his fellow patriots from Lexington to Bunker Hill, Proctor finds himself enmeshed in a war of a different sort–a secret war of magic against magic, witch against witch, with the stakes not only the independence of a young nation but the future of humanity itself.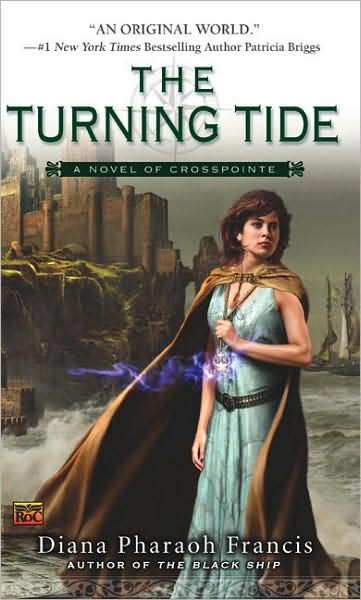 The Turning Tide
- A Novel of Crosspointe
#3 by
Diana Pharaoh Francis
(
Roc
Mass Market Paperback 05/05/2009) – I have the second book in this series, which I received in
October
, but not the first.
They were the best of friends: Ryland, the son of the king, is bound by loyalty. Shaye is both a majicar and a Weverton, both rebellious factions. Fairlie, a fiery metal-smith, is the iron bond that held them all together. Until now.

Crosspointe's greatest advantage at sea is its ship's compasses—but the compass makers are dying. Without them, Crosspointe will fall. To save his country and repel the coming Jutras invasion, the king orders Ryland to commit an unforgivable act. And soon Ryland, Shaye, and Fairlie find themselves at war...with each other.
Scenting the Dark and Other Stories
by
Mary Robinette Kowal
– (
Subterranean Press
Hardcover November 2009) – This is the first collection for Ms. Kowal, who has penned some acclaimed short stories. She must be good since she won the Campbell Award for Best New Writer on the strength of her short story writing. I will be checking this one out. The stories in this book are:
Table of Contents:
Portrait of Ari
Death Comes but Twice
Some Other Day
Just Right
Scenting the Dark
Locked in
This Little Pig
Jaiden's Weaver
Unchained and Unhinged
by
Joe R. Lansdale
- (
Subterranean Press
Hardcover Fall 2009) – I've read some shorts and comics by Landsdale as well as the terrific Edgar-award winning novel
The Bottoms
, so I'll be divining into this collection before its published. Sadly, I've yet to catch
Bubba Ho-tepTable of Contents:
Unchained (essays)
Just Do It
Little Boys Unite
Typewriter Mystique, the Bull of It
Kuttner Sharpens His Literary Sword
Leslie Whitten: Neglected Master
Unhinged (stories)
Surveillance
Coat
Dragon Chili: From the Grand Church Cookbook
Big Man: a Fable
Jack's Pecker
Hanging
Little Kitty
Hole
December
Rainy Weather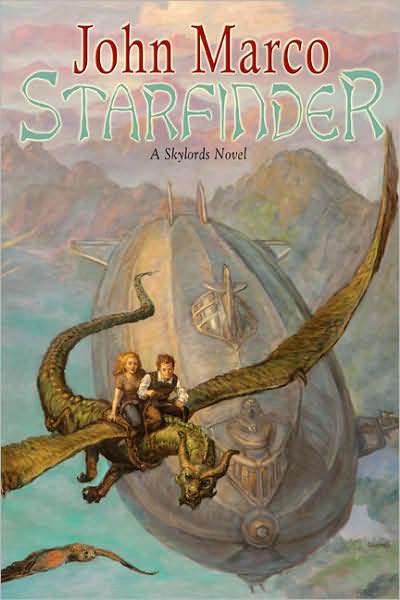 Starfinder
(Book 1 of
The Skylords
by
John Marco
(
DAW
Hardcover 05/05/2009) – This is the final/finished copy of the ARC I received back in January, boy does time fly. I've been enjoying John Marco's books ever since I read
The Jackal of Nar
and up through
The Sword of Angels
. I'm glad to see a new book by John, which he just sent to me. The book/series (
Skylords
) has a steampunkish feel, but is also a coming of age story. The book might have more of a YA appeal than his previous work. Regardless, I'm looking forward to reading it. In John's own words:
Steam trains and electricity are rapidly changing the world. Moth of Calio is obsessed with the airships developed by his friend Fiona's grandfather Rendor, and dreams of taking to the air one day like his heroes, the Skyknights.
But not everyone is happy to see humans reach the skies. For thousands of years, the mysterious and powerful race known as the Skylords have jealously guarded their heavenly domain. But Moth and Fiona are about to breach the magical boundary between the world of humans and the world of the Skylords.
Magic in the Blood
(
Allie Beckstrom
#2) by
Devon Monk
(
Roc
Mass Market Paperback 05/05/2009) – I read the first book by Monk in this series,
Magic to the Bone
, earlier in the year and thought it was an entertaining, if flawed, page turner.
Working as a Hound—tracing illegal spells back to their casters—has taken its toll on Allison Beckstrom. But even though magic has given her migraines and stolen her recent memory, Allie isn't about to quit. Then the police's magic enforcement division asks her to consult on a missing persons case. But what seems to be a straightforward job turns out to be anything but, as Allie finds herself drawn into the underworld of criminals, ghosts, and blood magic.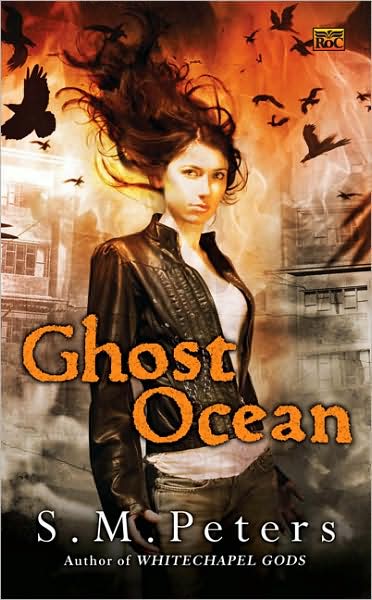 Ghost Ocean
by
S.M. Peters
(
Roc
Mass Market Paperback 05/05/2009) – This is Peters's second novel; I wanted to read his first,
Whitechapel Gods
when it came out last year, I just didn't get around to picking it up. For what seems like an Urban Fantasy, the page count is pretty high at nearly 500 pages. There isn't much information about the book on the Web, the author (surprisingly) does not have a visible Web presence.
Beings of unimaginable power, classified as myths and legends, have been imprisoned in the secludedtown of St. Ives for centuries?watched over by guardians with supernatural skills. Te Evangeline?sfather was one such guardian, a ?binder? who died in the line of duty and who passed along his abilityto his daughter. Now, Te must awaken the magic within her before her father's killer releases hisfellow prisoners on an unsuspecting world.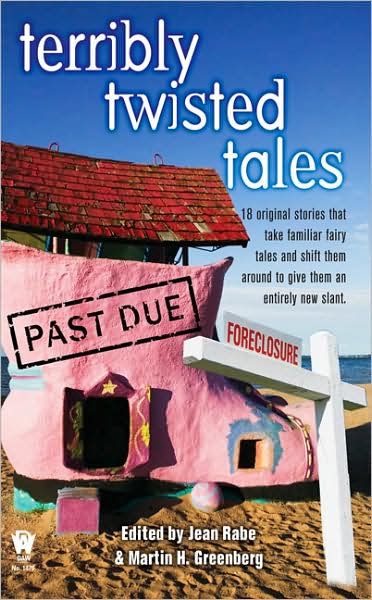 Terribly Twisted Tales
by
Jean Rabe
and Martin H. Greenberg (
DAW
Mass Market Paperback 05/05/2009) – This is would be the DAW's May Martin Greenberg-edited themed anthology. This one contains 18 stories by folks like Dennis L. McKiernan, Jim C. Hines, Mickey Zucker Reichert, and Michael Stackpole.
From Hansel and Gretel and Goldilocks, to Snow White, Cinderella, Jack and the Beanstalk, and more, here are eighteen stories that take familiar fairy tales and twist them around to give them an entirely new slant. Any fan of far-out fantasy is sure to be delighted.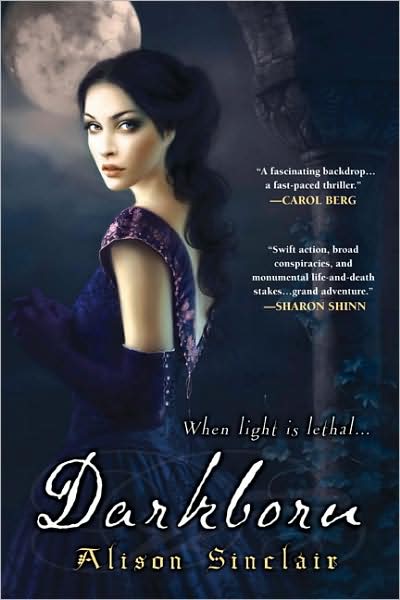 Darkborn
by
Alison Sinclair
(
Roc
Trade Paperback 05/05/2009) – Hoffman's been writing for quite a while, having garnered a few awards and a pretty good reputation.
For the Darkborn, sunlight kills. For the Lightborn, darkness is fatal. Living under a centuries-old curse, the Darkborn and the Lightborn share the city of Minhorne, coexisting in an uneasy equilibrium but never interacting. When Darkborn physician Balthasar Hearne finds a pregnant fugitive on his doorstep just before sunrise, he has no choice but to take her in. Tercelle Amberley's betrothed is a powerful Darkborn nobleman, but her illicit lover came to her through the daytime. When she gives birth to twin boys, they can see, something unheard of among the Darkborn. When men come for the boys, Balthasar is saved by the intervention of his Lightborn neighbor—and healed by the hands of his wife, Telmaine. Soon he finds himself drawn deeper into political intrigue and magical attacks, while Telmaine must confront a power she can no longer keep sheathed in gloves, a power she neither wants nor can control.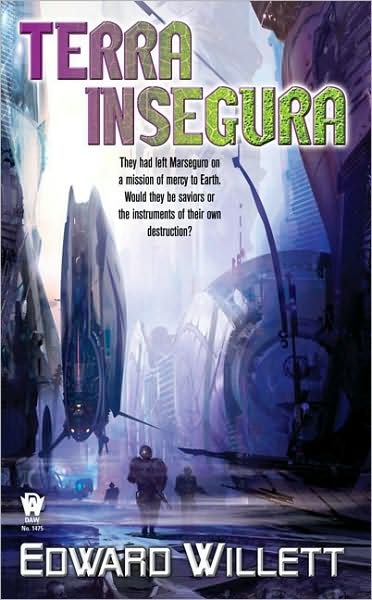 Terra Insegura
by
Edward Willett
(
DAW
Mass Market Paperback 05/05/2009) – This looks like a sequel to
Marseguro
but also seems like it could stand on its own
Marseguro, a water world far from Earth, is home to a colony of humans and the Selkies, a water-dwelling race created from modified human DNA. For seventy years the colony has lived in peace. Then Earth discovers Marseguro, and a strike force is sent to eradicate this "abomination." But Marseguro has created a genetically tailored plague to use against Earth's Holy Warriors. With the enemy defeated, the people of Marseguro feel they are safe. But Chris Keating, the traitor who signaled Marseguro's location to the Holy Warriors, has fled to Earth, unknowingly carrying the deadly plague within him. The people of Marseguro feel they must send a ship to Earth with a life-saving vaccine. Only time will tell what awaits them when they reach their destination.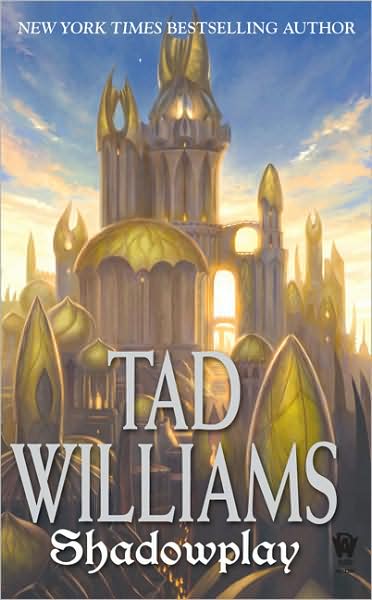 Shadowplay
(Volume Two of
Shadowmarch
) by
Tad Williams
(
DAW
Mass Market Paperback 05/05/2009) – I'm a pretty big fan of Tad Williams and I have this (still unread) in hardcover. Maybe the MMPB will push me to read it soon.
With their father and brother taken from them, the royal Eddon twins Barrick and Briony have done their best to hold the kingdom together. But now Barrick has been captured in a failed war against the immortal Twilight People and Briony has been forced to flee the castle. Old magics are stirring beneath the ancient castle and behind the Shadowline, and the machinations of gods, fairies, and mortals threaten to spread devastation across the entire world.
Chicken with Plums
by
Marjane Satrapi
– (
Pantheon
Paperback 04/19/2009)
Acclaimed graphic artist Marjane Satrapi brings what has become her signature humor and insight, her keen eye and ear, to the heartrending story of a celebrated Iranian musician who gives up his life for music and love.

When Nasser Ali Khan, the author's great-uncle, discovers that his beloved instrument is irreparably damaged, he takes to his bed, renouncing the world and all its pleasures. Over the course of the week that follows, we are treated to vivid scenes of his encounters with family and friends, flashbacks to his childhood, and flash-forwards to his children's future. And as the pieces of his story fall into place, we begin to understand the breadth of his decision to let go of life.

The poignant story of one man, it is also stunningly universal—a luminous tale of life and death, and the courage and passion both require of us.