Another mix of interesting books this week, with the Abercrombie as the major standout for me.
Best Served Cold
by
Joe Abercrombie
(
Orbit Books
Hardcover 7/28/2009) – This has been one of my most anticipated reads for 2009, I loved
The First Law Trilogy
(
The Blade Itself
,
Before They Are Hanged
,
Last Argument of Kings
) and this is a standalone set in the same world:
Springtime in Styria. And that means war.

There have been nineteen years of blood. The ruthless Grand Duke Orso is locked in a vicious struggle with the squabbling League of Eight, and between them they have bled the land white. Armies march, heads roll and cities burn, while behind the scenes bankers, priests and older, darker powers play a deadly game to choose who will be king.

War may be hell but for Monza Murcatto, the Snake of Talins, the most feared and famous mercenary in Duke Orso's employ, it's a damn good way of making money too. Her victories have made her popular - a shade too popular for her employer's taste. Betrayed and left for dead, Murcatto's reward is a broken body and a burning hunger for vengeance. Whatever the cost, seven men must die.

Her allies include Styria's least reliable drunkard, Styria's most treacherous poisoner, a mass-murderer obsessed with numbers and a Northman who just wants to do the right thing. Her enemies number the better half of the nation. And that's all before the most dangerous man in the world is dispatched to hunt her down and finish the job Duke Orso started...

Springtime in Styria. And that means revenge.
The Imago Sequence and Other Stories
by
Laird Barron
(
Nightshade Books
Trade Paperback January 2009) – I've seen some good buzz on the intarwebs about Barron and his short stories. In fact, this collection (in its Hardcover release from 2007) won the 2008 Shirley Jackson Award for Best Collection.
Collected here for the first time are nine terrifying tales of cosmic horror, including the World Fantasy Award-nominated novella "The Imago Sequence," the International Horror Guild Award-nominated "Proboscis," and the never-before published "Procession of the Black Sloth." Together, these stories, each a masterstroke of craft and imaginative irony, form a shocking cycle of distorted evolution, encroaching chaos, and ravenous insectoid hive-minds hidden just beneath the seemingly benign surface of the Earth.





With colorful protagonists, including an over-the-hill CIA agent, a grizzled Pinkerton detective, and a failed actor accompanying a group of bounty hunters, Barron's stories are resonant and authentic, featuring vulnerable, hardboiled tough guys attempting to stand against the stygian wasteland of night. Throughout the collection, themes of desolation, fear, and masculine identity are played out against the backdrop of an indifferent, devouring cosmos.



Contents:


Old Virginia
Shiva, Open Your Eye
Procession of the Black Sloth
Bulldozer
Probiscis
Hallucigenia
Parallax
The Royal Zoo is Closed
The Imago Sequence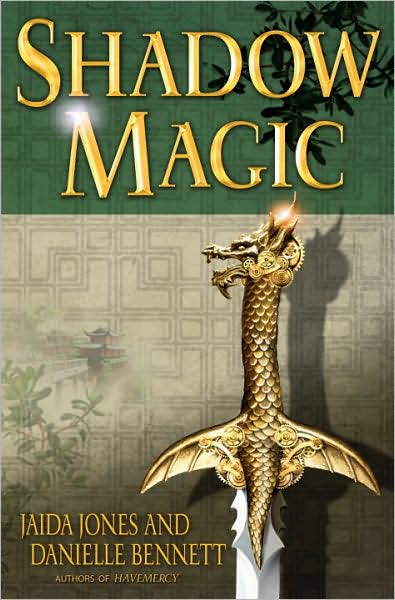 Shadow Magic
by
Jaida Jones & Danielle Bennett
(
Bantam Spectra
Trade Paperback 07/28/2009) – Sequel to last year's
Havemercy
, which received some
good buzz
last
year
. Other than that, I can't find much on this, the sequel.
The metallic dragons of Volstov have defeated their Ke-Han neighbors—but what happens after the last shots are fired? Charged with the tricky task of establishing diplomatic relations as well as a viable succession plan are four new characters: two from the conquering kingdom and two from the defeated land. From their clash of cultures, a lasting peace must be forged. And amidst politics and plotting, the strengths and loyalties of these four men will be tested in the crucible of peace—which may prove deadlier than the crucible of war.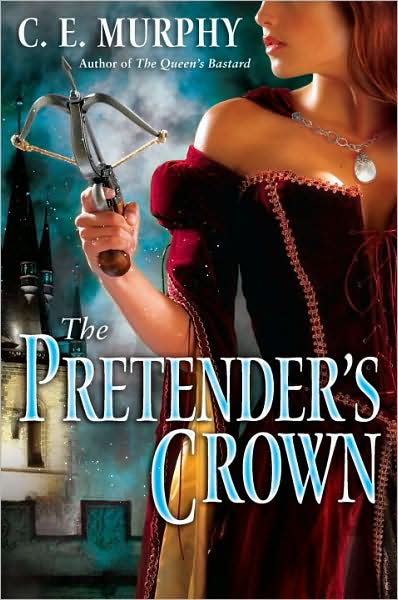 The Pretender's Crown
(Book Two of
The Inheritors' Cycle
) by
C. E. Murphy
(
Del Rey
Trade Paperback 04/28/2009) – Sequel to last year's
The Queen's Bastard
, which I own but haven't read. This is the final copy of the ARC I received in February.
Fiercely intelligent, beautiful, and ready to claim her birthright, she navigates a dangerous world torn between war and witchpower.

Seduction and stealth are Belinda Primrose's skills–weapons befitting the queen's bastard daughter, a pawn of espionage conceived by Lorraine, ruler of Aulun, and her lover and spymaster, Belinda's father. Now an accomplished assassin, Belinda uncovers the true game her father never intended her to play. For Belinda has found her witchpower, a legacy born from something not of this earth. In a treacherous world where religion and rebellion rule, Lorraine is now in a position to sweep over the countries of Echon and to back her chosen successor to the throne: Belinda.

But Belinda is no longer anyone's pawn. Lured by the sensual dark magic of Dmitri, envoy to a neighboring throne, yet still drawn to the witchlord embrace of her former lover, Javier, Belinda knows that she has entered a realm where power and control go to those who can master and manipulate their fiercest desires. For the witchpower depends on the skill its wielder holds.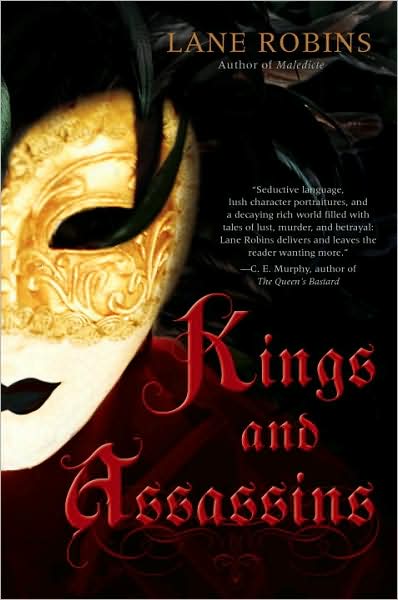 Kings and Assassins
by
Lane Robins
(
Del Rey
Trade Paperback 04/21/2009) – This is a sequel to
Maledicte
, which I haven't read but
received
some
decent
praise. The copy I received this past week is the final copy of the
ARC I received in February
:
Controlled by an aristocracy whose depraved whims bow to neither law nor god, the kingdom of Antyre is under siege from the only man who can save it. He is Janus Ixion, the new Earl of Last, a man whose matchless fighting abilities and leadership strike terror in Antyre's powerful noble houses.

For Janus is the illegitimate son who has returned from the brutal slums to reclaim his birthright, and will go to any lengths to become king and reverse his country's decline. But with a conquering foreign prince sowing chaos throughout the kingdom, Janus must battle the terrifying power of Antyre's forgotten god, one who has gifted Janus's vengeful wife with mysterious and dangerous skills. As Antyre nears irrevocable collapse, Janus's manipulations and all-consuming ambition will force him and his country to choose between the rule of resurgent gods, or a victor's throne of ashes.
The Last Colony
by
John Scalzi
(
Subterranean Press
Leatherbound & Limited Edition August 2009) – Scalzi and Subterranean have been publishing books together for quite some time and this is their latest partnership. I read
The Last Colony
when Tor published it in 2007 and really enjoyed it then. The book was subsequently nominated for the Hugo Award and this edition has some nifty artwork by Vincent Chong. Here's part of my review:
The whole story, from the dialogue to the action, move very quickly. The book is rather short at just over 300 pages, so the book is a quick read. For all the briskness of plot and brevity of the book, quite a lot happens. Perry and Sagan travel from one world to another, start a colony on a new planet, meet more genetically modified humans, encounter hostile aboriginal aliens on Roanoke, avoid planetary destruction, start a war, and travel to a third world. It really is impressive how tightly Scalzi packs such a complex and entertaining story into
The Last Colony
. What makes the novel an even more rewarding experience is how often I was surprised throughout the course of the story. While [thankfully] not a vertiginous novel of plot twists, Scalzi did take the story in unexpected directions that by story's conclusion, came together logically. If I have any complaint, it is a minor one. An element that seemed a key plot point in the first third of the novel is not quite followed up fully or completely consistently with what came before, in the series or novel. Then again, the story is more about John Perry, Jane Sagan and daughter Zoe, so this point could easily be fodder for future stories in this universe, despite Perry's story having concluded.
The Skylark
by
Peter Straub
(
Subterranean Press
Lettered & Limited Edition Fall 2009) – I've read Straub's collaborations with Stephen King as well as
Mr. X
but I've always wanted to read more by him. This book is an interesting thing in that it is a "rough" version of a novel to be published in an edited/streamlined version as
A Dark Matter
:
In the fall of 1966, a group of students, led by a charismatic wanderer named Spencer Mallon, meet in a deserted field outside of Madison, Wisconsin. Their purpose: to conduct an "experiment" that will, if successful, alter the nature of reality itself. The outcome of that experiment is astonishing and inexplicable, and will affect the destinies of everyone involved in fundamental ways.
The Skylark remains the clearest expression of the author's original intentions. With precision, delicacy, and great narrative power, it traces the endless reverberations of a single catastrophic event. In the process, it takes us deep into the lives of a diverse group of fully realized characters, among them a thief, a killer, a best-selling novelist, and a magnetic, luminously beautiful blind woman--the skylark of the title. The result is both a visionary novel about the mystery and terror that lie beneath the surface of the visible world and a moving account of believable people struggling to come to terms with the defining moments of their lives. Moving effortlessly, and with great authority, between the past and the present, the magical and the mundane, The Skylark is the kind of intense, wholly absorbing reading experience that only Peter Straub could have created.
The Subterranean Press edition of The Skylark is approximately 200 manuscript pages longer than the trade edition, to be published as
A Dark Matter
.