Here's the usual Sunday post – I get a lot of books for review but can't possibly read all of them. These Sunday "Books in the Mail" posts are my way of at least acknowledging what's arriving here and not ignoring the books publishers have put effort into sending out for review.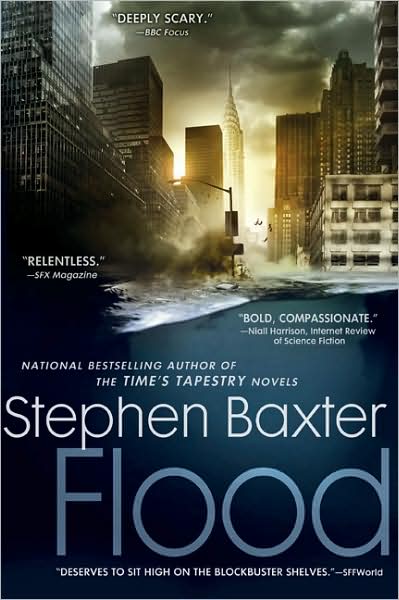 Flood
by
Stephen Baxter
(
Roc
Hardcover 05/05/2009) – Hobbit/Mark
very favorably reviewed this
Gollancz published it in the UK last year. In fact, a blurb from his review is prominently on the cover just under the title and a larger blurb is on the back cover. I plan on reading this, but again when is the real question.
Four hostages are rescued from a group of religious extremists in Barcelona. After five years of being held captive together, they make a vow to always watch out for one another. But they never expected this...

The world they have returned to has been transformed by water—and the water is rising. As it continues to flow from the earth's mantle, entire countries disappear. High ground becomes a precious commodity. And finally, the dreadful truth is revealed: before fifty years have passed, there will be nowhere left to run...
Dreamdark: Blackbringer
(
Draemdark
#1) by
Laini Taylor
(
Putnam
Paperback 05/14/2009) –
Dreamdark: Blackbringer
is Taylor's debut novel and the first of an ongoing series about Faeries.
When the ancient evil of the Blackbringer rises to unmake the world, only one determined faerie stands in its way. However, Magpie Windwitch, granddaughter of the West Wind, is not like other faeries. While her kind live in seclusion deep in the forests of Dreamdark, she?s devoted her life to tracking down and recapturing devils escaped from their ancient bottles, just as her hero, the legendary Bellatrix, did 25,000 years ago. With her faithful gang of crows, she travels the world fighting where others would choose to flee. But when a devil escapes from a bottle sealed by the ancient Djinn King himself?the creator of the world?she may be in over her head. How can a single faerie, even with the help of her friends, hope to defeat the impenetrable darkness of the Blackbringer?

At a time when fantasy readers have an embarrassment of riches in choosing new worlds to fall in love with, this first novel by a fresh, original voice is sure to stand out.
Dreamdark: Silksinger
(
Draemdark
#2) by
Laini Taylor
(
Putnam
Hardcover September 2009) – This here's the sequel
Silksinger picks up a few months after the end of Blackbringer, and it weaves together two storylines, one involving the characters from the first book, and one following new characters. They're two young faeries with desperate secrets who meet on a dragonfly caravan crossing the Sayash Mountains. One is the title character, Whisper Silksinger, the other is a young mercenary who isn't who he claims. There are hobgoblins and apothecaries and devils, flying carpets and jungles and dungeons and Djinn.
The Onion Girl
(A
Newford
novel) by
Charles de Lint
(
Subterranean Press
Hardcover August 2009) – Charles de Lint was writing Urban Fantasy before it was all about wizards for hire and hot chicks with back tattoos fighting vampires.
Subterranean Press
has published quite a few de Lint books in the past few years in nice packages and this looks to be no different.
In novel after novel, and story after story, Charles de Lint has brought an entire imaginary North American city to vivid life. Newford: where magic lights dark streets; where myths walk clothed in modern shapes; where a broad cast of extraordinary and affecting people work to keep the whole world turning.

At the center of all the entwined lives in Newford stands a young artist named Jilly Coppercorn, with her tangled hair, her paint-splattered jeans, a smile perpetually on her lips--Jilly, whose paintings capture the hidden beings that dwell in the city's shadows. Now, at last, de Lint tells Jilly's own story...for behind the painter's fey charm lies a dark secret and a past she's labored to forget. And that past is coming to claim her now.

"I'm the onion girl," Jilly Coppercorn says. "Pull back the layers of my life, and you won't find anything at the core. Just a broken child. A hollow girl." She's very, very good at running. But life has just forced Jilly to stop.
The Best of Robert E. Howard, Volume One: Crimson Shadows
by
Robert E. Howard
(
Subterranean Press
Hardcover August 2009) – Robert E. Howard wrote tons of short stories and this is the first collection which is something of a companion to the
Kull
volume I reviewed last year
.
The UK based small press Wandering Star issued glorious editions of Robert E. Howard's work, including The Savage Tales of Solomon Kane, Bran Mak Morn, The Ultimate Triumph, as well as two volumes of Howard's Conan tales.
Subterranean Press is proud to continue this series of limited editions, beginning with Kull: Exile of Atlantis, exquisitely illustrated with color plates and black and white illustrations illuminating the text. We now continue with our second offering, Crimson Shadows, The Best of Robert E. Howard, volume one. We plan to match or better the quality of materials used in the Wandering Star editions, and will be doing a number of other books in the series.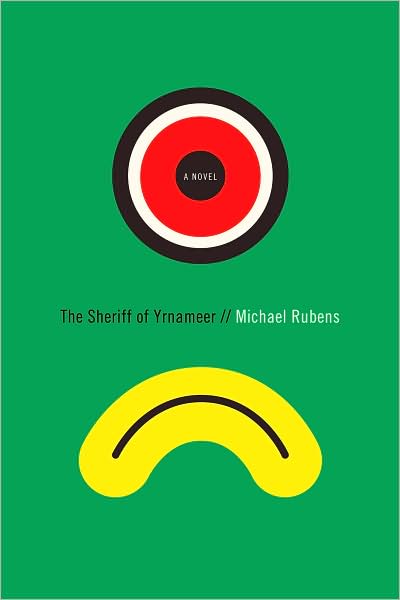 The Sheriff of Yrnameer: A Novel
by Michael Rubens (
Pantheon
Hardcover August 2009) – It isn't very often you see a Stephen Colbert blurb on a book not by Stephen Colbert. That combined with the Douglas Adams-ish feel, push this book up the 'to read' pile a little bit for me:
Our hero, Cole, is having a bad day. His sidekick has run off with his girlfriend. His ride has been disintegrated by an officious traffic robot. And the spaceship he's stolen to escape from a tentacled alien bounty hunter turns out to be filled with freeze-dried orphans. Reluctantly compelled to deliver the de­fenseless, fluid-less children to safety, Cole recruits a support team of humans, aliens, and one friendly–if cognitively challenged–computer. Their destination: the mysterious Yrnameer, thought to be the last untrammeled planet in the galaxy. Imagine their consternation, then, when they arrive to find it threatened by Cole's archenemy, the most infamous outlaw in the cosmos.
Will Cole and his band of men and assorted oth­ers be able to defeat the vicious Runk? Will Yrnameer remain unspoiled and unsponsored (and unpronounceable)? Will the orphans be rehydrated? Get all the answers right here, in a rollicking first out­ing from a new comedic talent.