This week...
Symir -- the Drowning City. home to exiles and expatriates, pirates and smugglers; and violent revolutionaries who will stop at nothing to overthrow the corrupt Imperial government.
For Isyllt Iskaldur, necromancer and spy, the brewing revolution is a chance to prove herself to her crown. All she has to do is find and finance the revolutionaries, and help topple the palaces of Symir. But she is torn between her new friends and her duties, and the longer she stays in this monsoon-drenched city, the more intrigue she uncovers -- even the dead are plotting.
As the waters rise and the dams crack, Isyllt must choose between her mission and the city she came to save.
Death is no stranger in the city of Erisín-- but some deaths attract more attention than others.
When a prostitute dies carrying a royal signet, Isyllt Iskaldur, necromancer and agent of the Crown, is called to investigate. Her search leads to desecrated tombs below the palace, and the lightless vaults of the vampiric vrykoloi deep beneath the city. But worse things than vampires are plotting in Erisín...
As a sorcerous plague sweeps the city and demons stalk the streets, Isyllt must decide who she's prepared to betray, before the city built on bones falls into blood and fire.
The Kingdoms of Dust
(Book III of
The Necromancer Chronicles
) by
Amanda Downum
(
Orbit
Mass Market Paperback 03/02/2012) – When the fabulous Ellen Wright (Orbit's publicist)
tweeted asking
if "there's a backlist Orbit book/series you want to read" to let her know, I immediately thought of these books..
With her master dead and her oaths foresworn, necromancer and spy Isyllt Iskaldur finds herself in exile. Hounded by assassins, she seeks asylum in Assar, the empire she so recently worked to undermine.
Warlords threaten the empire's fragile peace, and the empress is beset by enemies within the court. Even worse, darkness stirs in the deep desert. Ancient spirits long held captive are waking - spirits that can destroy Assar faster than any army.
Accompanied by an outcast jinn, Isyllt must travel into the heart of the desert to lay the darkness there to rest once more. But her sympathies are torn between the captive spirits and the order of mages sworn to bind them. And whichever choice she makes could raze the empire to dust.
The Midnight's Queen
(
Noctis Magicae
Book One) by
Sylvia Izzo Hunter
(
Ace
Trade Paperback 09/02/2014) – Hunter's debut; I'd been hearing good things about this from her agent for quite a while. Looking forward to this one, this is the physical copy of the e-ARC I received in June. The fine folks at
Tor.com have posted an excerpt
.
"In the hallowed halls of Oxford's Merlin College, the most talented—and highest born—sons of the Kingdom of Britain are taught the intricacies of magickal theory. But what dazzles can also destroy, as Gray Marshall is about to discover…
Gray's deep talent for magick has won him a place at Merlin College. But when he accompanies four fellow students on a mysterious midnight errand that ends in disaster and death, he is sent away in disgrace—and without a trace of his power. He must spend the summer under the watchful eye of his domineering professor, Appius Callender, working in the gardens of Callender's country estate and hoping to recover his abilities. And it is there, toiling away on a summer afternoon, that he meets the professor's daughter.
Even though she has no talent of her own, Sophie Callender longs to be educated in the lore of magick. Her father has kept her isolated at the estate and forbidden her interest; everyone knows that teaching arcane magickal theory to women is the height of impropriety. But against her father's wishes, Sophie has studied his ancient volumes on the subject. And in the tall, stammering, yet oddly charming Gray, she finally finds someone who encourages her interest and awakens new ideas and feelings.
Sophie and Gray's meeting touches off a series of events that begins to unravel secrets about each of them. And after the king's closest advisor pays the professor a closed-door visit, they begin to wonder if what Gray witnessed in Oxford might be even more sinister than it seemed. They are determined to find out, no matter the cost…
The Falcon Throne
(
The Tarnished Crown
Book One) by
Karen Miller
(
Orbit
Hardcover 09/09/2014) – First in a brand new series for Miller, who is one of Orbit's most successful authors. This is also her first hardcover, so a promotion for her as well. The Fabulous Ellen (Orbit's PR Sorceress) sent out the review copy tied up with a feather. Very cool.
NO ONE IS INNOCENT. EVERY CROWN IS TARNISHED.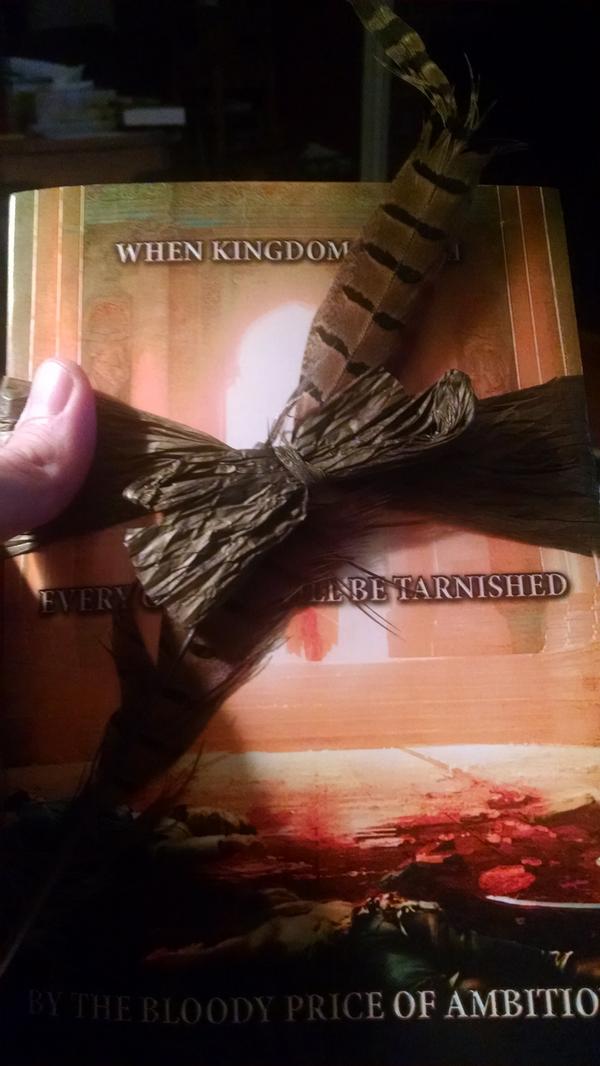 A royal child, believed dead, sets his eyes on regaining his father's stolen throne.
A bastard lord, uprising against his tyrant cousin, sheds more blood than he bargained for.
A duke's widow, defending her daughter, defies the ambitious lord who'd control them both.
And two brothers, divided by ambition, will learn the true meaning of treachery.
All of this will come to pass, and the only certainty is that nothing will remain as it once was. As royal houses rise and fall, empires are reborn and friends become enemies, it becomes clear that much will be demanded of those who follow the path to power.
In The Emperor's Blades by Brian Staveley, the emperor of Annur is dead, slain by enemies unknown. His daughter and two sons, scattered across the world, do what they must to stay alive and unmask the assassins. But each of them also has a life-path on which their father set them, destinies entangled with both ancient enemies and inscrutable gods.
Kaden, the heir to the Unhewn Throne, has spent eight years sequestered in a remote mountain monastery, learning the enigmatic discipline of monks devoted to the Blank God. Their rituals hold the key to an ancient power he must master before it's too late.
An ocean away, Valyn endures the brutal training of the Kettral, elite soldiers who fly into battle on gigantic black hawks. But before he can set out to save Kaden, Valyn must survive one horrific final test.
At the heart of the empire, Minister Adare, elevated to her station by one of the emperor's final acts, is determined to prove herself to her people. But Adare also believes she knows who murdered her father, and she will stop at nothing—and risk everything—to see that justice is meted out.