With as many books for review that I receive and the books I'll occasionally purchase, I clearly can't get to everything published in a calendar I'd like to read. There were a handful of books published in 2014 I received for review I haven't yet read. Here are 10 SFF books published last year still atop Mount ToBeread.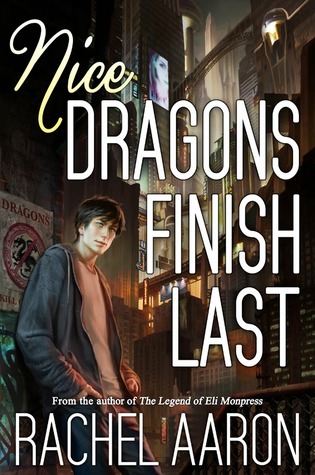 Nice Dragons Finish Last
(Volume 1 of
The Heartstrikers Series
) by
Rachel Bach
(07/15/2014) – As my recent write up
about Rachel for Tor.com indicates
, I'm a fan of her work. She's dipping her toes into the self-publishing realm with this one, which looks fun.
As the youngest dragon in the Heartstriker clan, Julius survives by a simple code: stay quiet, don't cause trouble, and keep out of the way of bigger dragons. But this meek behavior doesn't cut it in a family of ambitious predators, and his mother, Bethesda the Heartstriker, has finally reached the end of her patience.

Now, sealed in human form and banished to the DFZ--a vertical metropolis built on the ruins of Old Detroit--Julius has one month to prove to his mother that he can be a ruthless dragon or lose his true shape forever. But in a city of modern mages and vengeful spirits where dragons are seen as monsters to be exterminated, he's going to need some serious help to survive this test.

He only hopes that humans are more trustworthy than dragons....
Half a King
(Book one of
The Half a King
Trilogy) by
Joe Abercrombie
(
Del Rey
Hardcover 07/15/2014) –Joe's first venture into the waters of Young Adult. It is a new Joe Abercrombie book, nothing else needs to be known about it.
"I swore an oath to avenge the death of my father. I may be half a man, but I swore a whole oath."

Prince Yarvi has vowed to regain a throne he never wanted. But first he must survive cruelty, chains, and the bitter waters of the Shattered Sea. And he must do it all with only one good hand.

The deceived will become the deceiver.

Born a weakling in the eyes of his father, Yarvi is alone in a world where a strong arm and a cold heart rule. He cannot grip a shield or swing an axe, so he must sharpen his mind to a deadly edge.

The betrayed will become the betrayer.

Gathering a strange fellowship of the outcast and the lost, he finds they can do more to help him become the man he needs to be than any court of nobles could.

Will the usurped become the usurper?

But even with loyal friends at his side, Yarvi finds his path may end as it began—in twists, and traps, and tragedy.
Dust and Light
(
A Sanctuary Novel
#1) by
Carol Berg
(
Roc
, Trade Paperback 08/05/2014) – Berg has been on my radar for a couple of years, even more so over the past few years as a few SFFWorld forum members whose opinion I trust (Erfael, NickeeCoco, and suciul specifically) and my friend
Sarah Chorn
, have recently been raving about her work. This book looks like it is friendly to readers who haven't read her previous books, which is just what I need.
National bestselling author Carol Berg returns to the world of her award-winning Flesh and Spirit and Breath and Bone with an all-new tale of magic, mystery, and corruption....

How much must one pay for an hour of youthful folly? The Pureblood Registry accused Lucian de Remeni-Masson of "unseemly involvement with ordinaries," which meant only that he spoke with a young woman not of his own kind, allowed her to see his face unmasked, worked a bit of magic for her....After that one mistake, Lucian's grandsire excised half his magic and savage Harrowers massacred his family. Now the Registry has contracted his art to a common coroner. His extraordinary gift for portraiture is restricted to dead ordinaries—beggars or starvelings hauled from the streets.

But sketching the truth of dead men's souls brings unforeseen consequences. Sensations not his own. Truths he cannot possibly know and dares not believe.

The coroner calls him a cheat and says he is trying to weasel out of a humiliating contract. The Registry will call him mad—and mad sorcerers are very dangerous....
Codex Born
(
Magic Ex Libris #2
) by
Jim C. Hines
(
DAW Books
, Hardcover 08/05/2014) – I read and thoroughly enjoyed
Libriomancer
when I read it a few years ago and look forward to picking up Isaac's story here.
Five hundred years ago, Johannes Gutenberg discovered the art of libriomancy, allowing him to reach into books to create things from their pages. Gutenberg's power brought him many enemies, and some of those enemies have waited centuries for revenge. Revenge which begins with the brutal slaughter of a wendigo in the northern Michigan town of Tamarack, a long-established werewolf territory.

Libriomancer Isaac Vainio is part of Die Zwelf Portenære, better known as the Porters, the organization founded by Gutenberg to protect the world from magical threats. Isaac is called in to investigate the killing, along with Porter psychiatrist Nidhi Shah and their dryad bodyguard and lover, Lena Greenwood. Born decades ago from the pages of a pulp fantasy novel, Lena was created to be the ultimate fantasy woman, strong and deadly, but shaped by the needs and desires of her companions. Her powers are unique, and Gutenberg's enemies hope to use those powers for themselves. But their plan could unleash a far darker evil…
Prince of Fools
(Book One of
The Red Queen's War
) by
Mark Lawrence
(Hardcover 06/03/2014
Ace
) – I'm a big fan of Mark's
Broken Empire
trilogy and so are the members of the SFFWorld forum. They voted the final novel in the trilogy,
Emperor of Thorns
as their favorite 2013 novel!
Hailed as "epic fantasy on a George R. R. Martin scale, but on speed" (Fixed on Fantasy), the Broken Empire trilogy introduced a bold new world of dark fantasy with the story of Jorg Ancrath's devastating rise to power. Now, Mark Lawrence returns to the Broken Empire with the tale of a less ambitious prince.

The Red Queen is old but the kings of the Broken Empire dread her like no other. For all her reign, she has fought the long war, contested in secret, against the powers that stand behind nations, for higher stakes than land or gold. Her greatest weapon is The Silent Sister—unseen by most and unspoken of by all.

The Red Queen's grandson, Prince Jalan Kendeth—drinker, gambler, seducer of women—is one who can see The Silent Sister. Tenth in line for the throne and content with his role as a minor royal, he pretends that the hideous crone is not there. But war is coming. Witnesses claim an undead army is on the march, and the Red Queen has called on her family to defend the realm. Jal thinks it's all a rumor—nothing that will affect him—but he is wrong.

After escaping a death trap set by the Silent Sister, Jal finds his fate magically intertwined with a fierce Norse warrior. As the two undertake a journey across the Empire to undo the spell, encountering grave dangers, willing women, and an upstart prince named Jorg Ancrath along the way, Jalan gradually catches a glimmer of the truth: he and the Norseman are but pieces in a game, part of a series of moves in the long war—and the Red Queen controls the board.
Crown of Renewal
(Book Five of
Paladin's Legacy) b
y
Elizabeth Moon
(
Del Rey
Hardcover 05/24/2014) – I liked the first two in this series (
Oath of Fealty
and
Kings of the North
) and the first trilogy set in this world,
The Deed of Paksenarrion
has a special spot on in my Omnibus Hall of Fame [© PeterWilliam]. However, I sort of fell behind on this series but did catch up with
Echoes of Betrayal
and
Limits of Power
earlier in the year. I've got a few months so I should be able to manage…unless of course her
Vatta's War
five book set, which I've just begun with Trading and Danger grabs me too strongly.

Acclaimed author Elizabeth Moon spins gripping, richly imagined epic fantasy novels that have earned comparisons to the work of such authors as Robin Hobb and Lois McMaster Bujold. In this volume, Moon's brilliant masterwork reaches its triumphant conclusion.

The mysterious reappearance of magery throughout the land has been met with suspicion, fear, and violence. In the kingdom of Lyonya, Kieri, the half-elven, half-human king, struggles to balance the competing demands of his heritage while fighting a deadly threat to his rule: evil elves linked in some way to the rebirth of magic.

Meanwhile, in the neighboring kingdom of Tsaia, a set of ancient artifacts recovered by the former mercenary Dorrin Verrakai may hold the answer to the riddle of magery's return. Thus Dorrin embarks on a dangerous quest to return these relics of a bygone age to their all-but-mythical place of origin. What she encounters there will change her in unimaginable ways—and spell doom or salvation for the entire world.
Tower Lord
(
Raven's Shadow
Book Two) by
Anthony Ryan
(
Ace
Hardcover 07/02/2013) – Second novel in Anthony's series, the first of which was his debut
Blood Song
which blew me away last year. This is the final version of the ARC which arrived about a month ago. My reading plans are pretty tied up for the immediate future, but as soon as those are finalized, this will be one of the first books I jump into.
"The blood-song rose with an unexpected tune, a warm hum mingling recognition with an impression of safety. He had a sense it was welcoming him home."

Vaelin Al Sorna, warrior of the Sixth Order, called Darkblade, called Hope Killer. The greatest warrior of his day, and witness to the greatest defeat of his nation: King Janus's vision of a Greater Unified Realm drowned in the blood of brave men fighting for a cause Vaelin alone knows was forged from a lie. Sick at heart, he comes home, determined to kill no more.

Named Tower Lord of the Northern Reaches by King Janus's grateful heir, he can perhaps find peace in a colder, more remote land far from the intrigues of a troubled Realm. But those gifted with the blood-song are never destined to live a quiet life. Many died in King Janus's wars, but many survived, and Vaelin is a target, not just for those seeking revenge but for those who know what he can do.

The Faith has been sundered, and many have no doubt who their leader should be. The new King is weak, but his sister is strong. The blood-song is powerful, rich in warning and guidance in times of trouble, but is only a fraction of the power available to others who understand more of its mysteries. Something moves against the Realm, something that commands mighty forces, and Vaelin will find to his great regret that when faced with annihilation, even the most reluctant hand must eventually draw a sword.
Shattering the Ley
(
Erenthal
#1) by
Joshua Palmatier
(
DAW
, Hardcover 07/01/2014) –A brand new series for Palmatier whose work I've read and enjoyed. This cover is really eye catchy (though the fonts could use a little work).
Erenthrall—sprawling city of light and magic, whose streets are packed with traders from a dozen lands and whose buildings and towers are grown and shaped in the space of a day.

At the heart of the city is the Nexus, the hub of a magical ley line system that powers Erenthrall. This ley line also links the city and the Baronial plains to rest of the continent and the world beyond. The Prime Wielders control the Nexus with secrecy and lies, but it is the Baron who controls the Wielders. The Baron also controls the rest of the Baronies through a web of brutal intimidation enforced by his bloodthirsty guardsmen and unnatural assassins.

When the rebel Kormanley seek to destroy the ley system and the Baron's chokehold, two people find themselves caught in the chaos that sweeps through Erenthrall and threatens the entire world: Kara Tremain, a young Wielder coming into her power, who discovers the forbidden truth behind the magic that powers the ley lines; and Alan Garrett, a recruit in the Baron's guard, who learns that the city holds more mysteries and more danger than he could possibly have imagined . . . and who holds a secret within himself that could mean Erenthrall's destruction — or its salvation.
Blightborn
(Book 2 of
The Heartland Trilogy
) by
Chuck Wendig
(
Skyscape
Mass Market Paperback 07/29/2014) – The writing machine that is Chuck Wendig gives us the sequel/second book in the this trilogy, the first (
Under an Empyrian Sky
) of which I enjoyed a great deal.
Cael McAvoy is on the run. He's heading toward the Empyrean to rescue his sister, Merelda, and to find Gwennie before she's lost to Cael forever. With his pals, Lane and Rigo, Cael journeys across the Heartland to catch a ride into the sky. But with Boyland and others after them, Cael and his friends won't make it through unchanged.

Gwennie's living the life of a Lottery winner, but it's not what she expected. Separated from her family, Gwennie makes a bold move—one that catches the attention of the Empyrean and changes the course of an Empyrean man's life.

The crew from Boxelder aren't the only folks willing to sacrifice everything to see the Empyrean fall. The question is: Can the others be trusted?

They'd all better hurry. Because the Empyrean has plans that could ensure that the Heartland never fights back again.
Sleeping Late on Judgment Day
(
Bobby Dollar
#3) by
Tad Williams
(
DAW
Hardcover 09/02/2014) – I am a big Tad Williams fan (as anybody who has read my blog knows) and I really like this series. This is the last
Bobby Dollar
novel for now, I hope Tad returns to this angel.

Where does an angel go when he's been to Hell and back?
Renegade angel Bobby Dollar does not have an easy afterlife. After surviving the myriad gruesome dangers Hell oh-so-kindly offered him, Bobby has returned empty-handed – his demon girlfriend Casmira, the Countess of Cold Hands, is still in the clutches of Eligor, Grand Duke of Hell. Some hell of a rescue.

Forced to admit his failure, Bobby ends up back at his job as an angel advocate. That is, until Walter, an old angel friend whom Bobby never thought he'd see again, shows up at the local bar. The last time he saw Walter was in Hell, when Walter had tried to warn him about one of Bobby's angel superiors. But now Walter can't remember anything, and Bobby doesn't know whom to trust

Turns out that there's corruption hidden within the higher ranks of Heaven and Hell, but the only proof Bobby has is a single feather. Before he knows it, he's in the High Hall of Heavenly Judgement – no longer a bastion for the moral high ground, if it ever was, but instead just another rigged system – on trial for his immortal soul...

Sleeping Late on Judgement Day is the third installment of Tad Williams' urban fantasy Bobby Dollar series!