This week's Books in the Mail post is brought to you by the letter
H
as the authors of the books I received have either the first or last name begin with the letter
H
, the name of the publisher of the majority of the books begins with the letter
H
, and one book is published by the publisher whose name begins with the letter
H
and the writer's last name begins with
H
.
Bigfootloose and Finn Fancy Free
by
Randy Henderson
(
Tor
02/16/2016) – Exactly a year later, the sequel to Henderson's debut hits shelves.
I like the covers on these, they look like folksy wood-carvings.
In this sequel to Randy Henderson's acclaimed debut novel, Finn Fancy Necromancy, Finn Gramaraye is settling back into the real world after his twenty-five-year-long imprisonment in the otherworld of the Fey.
He's figured out how to use the Kinfinder device created by his half-mad father to find people's True Love, and he'd like to convert that into an Arcane Dating Service.
Unfortunately, trouble always seems to find Finn, and when he agrees to help his friend, the Bigfoot named Sal, they walk right into a Feyblood rebellion against the Arcane Ruling Council, a rebellion being fomented by unknown forces and fueled by the drug created by Finn's own grandfather.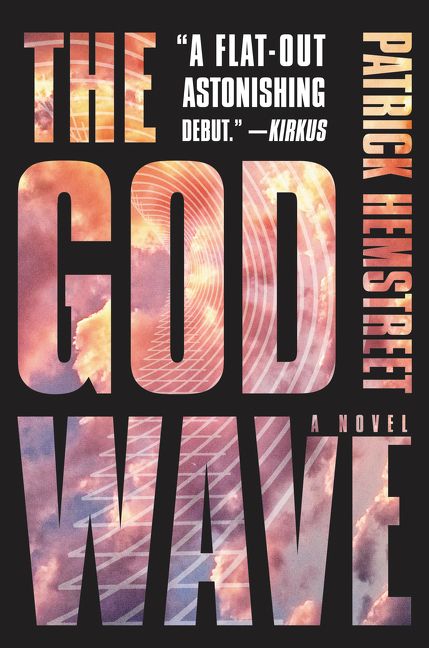 The God Wave
by
Patrick Hemstreet
(
Harper Voyager
Hardcover 05/17/2016) – Hemstreet's debut, the first of a trilogy, is generating a great deal of pre-publication buzz three months prior to its release.
team of neuroscientists uncover amazing new capabilities in the brain that may steer human evolution toward miraculous and deadly frontiers in this spectacular debut work of speculative science fiction—Limitless meets James Rollins—that combines spirituality and science in an inventive, mind-blowing fashion.
For decades, scientists have speculated about the untapped potential of the human brain. Now, neuroscientist Chuck Brenton has made an astonishing breakthrough. He has discovered the key—the crucial combination of practice and conditioning—to access the incredible power dormant in ninety percent of our brains. Applying his methods to test subjects, he has stimulated abilities that elevate brain function to seemingly "godlike" levels.
These extraordinary abilities can transform the world, replacing fear and suffering with tranquility and stability. But in an age of increasing militarization, corporate exploitation, and explosive technological discovery, a group of influential power brokers are determined to control Brenton's new superbeings for their own manipulative ends—and their motives may be far from peaceful.
Blood of Innocents
(
Sorcery Ascendant
#2) by
Mitchell Hogan
(
Harper Voyager / William Morrow
Trade Paperback 02/02/16) – Second installment in Hogan's
Sorcery Ascendant
saga. This is the final copy of the ARC I received in December.
A novice sorcerer may hold the key to saving his world—or be the instrument of its destruction—in this second book in The Sorcery Ascendant Sequence, a mesmerizing saga of high fantasy that combines magic, malevolence, and mystery
Anasoma, jewel of the Mahruse Empire, has fallen.
As orphaned, monk-raised Caldan and his companions flee the city, leaving behind their hopes for a new beginning, horrors from the time of the Shattering begin to close in.
With Miranda's mind broken by forbidden sorcery, Caldan does the unthinkable to save her: he breaks the most sacrosanct laws of the Protectors. But when the emperor's warlocks arrive to capture him, Caldan realizes that his burgeoning powers may be more of a curse than a blessing, and the enemies assailing the empire may be rivaled by more sinister forces within.
And soon, the blood of innocents may be on Caldan's own hands.
The violence of an age-old war casts a long shadow. It falls on a world where mercy is weakness and conflict is a way of life.
Young Malian is being trained to rule. Her people garrison the mountain range known as the Wall of Night against an ancient enemy, keeping a tide of shadow from the rest of their world. Malian is expected to uphold this tradition, yet she's known little of real danger until the enemy launches a direct attack upon her fortress home.
In the darkest part of the night, the Keep of Winds becomes a bloodbath. Women and children, warriors and priests, are slain by creatures with twisted magic flowing in their veins. And as the castle wakes to chaos, Malian flees deep into the Old Keep, her life at stake. Then when the danger is greatest, her own hidden magic flares into life.
But this untapped potential is a two-edged blade. If she accepts its power, she must prepare to pay the price..
Gathering of the Lost
(Book Two of
The Wall of Night
) by
Helen Lowe
(
Harper Voyager
Mass Market Paperback 03/12/2012) – Second in the series. When the third book arrived last week, the wonderful publicist at HarperVoyager was kind enough to send me books one and two so I could do a read-through of the series.
Strange magic, dark treachery and conflicting loyalties, set in a well realized world."
—Robin Hobb, author of Dragon Haven
"[Lowe] reinvigorates the epic fantasy with appealing characters and a richly detailed world."
—Library Journal
Sure to become an epic fantasy classic, Helen Lowe's magnificent Wall of Night series is big, ambitious, and gorgeously drawn—a story of bravery, treachery, and cataclysm in a richly imagined world. The Gathering of the Lost is the second of four books set in a fantastic imperiled realm garrisoned by nine great Houses and protected from the terrible Darkswarm by the towering mountain range that gives the series its name. Supremely literate, brilliantly imagined and executed fantasy in the vein of Brandon Sanderson, Guy Gavriel Kay, and Barbara Hambly, The Gathering of the Lost is populated by a grand cast of unforgettable characters, some still holding to the beleaguered Wall, others scattered in their quest for the fabled Heir of Night, who vanished from their midst five years earlier.