This Tuesday, I review a stunning debut and Mark takes a look at a classic reissue.
Night Shade
has published some great new writers/debut novels over the past year and a half. The latest one I read is
Jeff Salyards
's
Scourge of the Betrayer
, the first novel in his
Bloodsounder's Arc
trilogy:

The protagonist and narrator of the story is Arki (short for Arkamondos) the scribe (embedded journalist) responsible recounting Syldoon military campaign led by Captain Braylor Killcoin. Arki is a bit hesitant about joining a military campaign, though he does wish to see more of the world. As the story progresses, the reader learns more about the Syldoons, Braylor and the realities of how much orders are followed when a military troop is a far distance from those superiors – in this case the Emperor – who issued the orders.

The plot is fairly linear as Braylor and his men journey across the land sowing discord and getting in and out of trouble with other lawmakers of the land. Salyards doesn't offer up very much information about the world in which the novel takes place, but I found this to be very effective. With Arki providing the first person narration of the novel, why would he transcribe in great detail the history and culture of a world which the audience of his war notes would already know? Some may consider this a cheat for a new fantasy writer, but from my perspective, this allows the weight of Arki's words, experience, and most importantly, his interaction with Captain Killcoin have the necessary weight of the narrative.
In his quest to read EVERY classic SF novel reissued in 2012, Mark reads and reviews is
Odd John
by
Olaf Stapledon
and the book: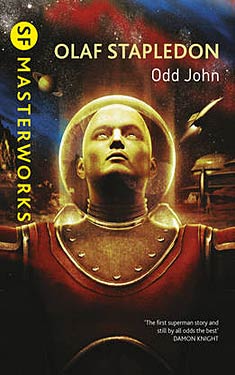 Odd John is a tale of a 'superman': John Wainwright, an Englishman who claims to be the forerunner of a new species, homo superior. Told by his friend and butler-type, nicknamed Fido, it is the tale of how John grew up, became an adult and ultimately the consequences of his superior status.
…
The tone of the book is one of superiority and condescension and this is shown by an uncomfortably sneering tone throughout. Nevertheless, John has a tale to tell, and despite being an unsympathetic host recounts his past and his present views on the world.

Though John has clear views on the world, it is also apparent that his views are flawed. His thinking on religion is basically that it has no place in the world, and his relationship with his mother is quite shocking to human morals even today. It is clear that John operates on different rules to the majority of the human race.